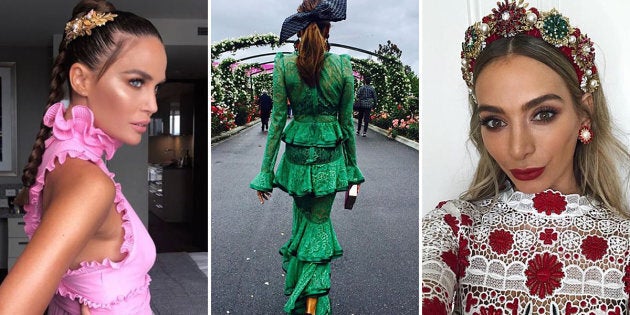 Today is Melbourne Cup day and that means Aussie celebrities and personalities will be heading to Flemington to look good and have their picture taken. Also some horses will run around a track. (Seriously though, if you do want to know about said horses, read this very good form guide.)
Before they get to the racecourse many socialites will post pics of their outfits or them getting ready to Instagram. Myer ambassador Jennifer Hawkins posted a shot of her stunning Alex Perry Gown.
Oh look, now she's in the gown! Stunning.
Racing royalty Kate Waterhouse posted a teaser of her colour palette and accessories and it looks like shades of bright and millennial pink are going to be big for Cup day.
Here's Waterhouse's full look.
Bec Judd pretty much confirmed the pink trend with her hot fuschia one shoulder dress by Lolitta and millenery by Danica Erard.
The O.G Bachelor Tim Robards posted a pre-prepared slo-mo video of himself getting ready because #influencer.
The Block winner and model Elyse Knowles posted a head shot of her makeup (industry people call it 'glam' thanks mostly to the Kardashians) with a glimpse of her gold headpiece which looks like a halo by The Eternal Headonist.
Here's her full look, which is a bright orange dress by Cappellazzo Couture and clutch by Tom Ford.
Model and Myer ambassador Rachael Finch joked that she's wearing a large straw hat by Nerida Winter as her umbrella for the day as she posted a close up shot of her hair and makeup to Instagram.
Journo and TV host Edwina Bartholomew went with floral pants by Cue with a top by Toni Maticevski paired with a head piece by Millinery Jill . Guess where they're from? Myer.
Fashion blogger Jasmin Howell AKA 'Friend In Fashion' opted for a white head piece by Heather McDowall and either she's wearing a flannelette shirt fashioned into an off the shoulder number or she hasn't put her dress on yet.
Mystery solved! She's popped on a pretty pastel pantsuit (say that three times fast) by Elliatt.
TV host Georgie Gardner chose florals for spring. Groundbreaking. (Only joking, we love Georgie and think she looks lovely.)
Today Show weather presenter Natalia Cooper decided to go for some colour with a red satin head piece by Mimco and earring by JYJewels paired with a yellow high-neck lace ensemble.
Fashion personality Rozalia Russian upped the ante from her Derby Day outfit with a stunning backshot of a emerald green lace skirt and top and large bow head piece around her ponytail. We can't wait to see it from the front.
And here it is. It's Nicola Finetti and it is perfect.
Fashion blogger and buyer Nadia Bartel channeled Dolce and Gabbana in a stunning Thurley white and red lace dress, vintage earrings and a jewelled headband.
Bartel's bag is from Bvlgari and we want it.
Model Jessie Murphy decided on a black bow head piece by Danica Erard, bright orange dress by Cappellazzo Couture and the same heart-shaped YSL clutch that Rozalia Russian carried at Derby Day.
More pink! Jodi Gordon's makeup artist Max May gave us a sneaky look at her look prior to her posting, featuring a high neck frilly pink dress, gold head piece and high plait.
Myer shared a photo of Gordon, revealing that the dress is by Talulah, the gold head piece is from Viktoria Novak and the bag is Mimco.
And here's a full length shot posted by Gordon's stylist.
Model Brooke Hogan also oped for red which proves it's another big colour of the day in addition to pink. She chose a red head piece with gold spikes by Suzy O'Rourke and gold hoop earrings by Linden Cook Jewellery.
Interior designer Darren Palmer and husband Olivier Duvillard look dapper as they arrive at the Myer marquee.
More red this time. Model Nikki Phillips and stylist Donny Galella are judges for the Myer Fashions On The Field parade. Galella is wearing a suit by MJ Bale.
First season Bachie winner Anna Heinrich is also going for yellow. The dress is by Rebecca Vallance and the contrasting head wear by Scanlan Theodore.
Singer Anthony Callea also got the red memo, opting for a plush velvet suit with a red satin tie and white shirt.
Fashion personality Tammy-Christina, also known as W by White Wolfe wore an aqua one sleeved dress by Zian Couture with a black hat by Lauder Taylor Millinery and Prada clutch.
E! Australia host Ksenija Lukich must have got the same green lace memo as Russian, wearing Rachel Gilbert with a crown by Viktoria Novak.
Shoe designer Terry Biviano posted a backseat selfie with hubby Anthony Minichiello wearing Paspaley Pearls. Biviano was, not Minichiello.
Actress Bec Hewitt went for all black, wearing a long sleeve pantsuit paired with a large head piece and chocker.
More pink again, this time on TV host Lauren Phillips. She opted for a lace pantsuit by Asilio with a pink head piece around her ponytail by Ezara J. You can get it all at Myer.
Token international guest singer Paris Jackson is in attendance as a guest of Myer, and we're guessing she was paid a fair bit to do so.
Check back as this story is updated throughout the day.