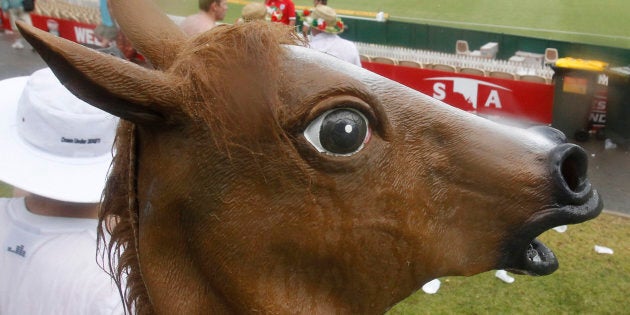 This story started, as the best ones usually don't, when we were watching horse racing at work.
It was the Monday before Melbourne Cup day. After the Cup preview, programming switched to a ho-hum meeting with moderately performed gallopers at Ballarat. But we left the TV on.
In race 6, a horse called Near Queue ran second. Odd name. Near Queue. Near queue, near queue, near queue. For some reason, something seemed a little suspicious. And then we got it.
What's the opposite of near? And what happens when you say "Far Queue" in a broad Aussie accent? Uh-huh.
Near Queue is trained by Ballarat trainer Dan O'Sullivan. HuffPost Australia contacted the stable administrator Mel O'Sullivan to find out why the owners would give a perfectly lovely horse such a cheeky name.
"Well, you'd rather be in the near queue than the other one," she told us. "Her owners have used the word 'queue' in the name of her siblings, so it sort of went from there."
The thing about naming race horses is you can't use any old name, otherwise every joker in Australia would try to register a horse named "Hoof Hearted". Think about that one too. Uh-huh.
Names may be rejected if they are difficult to pronounce or read;
Names where the meaning or origin cannot be satisfactorily substantiated will not be accepted;
Any name, the use of which would be contrary to law, will not be accepted;
The Registrar reserves the right to reduce, extend or add a naming restriction at any time.
There's nothing in the rules that explicitly states that "horse names will be banned if they make you think of a phrase that means 'get stuffed'". All the same, we think "Near Queue" successfully snuck past racing's gatekeepers of good taste, and we congratulate the horse's owners for so doing.
They snuck another one through too. In Race One at Ballarat on Monday, the same crew had a horse called "Blunakka". Mel O'Sullivan told us they named that when they were overseas having a beer and discussing horse names, when a vervet monkey wandered by.
The pic below tells you everything you need to know.