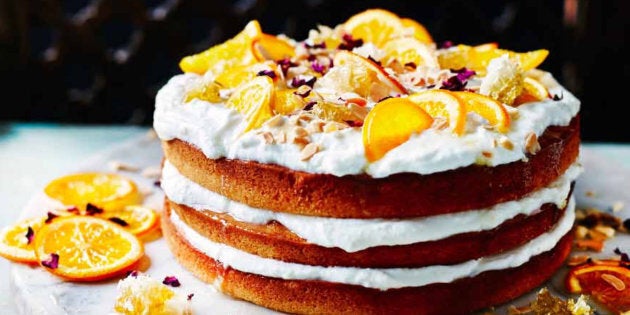 If ever there was a perfect spring cake, it's this three-layer orange blossom and honey cake with creamy ricotta and topped with candied orange, honeycomb and flaked almonds.
This recipe is inspired by a culinary journey across Morocco from food and travel writer and chef John Gregory-Smith.
"From sugary mint teas to flaky almond pastries and crunchy biscuits, Moroccans have a real sweet tooth and love to indulge in wonderful cakes and pastries. A simple orange and almond cake is a staple dessert that is made in homes up and down the country," Gregory-Smith said.
"I have used the classic base to make a showstopping naked layer cake, with three layers of moist almond and orange cake, a soft, scented ricotta filling, and honeycomb, candied orange, rose petals and flaked almonds scattered over the top. It's heavenly and best enjoyed with plenty of fresh mint tea."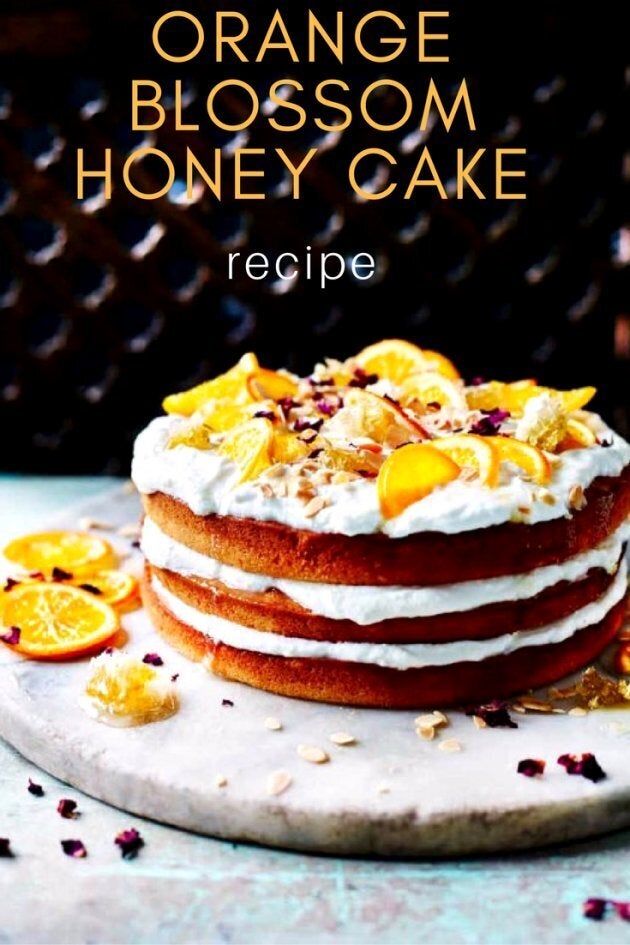 INGREDIENTS
1 organic orange, ideally unwaxed
250g butter at room temperature, plus extra for greasing
300g caster sugar
2 tablespoons orange blossom water
6 eggs
3 tablespoons vegetable oil
375g self-raising flour
240g fine ground almonds
1½ teaspoons baking powder
600g ricotta
300g Greek yoghurt
100g icing sugar
1 tablespoon orange blossom water
200g caster sugar
450ml water
2 organic oranges, ideally unwaxed
60g honeycomb, plus some of the honey for drizzling
20g flaked almonds
Small handful of edible rose petals
METHOD
Preheat the oven to 180°C degrees (fan) and grease and line three 22cm non-stick cake tins with butter and baking paper. Put the oranges into a small pan and cover with boiling water. Bring to the boil over a high heat and boil for 20 minutes, until soft.
Drain the oranges and cut into quarters, removing any obvious pips. Tip into a blender and blend for a few minutes until fine. Pour into a mixing bowl and set to one side to cool.
Place the butter, sugar and orange blossom water in the blender and blend for about 5-6 minutes until smooth. Add the eggs, one at a time, blending each one until smooth. Pour in the oil and blend together.
Sift the flour in a mixing bowl and add the almonds. Stir together. Gradually add the flour to the butter mixture, blending each time until incorporated. Add the orange purée and mix well.
Divide the mixture between the three cake tins and bake for 25-30 minutes, or until cooked and a skewer comes out clean. Remove from the oven and leave to cool.
Meanwhile, to make the filling, tip the ricotta, yoghurt, icing sugar and orange blossom water into a mixing bowl and beat together with a hand blender until smooth. It will be a little textured due to the nature of ricotta. Cover and chill in the fridge until needed.
For the candied oranges, put the sugar into a non-stick frying pan over a high heat and pour in 450ml water. Bring to the boil and boil for 5-6 minutes, shaking occasionally, until the sugar has dissolved. Add the oranges, reduce the heat to medium and cook for 15 minutes each side, turning with tongs. Remove from the pan, shaking off any excess syrup and lay the slices out on baking paper to cool. Reserve the syrup.
Prick the tops of the cakes with a fork while they are still in the tins. Spoon the reserved orange syrup over them. Leave for a further 20 minutes, then remove from their tins and place on a wire rack.
To assemble, put one of the cakes on a cake stand, smooth over a third of the filling and top with a second cake. Add another third of the filling and top with the final cake. Smooth the remaining filling over the top of the cake, then finish with the honeycomb, candied orange slices, almonds and rose petals. Drizzle with honey and serve with another slice of candied orange per serving.
Recipe extracted from Orange Blossom and Honey by John Gregory-Smith (Simon and Schuster). Available in all good bookstores and online.