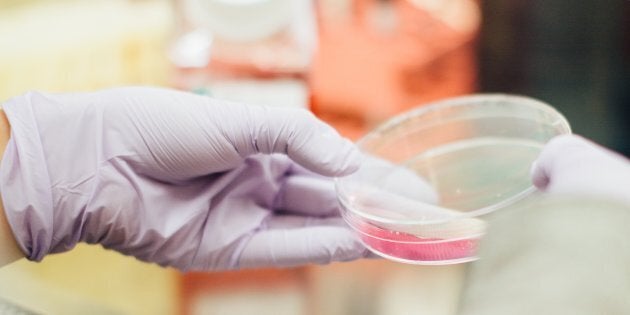 The wellness industry has really boomed over the past decade in Australia.
More than ever before people are educating themselves about what they put in and on their body and are actively seeking out information and products to best care for their health.
Proof of that lies in the popularity of diets such as Paleo and Keto, but perhaps why these diets don't work for everybody is that we shouldn't be taking a one-size-fits-all approach.
It's the same when it comes to looking after our complexions. Products that make your friend glow or clears up their acne might not yield the same results for you and that's because the genetic makeup of each of our skin is totally individual.
That's where DNA testing is coming in. Traditionally used for tracking family history or solving crimes, DNA testing is becoming increasingly popular in prescribing the perfect diet, exercise or skincare routine for individuals.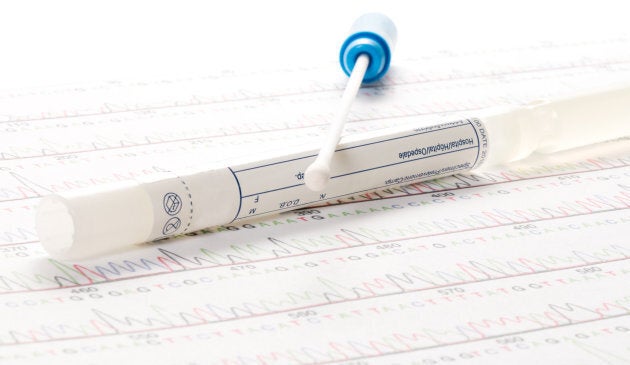 It makes sense. Both the wellness and beauty industries, up until now, have been largely based on a trial and error approach, and it's costing Aussies a whopping $28.6 billion a year. With customised plans based on our own DNA we can cut out a lot of time and money wasted on trying products and fads that aren't right for us.
This year Aussie skincare brand Rationale launched a two-phase skin genetic test called DNArray. The therapist first obtains a DNA sample, by swabbing inside your cheek, to identify specific genetic skin strengths and weaknesses. Based on results you are prescribed a targeted skin care treatment plan.
"Skin DNA testing reveals the skin 'blueprint' we were given by our parents. A skin DNA test spotlights our individual skin strengths and weaknesses and what we should focus on to achieve healthy, glowing skin for life," Richard Parker, founder and Director of R+D of Rationale told HuffPost Australia.
"A consultation takes place that includes a DNA analysis, a UV scan, to see how your skin is coping with the sun, and a full medical skin history. A DNA sample is taken painlessly with a cotton swab to the inside of the mouth. This is sent our Laboratory for analysis. A week later we receive your full report and customise the perfect regime to maintain your skin in the optimal state of health and radiance."
With this information you can get to work on improving your current skin as well as safeguarding against how your skin is likely to deteriorate in the future.
"Your report tells us what we must focus on short and long term to restore and maintain your skin in top condition. For example, if you are low in antioxidants, we must start by adding these to your skincare regime. If you have sensitive skin, we will prescribe a regime that begins with strengthening," Parker said.
"DNA skin analysis takes the guesswork and painful mistakes out of finding the perfect skincare programme. It's specific to each individual and it is completely accurate. The aim is to be on a healthy 'diet' of all of the skin's own vitamins, minerals and nutrients that protect and repair sun damage, the major cause of skin ageing."
The Rationale DNArray Medical Consultation costs $150.
Another Aussie business using DNA testing to prescribe customised plans is Functional Food Solutions by dietician Peta Carige. The consultant to the Australian Rugby 7s Men's and Women's squads, Waratahs Rugby Union and the Manly Sea Eagles Rugby League team, Carige is regarded as one of the top sports dietitians in Sydney.
Thanks to the popular social media 'fitspo' world we live in Carige says one of the challenges she currently faces is that everyone who eats healthy or has a six pack thinks they are experts in nutrition. Because of this, much of her time is spent 'busting myths' with clients and providing them with factual, scientific answers.
Born from that frustration and her passion for wellness, Carige has created an online space, Functional Food Solutions. Carige uses personalised genetic profiling, again by obtaining a swab from the inside of the mouth, to help best prescribe the right diet for each client.
"DNA doesn't directly tell us about our diet, but what it does tell us is what we are predisposed to through our genetics, such as cardiovascular disease or more susceptible to gaining weight when we eat high fat foods," Carige told HuffPost Australia.
"Therefore, we then have the knowledge to make the correct choices for our genetics to hopefully prevent chronic disease in the future. It's pretty amazing. The other way genetic testing can assist our dietary choices is through testing our genetic predisposition to processing starch carbohydrates.
"We can then make food choices that our body prefers which can result in less bloating or lethargy and more successful weight loss."
The test is quick and painless, and the result is personalised based on your DNA. The best bit is no more jumping from paleo to keto to low FODMAP to try and work out how you should be eating.
"We can do a genetic test by taking a mouth swab that is sent away to the lab run by FitGenes. This test then tells us how well your genetics enables to you process starch carbohydrates. We then use this result in combination with what you already eat, and your goals to devise the best meal plan for you and your genetic make up. It is really taking a personalised meal plan to the next level," Carige said.
"Once results are in, two things happen. Firstly, the patient knows that their meal plan is truly tailored to them and secondly I find that patients are much more compliant with their meal plan. The combination of these two, results in great results that are often achieved faster than standard dietary intervention."
The cost for an initial Consult with Carige is $180 and the test is $160.