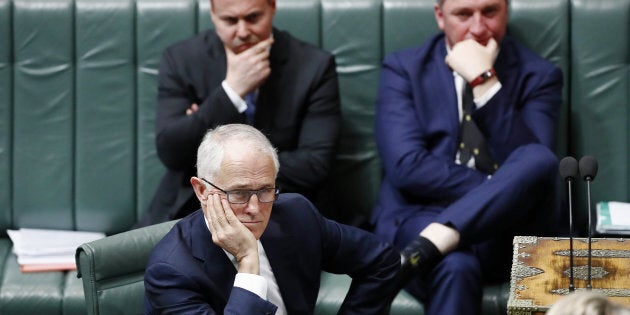 CANBERRA -- Clarity and clear air are in short supply in Canberra.
As the prime minister and opposition leader meet on Wednesday in an attempt to get an bipartisan deal on the rules and time-frame for citizenship declarations, the whole citizenship debacle has managed to get even messier.
The cases of Labor MPs Justine Keay and Susan Lamb are again under review in the light of the strict reading of the High Court's decision in the citizenship seven case, while the case of Liberal MP John Alexander remains unresolved and he has indicated he may not have to comply until late December.
And Turnbull Government minister Josh Frydenberg is still checking out his own personal circumstances.
But there appears to be some room emerging to sort it all out.
After hearing that MPs were being warned that federal parliament may have to sit for an extra week in 2017, HuffPost Australia understands the option to recall parliament just days before Christmas is now being seriously canvassed by Prime Minister Malcolm Turnbull.
It could be a day, or a week, of pure citizenship resolution if needed and fits in with the PM's current plan to get all federal politicians to publicly declare their citizenship history within 21 days of the individual houses of Parliament passing a resolution on the matter.
It is likely the day or days would be used to send referrals for citizenship determination to the High Court.
Will the PM's declaration plan remain at 21 days for disclosure? Not if Labor leader Bill Shorten has anything to do with it. Labor also wants details of the birth and citizenship of grandparents added to the details of parents in the declaration.
The opposition has stated it is willing to work with the PM on an alternative to a much called for audit, but Labor's senate leader Penny Wong sees the proposed time-frame as a "blatant attempt to skate through this difficult period to next year".
While described by both Turnbull and Shorten as "constructive," there's been no agreement between the prime minister and opposition leader after a two hour meeting in Melbourne on Wednesday.
Shorten is proposing a December 1 deadline.
"This crisis, unfortunately, needs to be dealt with immediately," he told reporters.
"The High Court set a higher test of us. Labor is not going to support watering down the High Court decisions to help a few MPs scrape back into parliament."
Turnbull realises the need for urgency, but has not given ground on the time-fram.
"We await some further thoughts from the Leader of the Opposition but I do think it is important to get on with it," Turnbull told reporters after the meeting.
"We are certainly agreed on the need for disclosure and of the kind that I've set out in the resolution and we're also agreed that the matter must be dealt with before the end of the year. By that, I mean that the disclosures should be made before the end of the year and the house and the Senate should have the opportunity, having considered those disclosures, whether any members or senators should be referred to the High Court."
The opposition may have its own problems.
Labor colleagues, including Shorten, have on Wednesday pronounced confidence in the citizenship status of MPs Keay and Lamb but previous statements showing the Labor MPs relying on "reasonable steps" to renounce foreign citizenship which were shown in the October verdicts as not being enough.
The Guardian has reviewed Keay's pronouncement on social media in August to find she admitted her renunciation of British citizenship was not effective until after the 2016 election but insisted she and Lamb are relying on "reasonable steps" to renounce foreign citizenship.
In particular, Keay posted she had applied to renounce British citizenship in May 2016 and had therefore "taken all reasonable steps," thus satisfying the "test set out by the High Court in the landmark case Sykes vs Cleary".
The nomination date for the election was 9 June 2016, but Keay admits the official date of renunciation was 11 July 2016.
Considering the black letter reading of Section 44 (i) of the Constitution, which knocked out the deputy prime minister and four senators (plus Stephen Parry, although his case has not gone to the High Court), the High Court appears to have lifted the bar.
Turnbull described Keay's situation on Wednesday as a "real issue" that's "going to involve some considerable legal debate."
"I think the High Court's been very clear on the matter in the recent decision," he said. "It is a very tough, very literal decision that's been taken. We have to comply with it."
But Shorten said he is not about to take legal advice from the prime minister.
"He got it so wrong with his own ministers, his own Deputy Prime Minister and now the President of the Senate, a Liberal appointee," he said. "I am confident Labor has pretty exhaustive vetting procedures and I'm confident steps have been taken, yes."
Lamb states she renounced British citizenship in May 2016, but has refused to answer questions about when her renunciation was confirmed.
Alexander indicated to Seven News on Tuesday he may not let us all know what his citizenship status is until late December. Essentially he is keen to wait for the 21 days, proposed by the PM, after the House passes a resolution on declarations.
Remember this is a proposal that has not been approved yet, but he said, "what I am doing is going to comply with what the Prime Minister has put forward and we will see what comes from that".
Labor wants him immediately referred to the High Court.
Meanwhile Frydenberg is also seeking further advice on his case.
He states he has paperwork that his Jewish mother, born in Budapest, arrived in Australia in 1950 after the second world war as a stateless refugee, but is now rechecking whether Hungary has belated bestowed citizenship on him as an act of restitution.