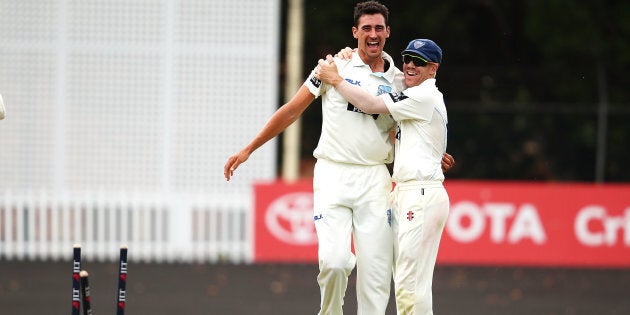 England's cricket team should be very, very worried.
Australian fast-bowler Mitchell Starc took his sixth wicket in a Sheffield Shield match for the NSW Blues against Western Australia on Tuesday. The double hat-trick, which he managed to notch up across two innings, sealed the win for his state and couldn't have come at a better time.
You can watch him blast away his opposition below.
With the first Ashes Test between Australia and England just over two weeks away, Starc finished the match for NSW with bowling figures of 4-56 and 3-41 next to his name following Western Australia's two innings.
And if that isn't enough to get the likes of England's batting stars in Alastair Cook and Joe Root just a little bit nervous, they're probably not watching closely enough.
The paceman's efforts in the Sheffield Shield match make him the first bowler to take two hat-tricks in a first-class match since Pakistani spin bowler Amin Lakhani in 1978. Starc is now also the first bowler ever to take the last three wickets of each innings in a first-class match with a hat-trick.
And if that leaves anything to be said it's: Watch out, England.