The Gold Coast's Dreamworld theme park has denied accusations that its handlers mistreated a tiger, claiming that the actions were misrepresented and taken out of context.
Footage uploaded to Instagram on Friday morning by user Xy Latu showed a tiger being repeatedly hit on the head after having its tail pulled.
Ben Pearson, senior campaign manager for World Animal Protection, said that the clip was a "shocking insight into animal welfare practises at the venue".
However the theme park's general manager of life sciences, Al Mucci, told HuffPost Australia in a statement that the handler's actions were to "refocus" Akasha the tiger.
"Open hand taps to the facial area is the safest way to refocus tigers who are challenging each other and this is consistent with the way in which tigers communicate with each other in similar situations," he said.
"The tigers in this video were showing antagonistic behaviour and needed separating before they had an opportunity to hurt eachother.
"The tiger's tail is one of its strongest parts of the body. Tigers and handlers routinely play with the tail."
Within hours of being uploaded, multiple users had expressed their disgust at the footage with many pointing out that things could have turned nasty.
"This makes me so sad. Wish the tiger turned around mauled him [sic]. So appalling -- that is not tiger behaviour at all so they are just plain right abusing him," user missemmys commented.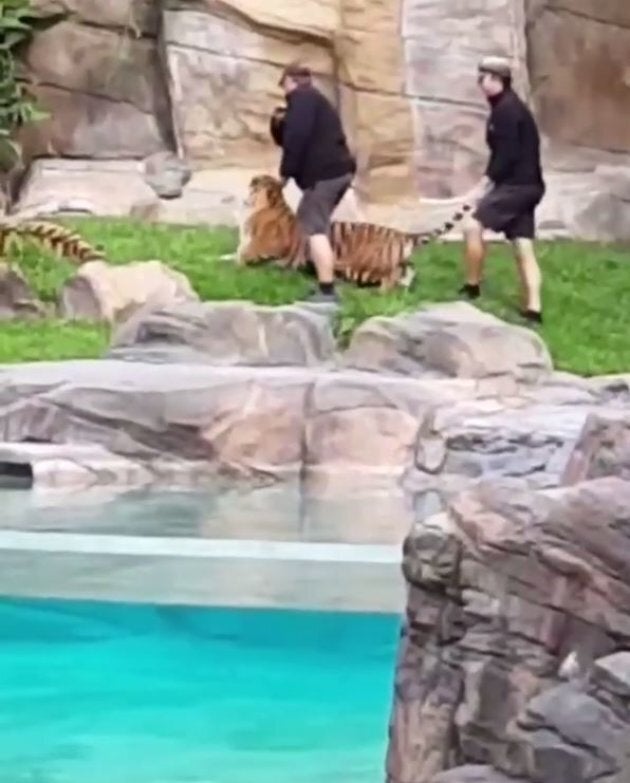 "Oh my GOD!! Abuse tactics and stand over control?? Who employs these yokel cowboys??" commented another.
Mucci however said that the handler's actions were an essential means of preventing "a situation that may have escalated".
"The care and welfare of our tigers and all our wildlife family is paramount," he said.
This week just days after the tragedy's first anniversary Simon Kelly, CEO of Dreamworld's parent company Ardent, resigned suddenly.