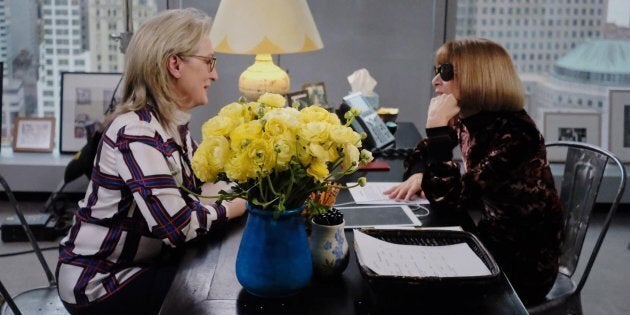 It was like life imitating art as Meryl Streep strolled through the offices of 'Vogue' on her way to sit down with the Editor-in-Chief, Anna Wintour.
The magazine's 125th anniversary issue sees Streep on the cover in the lead-up to her role in Spielberg's film 'The Post' where she plays the late Katharine Graham, publisher and owner of 'The Washington Post' and good friend of Wintour.
Streep stars alongside Tom Hanks in the film which is based on the true events around the Pentagon Papers, and the fight Graham endured to expose government secrets about the Vietnam War.
Streep spoke to Wintour about her friend, and the expectations put on such an extraordinary woman even from her own mother. Wintour then asked what Streep talks about with her daughters.
"We want them to be free, we want them to be proud, we want them to be female but you can't-- you put them in danger by not informing them about the male gaze and how it works on young girls," Streep told Wintour.
After accusations of sexual misconduct piled up against Weinstein, more and more victims came forward about a handful of other powerful Hollywood figures, most recently Louis C.K.
"This moment is absolutely thrilling," Streep said, "this is a door that will not be closed, we've got a foot in there now.
"It will be very difficult for people to conduct their lives the way they have in the past. 'Oh that's just locker room talk,' 'Oh that's just the way men are,' no. It's not. we're civilised people and we learn from our mistakes."
Finally when Wintour asked if we'd be seeing Streep running for office, she immediately shut down the idea.
It looks like we won't be seeing a President Meryl any time soon. Sad!