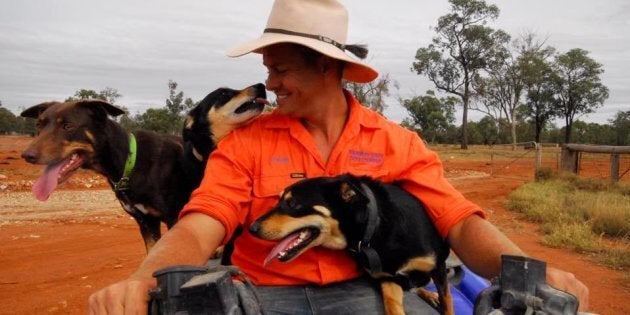 "We're in a parallel universe to 10 years ago," says Farmer Dave Graham behind folded arms and a big-as-Christmas grin after he's asked to assess whether Australia has, overall, changed it's attitude to gay men like him.
His tone turns serious but the big smile remains -- toothy, beaming.
"People do forget how terrible it was only 10 years ago, where really there was just this inner city Sydney and Melbourne who were accepting."
Graham has some perspective. Ten years ago he came out on the reality TV show Big Brother, and has struggled publicly with the tension between his progressive views and his conservative upbringing.
He since hit the airwaves again to talk about Australia's same-sex marriage vote, and how it affects him -- a single gay man of 38 -- out in the bush.
In the decade since his fist Big Brother announcement, Graham has seen much of urban Australia become accepting and supportive of homosexuality.
But he's seen he rise of hatred too -- "the crazy," he calls it -- as Australia's same-sex marriage debate grinds onwards.
"Culturally were definitely different. But I suppose what that has done is those people who have that extreme hatred feel like their back is against the wall," he said.
"They feel surrounded, and like any animal surrounded they are becoming more absurd in their behaviour."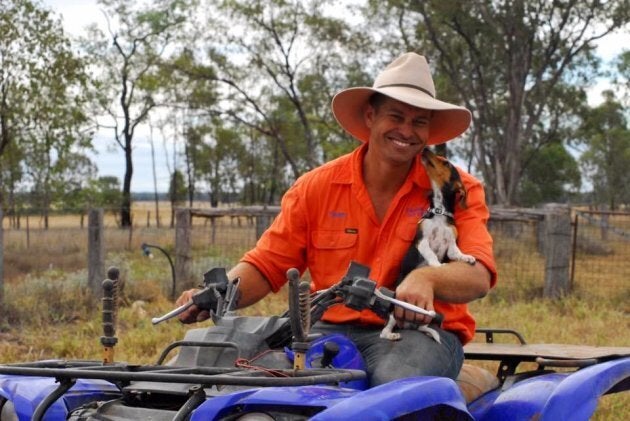 Homeward Bound
When HuffPost Australia sat down to speak with Graham, he was preparing to return to his home in South West Queensland, in the electorate of Maranoa which has the lowest support for same-sex-marriage of any in Australia.
His grin -- broadcast at volume from his mouth and his eyes and along the crinkles of his face -- is both quick and disarming.
But there's a tonne of pain there too.
He lives an open life now, but born the 11th child to cattle and cropping station owners, Graham's conservative upbringing weighs heavily on him.
It's his 86 year-old dad -- a child of the depression who has been running his own farm since he was 12 -- who Graham wants to impress, but they've had a complicated relationship in the past.
"I was born and I was bred and I was created to take on the family farm," he said.
I'm still shit scared about going home.Dave Graham
"I'm shit scared -- can my father really hand on the farm to me which is all down to me being gay. It's all down to am I just down to self hating myself, do I have so much self doubt, or is my dad going to turn around and say 'nah you can't have it, I'm going to find a grandchild?"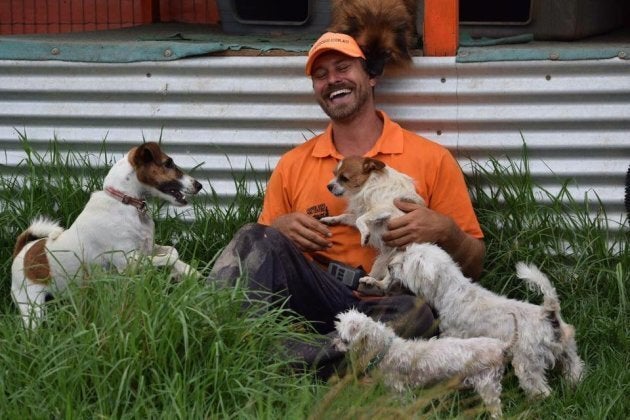 But he believes in his dad's legacy and wants to continue it.
"But when it comes to communication, I feel it's a bit wanting," he said.
"He's been the boss since he got his first farm at 12.
"He's still working like a 32-year-old."
More than a decade ago -- when he was still in his twenties -- Graham was under intense pressure, living a lie, and so he decided to try and kill himself driving his ute into a tree.
When he told me about this previously, he lit up that quick grin again.
"I'm a tough bugger to kill," he said at the time.
He's travelled a lot since then, and decided to make the 900km journey from Sydney to Queensland to answer a deeper call.
"My connection to my own country is so intense. You could easily start a farm somewhere else, or manage a farm somewhere welse. But my connection to my own country is so intense that whenever I'm there I feel whole.
"That's the constant draw and constant problem that I've had -- needing to be away because of my gayness, and every cell in my body wanting to be back there because its my country.
"It's a very hard thing to deal with."
If you need help in a crisis, call Lifeline on 13 11 14. For further information about depression contact beyondBlue on 1300224636 or talk to your GP, local health professional or someone you trust.