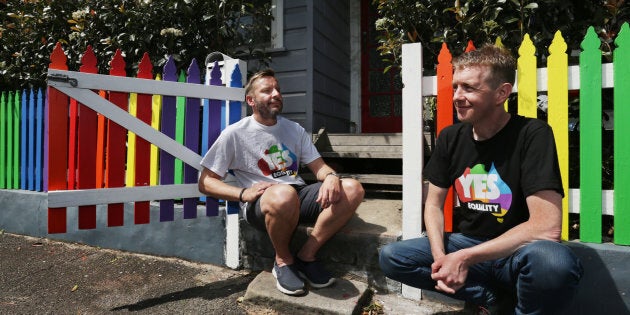 'Calm before the storm' isn't really the right term for what Tiernan Brady is going through now.
We're sitting in the sunny outdoor section of an Oxford Street cafe, Brady relaxed in a t-shirt and jeans as he orders a coffee. It's the day after the final cut-off for ballots in the marriage equality postal survey, and Brady finally has a moment -- but just a brief moment -- to breathe. He's director of the Equality Campaign, the lead group pushing for a Yes vote in the marriage equality postal survey, and it has been his job for many months to visit towns and cities, large and small, nationwide to encourage voters to get behind the cause.
The cut-off for votes was Tuesday afternoon, and the result is to be announced on Wednesday, November 15. For the first time in about two years, Brady has a week without campaign events to plan, without rallies or community meetings to attend, and without strategising on how to win a plebiscite or survey for marriage equality. But then again, no matter the result on Wednesday, his job starts again -- because win or lose, there's still a battle to get marriage equality passed in this country.
It's not exactly the calm before the storm. Maybe more like a brief breather between two marathons.
"I am very hopeful that we'll have a very good result on Wednesday," he says in his thick Irish brogue accent as he pours milk into his coffee.
"We're not complacent and we've never been complacent. We're confident we've won the argument and we're confident we've got the vote out."
The Australian Bureau of Statistics reported 78.5 percent of eligible Australians, almost 13 million, had lodged a vote in the survey. Brady said a high turnout was a good sign for the 'yes' side, meaning the final result would more likely reflect the results of prior polls on the issue, which all pointed to a big majority of Australians in favour of the reform.
"We've always known every poll for the last 10 years has said the Australian people are for marriage equality, so making sure as many people voted as possible was always key. The turnout is incredible," he said.
"It's one of the highest turnouts in the western world in a generation. That's an incredible sign that people understood how important this was and took the vote seriously. They understood the power of their vote."
Brady said the campaign for marriage equality -- which included "over a thousand" disparate groups from community organisations to trade unions, social justice bodies to churches, mental health organisations and politicians and business groups -- was designed from the start to be "relentlessly positive". He said the 'yes' side had tried above all to avoid a mudfight with opponents, sidestepping the lure of going negative because of the consequences that may have on wider society following the poll.
"No matter what the result is going to be, we have to share the country the next day. We have to go to work with the same people we always work with, so how we did this mattered greatly. Setting a tone which was engaging and respectful and uniting was essential the whole way through this," he said.
Brady admitted the "fringes of both sides" of the debate had pushed things too far, but had praise for the discipline and respect he saw from 'yes' supporters.
"Like any campaign and any issue, people who aren't really connected to either side do disrespectful things. We've seen a little bit of that, in the corners of social media land, but you have to remember that's not representative of whats going on," he said.
"This was hard. People said some terrible things about LGBTI people and instead of getting angry, they just got determined, they keep smiling and shaking hands and changing minds in every corner of the country."
Wednesday will see major official events in capital cities across the country to watch the result being announced by the Bureau of Statistics at 10am, and hopefully celebrating a resounding 'yes' result. If it is, Brady said, there should be no delay permitted in legislating marriage equality as soon as possible.
"Then it moves to Canberra. The people have spoken, they've given their opinion in a process where the government spent $150 million to ask if LGBTI people should be treated equally. If it comes back with a yes, that's a very simple one. You've asked people what they think, now its time for the politicians to simply do their job and pass a straightforward bill that allows every Australian to marry," he said.
"This debate has been going on for so long now, people know their mind. In the event of a 'yes' vote, there will be an irresistible momentum which says 'do it now'. Once the people have spoken, why should they have to wait any longer?"