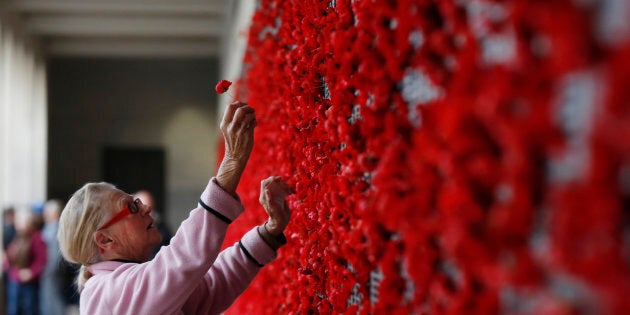 Thousands have attended the annual National Remembrance Day Service at the War Memorial on Saturday, marking 99 years since the end of the First World War.
Finance Minister Mathias Cormann addressed the crowd and Governor-General Peter Cosgrove was also on hand at the event, which commemorates lives lost to war and the service of Australian soldiers in combat.
Minister for Veterans' Affairs Dan Tehan said Remembrance Day remained an important part of Australia's history.
"At the 11th hour of the 11th day of the 11th month, the nation observes a minute's silence for those who have died serving our country in wars, conflicts and peacekeeping operations," he said on Saturday.
"More than 1.5 million Australians have served in defence of our nation and our values and more than 102,000 have died. Today we honour all of them.
"I encourage everyone in the community to observe a minute's silence today and to wear a red poppy to honour those who have fought and died for our nation."
Next year marks the 100th anniversary of the First World War Armistice with a service to be held in Villers-Bretonneux in France as part of international commemorations.
More than 70 million people fought in WWI, with estimates of the dead varying between nine and 13 million. Many remain in unmarked graves.
Cormann told the crowd in Canberra that it was "our duty to guide the sacrifice and service" of those who served in wartime.
"We must make sure the values and principles they fought to defend are not eroded," he said.
"As a nation, we must make sure that the foundations of our freedom, such as the rule of law and the presumption of innocence are extended to them."