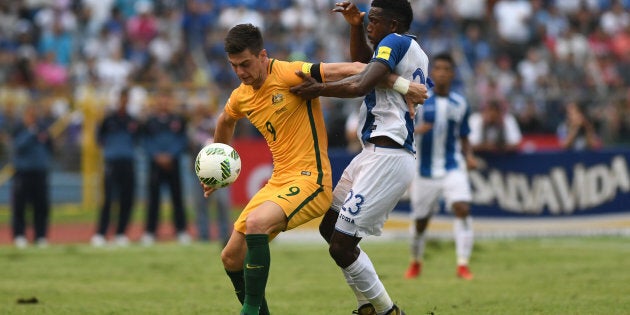 A dominant Socceroos outfit has failed to overcome Honduras, drawing in their crucial World Cup qualifying rubber 0-0 in front of a massive crowd in San Pedro Sula.
Despite not getting the win, it was a strong 90 minutes from the Socceroos in the first of a two-leg playoff to claim a spot at the 2017 World Cup in Russia.
Heading into the clash, Socceroos coach Ange Postecoglou had made eight changes to the side that beat Syria 2-1 in extra time in the Asian World Cup qualifier in Sydney last month.
Although not a victory, Saturday's scoreless draw is a good result for the Australians who will go into the return match in Sydney on Wednesday as firm favourites.
Both sides failed to convert chances early in the opening stanza, with Australia looking shaky but Honduras unable to make the most of several promising raids down the Socceroos' flanks.
The Aussies soon warmed to their task but were unable to capitalise from their opportunities, including a botched shot on goal from striker Tomi Juric in the 33rd minute.
There was also controversy in the first half when Argentinian Néstor Pitana gave a penalty for a foul on Bailey Wright but then overturned it following an offside call from his linesman.
The teams went into the break locked at 0-0, with the gutsy Australian effort in first 45 minutes taking the 40,000 strong crowd out of the clash at the Estadio Olympic Metropolitano.
The Australians were the first to threaten in the second half, with Massimo Luongo and Urich both firing shots on goal soon after the 50 minute mark.
The Socceroos missed another chance in the 61st minute when a cut back found space in front of goal but eluded both Australian forwards waiting at the back post.
Honduras had few real chances, with the Central Americans' best attacking opportunity coming in the 81st minute when a powerful shot on goal was deflected by goalkeeper Mat Ryan.
The draw sets up a huge clash on Wednesday night when the Socceroos will again square off against Honduras at Sydney's ANZ Stadium.
After a slog of a qualifying campaign, Australia will be desperate to prevail on home soil to book at place at next year's World Cup finals in Russia.