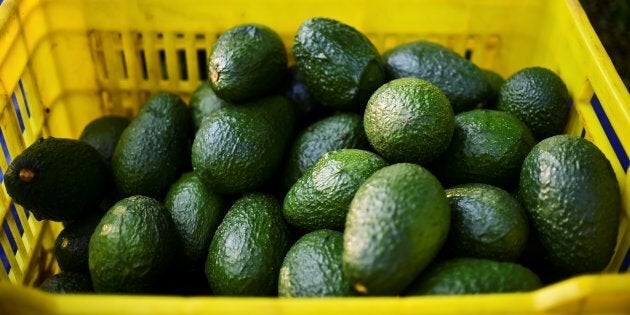 It's set to be salad days for Aussie avocado-lovers this summer, with prices across the country tipped to crash following a bumper harvest this year.
Prices could drop by almost 50 per cent over coming months, pushing down the cost of an avocado at supermarkets from around $4 in some parts of the country, to as low as $2.20.
The reason for the dramatic price slump is a massive boost in supply that will see the Aussie market receive almost 10,000 extra tonnes of avocados over the next 12 months.
Antony Allen, from specialist avocado marketing firm Avolution, said prices this summer would be well down from recent highs of $6 a piece.
"They'll come back down to more like what they were at the start of 2017 and probably middle of last year when retail pricing was around $2.20 to $2.80 with those two-for deals where it's two for $4 or $5," Allen told the Courier Mail.
The win for shoppers was largely thanks to a huge 75,000 tonne avocado harvest boosted by thousands of young trees starting to bear fruit, Allen said.
Australia CEO John Tyras was also upbeat about the avocado outlook. He told the ABC that 25 to 30 percent of current avocado trees were not yet fully grown, meaning more supply was around the corner.
Australia has doubled its avocado production over the past decade, but the nation still partially relies on imports because it can't meet domestic demand.
That's because peak demand for avocados usually occurs around January and February which coincides with the end of the WA season and the beginning of the north Queensland season.
It's also thanks to Australians' huge appetite for the fruit. Australia is one of the biggest consumers of avocado in the world, devouring more than three kilograms per person each year.
While a production ramp-up is one way to meet skyrocketing demand, a team from the University of Queensland has another solution -- stem cells.
One of the scientists leading the effort, Professor Neena Mitter, said she wanted to disrupt the decades-old industry practice of taking cuttings from high quality trees and planting them for new saplings.
"This is a cumbersome, labour and resource intensive process, as it takes about 18 months from the cutting stage to having a plant for sale, which creates a huge bottleneck for nurseries across the globe in the number of trees that they can supply to growers," Mitter said.
By contrast, Mitter said her innovative stem-cell method could supply 500 times more produce than currently possible. It would mean 10,000 avocados could be generated from a 10 square-meter room.
The cutting-edge method, which requires less land, water, fertilisers and pesticides than conventional planting, is now set to be tested in regions across the country, according to UQ.
"This is a potential game changer for the avocado industry across the globe," Mitter said.