More than half of children in England (61%) have confessed they would hide or change their outward appearance in order to avoid being bullied.
Not only that, but 40% of children would go even further and hide the non-physical aspects of themselves - their personality, culture or religion - in a bid to prevent themselves becoming a target.
The disheartening figures, obtained in a poll of 1,600 eight- to 16-year-olds, were released by the Anti-Bullying Alliance as part of Anti-Bullying Week (13-17 November).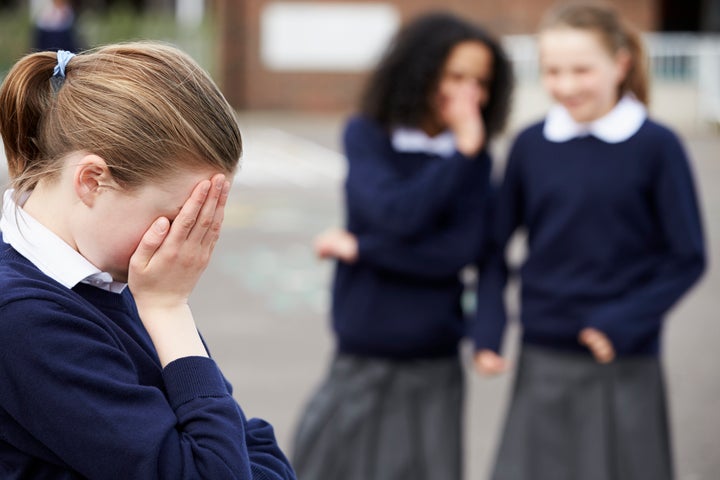 The Anti Bullying Alliance hope to educate children about the value of being "different".
Martha Evans, coordinator of the Anti-Bullying Alliance, said: "It is so important that we learn to celebrate the things that make us all different, and are clear that it is never OK to bully someone."
Although most parents would like to think that children's concerns about appearing "different" were unfounded, the research revealed that in fact 64% of children have witnessed their peers being bullied for this very reason.
Which is why it is so important that all children are taught to embrace differences.
Richard Pursey, CEO of SafeToNet, who is working on the Anti-Bullying Week campaign, said: "We're all different, this is a defining trait of being human and young people as they grow and mature should not be bullied for what makes them 'different'."
In order to try and combat this problem, Anti-Bullying Week is focused on celebrating what makes children unique and championing the "all different, but equal" message.
Evans said: "We hope to provide a platform for children, teachers and parents, to raise awareness of what to do if you are being bullied, or see it happening to someone else."
An element which seems ever more pertinent given that 36% of the children polled said they don't learn enough in school about what to do if it happens to them.
And 41% of children are keeping quiet when they see it happening to avoid being bullied themselves.
The NSPCC says that there were over 24,000 Childline counselling sessions with children about bullying between 2016 and 2017, and more than 16,000 young people are absent from school due to bullying.