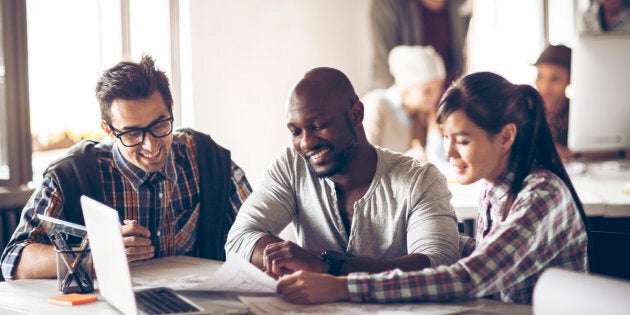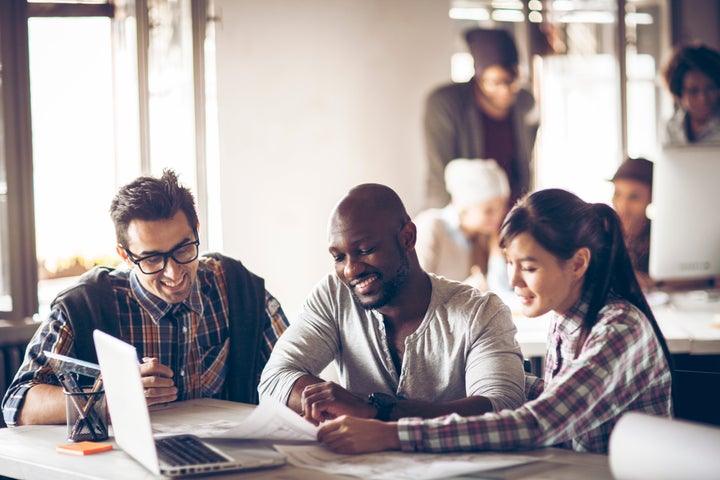 It's hard to believe that in 2017, there are still people who believe women do not deserve to be paid the same as men.
Internet debate forums are full of people rejecting the concept of equal pay, based on the idea that women do not deserve to be paid the same as men, or that equal pay would somehow be detrimental to society.
Back in March Polish MEP Janusz Korwin-Mikke said women should be paid less "because they are weaker, smaller and less intelligent" than men, while Utah Republican James Green previously said equal pay would be "bad for families and thus for all of society".
While it's tempting to laugh at how ridiculous these statements are, there's nothing funny about the gender pay gap - the most recent figures show women in the UK earn around 14.1% less than men.
New research from The Fawcett Society, which lobbies for women's rights, suggests it could be another 100 years before the gender pay gap is closed.
If we want to speed up proceedings and close the gap, we must challenge the damaging myths that give some ammunition to justify its existence.
Myth One: Equal Pay Would Damage The Economy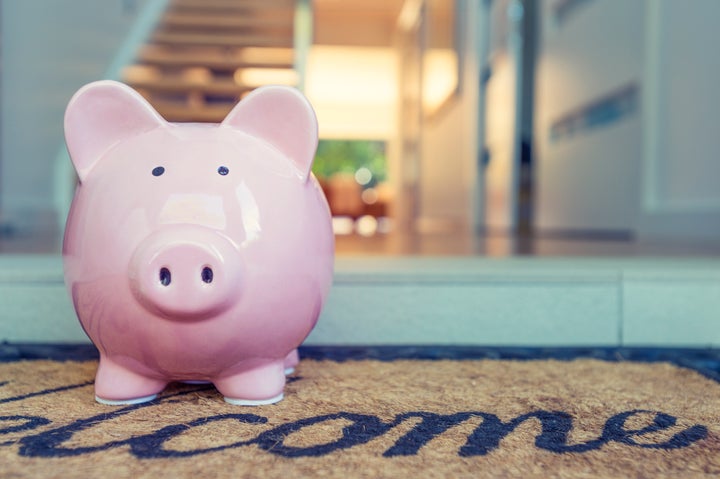 In his letter in the Wasatch Wave, which he's since apologised for, Green argued that businesses would have to pay men less in order to pay women equally. He suggested docking men's pay would "force" mothers to work and somehow cause the economy to implode.
But a 2015 report by McKinsey Global Institute suggests otherwise. The report found that $12 trillion could be added to global GDP by 2025 by advancing women's equality (including parity around pay).
Joeli Brearley, founder of Pregnant Then Screwed, believes Green is not only "sexist", but has a "weak grasp of economics".
"The gender pay gap creates a huge deficit to any country's economy. Firstly, the under-utilisation of women's skills costs the UK up to 2% GDP, around £36 billion," she told The Huffington Post UK.
"Closing the gender pay gap would make companies more competitive as they would recruit and retain the best employees.
"We have an ageing workforce, so we need younger women paying tax, but we also need women to have babies to ensure there are people to look after us when we get older. We have a skills shortage, so if we were to dismiss the skills and talents of women, we would more than half our talent pool."
She added that it's "deeply entrenched gender stereotypes" that tell us "it is women who want to undertake society's unpaid labour, including caring for the young, whilst the men go out to work", but this just isn't the case.
Which brings us our second common myth around equal pay.
Myth Two: Women Deserve To Be Paid Less Because They Take Time Out To Have Children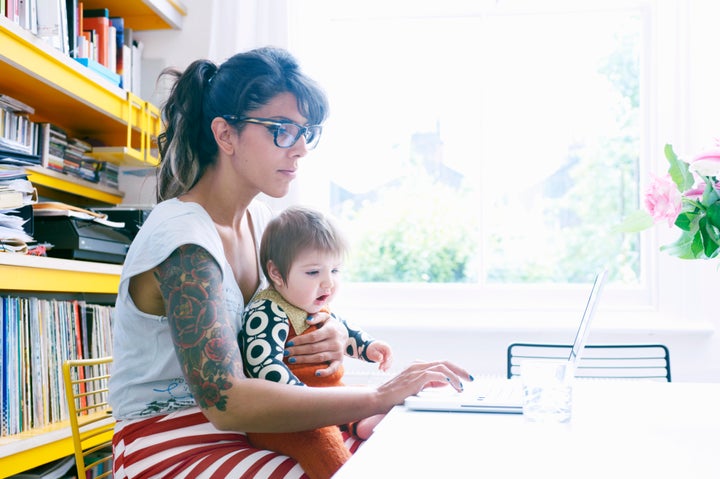 If you assume a woman will take a career break or work part-time after becoming a mother, while fathers will stick to full-time hours, you need to look at more recent stats on stay-at-home parents.
The number of dads who choose to stay home and care for their children has quadrupled over the past 25 years and according to a BBC report, there were around two million stay-at-home dads in the UK in 2014.
But even if a woman does take time off from work to have children, that still doesn't mean she loses the ability to do her job while away or deserves to be paid less than a man on her return.
Rowena Taylor, director of sales operations at AOL, is proof of this, having been promoted twice while taking maternity leave to have two children.
She applied for her current role when her second baby was three months old and believes taking two lots of maternity leave "definitely did not affect [her] ability to do [her] job".
"The fundamental skills and experience you have built up over years in your career remain completely undiminished by having a baby," she told HuffPost UK.
"Coming back to work, I did suffer a bit with imposter syndrome at first because you second guess yourself and wonder if you 'should' know all the answers. You just need to ensure you're asking the questions when you don't know something. And anyway, you quickly realise that other people at the meeting don't know the answer, but are too scared to say."
Contrary to what some may assume, Taylor is adamant becoming a parent has actually had a positive impact on her work abilities, rather than a negative one.
"Working parents who have hard deadlines for leaving the office to pick up kids are incredibly time efficient during the day," she said.
"I've never been more productive than since I've had kids. It's made me incredibly motivated and passionate about my work and I've really gone for it in the last four years."
Myth Three: Women Are Less Capable Than Men And Should Be Paid Less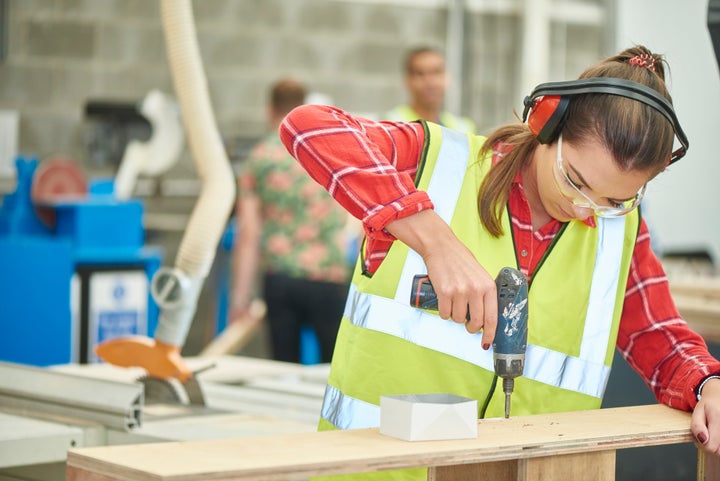 Korwin-Mikke may have told the world that women are "less intelligent" and "weaker" than men, but he couldn't be more wrong.
In the UK, more women attend university than men - with 46% of girls entering higher education compared with 36% of boys - meaning there are plenty of women who've proven their intellectual prowess.
When it comes to physically demanding jobs, such as construction, Unite acting general secretary Gail Cartmail said women "can and are doing exactly the same roles as men", but sadly, women in these industries still report high levels of discrimination.
A 2016 survey by construction recruiter Randstad found that 41% of women construction workers believe they earn less than their male colleagues. What's more, just 16% of senior roles in construction are held by women and a quarter of those surveyed reported being passed over for promotion.
According to Cartmail, anyone who believes the myth that women in construction can't do the same job as a man is "living in the dark ages".
"Just like in any other profession women working in construction must receive a fair day's pay for a fair day's work," she told HuffPost UK.
"The construction industry is facing a skills crisis and the only way that the industry is going to meet the challenges of the future is by widening its recruitment pool."
Myth Four: Equal Pay Is Bad For Businesses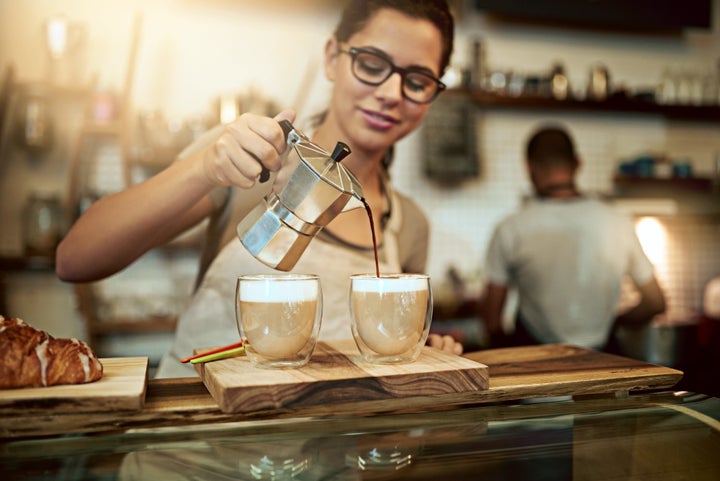 On some debate forums, it's been argued that equal pay would "force more small businesses to close", but the Federation of Small Businesses (FSB) - an organisation dedicated to offering advice to such companies - does not agree.
Mike Cherry, national chairman of FSB, said the organisation "supports closing the gender pay gap".
"Small businesses recognise the benefits of recruiting and retaining talented staff in their workplace," he said.
"It is important to adopt a broader lens in addressing the gender pay gap by providing support to the growing number of self-employed. The Government should improve the maternity benefits provided to the self-employed to bring them closer in line with the benefits available to employees."
There's also evidence to suggest that hiring women - and giving them equal opportunities to rise to the highest paid positions within a company - is good for businesses overall.
A McKinsey Global Institute report found that gender diverse companies financially outperform others by 15%.
As CEO of Ann Summers, Jacqueline Gold is living proof that a woman can lead a multi-million pound brand. She firmly believes in hiring the best person for the job and paying them fairly, regardless of gender.
"No woman wants to be the token woman and feel like she is there to fill a quota rather than on her own merit," Gold told HuffPost UK.
"I have always had this approach with my own business choosing the best person for the job regardless of gender. My own board is 65/35 female/male but this hasn't been intentional."
She added that there are "some incredible female run businesses out there" and said she believes in some sectors, such as retail, having more women in senior positions will benefit the business.
"A report last year by Women In Retail found that over 80% of retail customers were women, yet only 20% of executive teams and 10% of executive boards of retailers are female," she said.
"For me, this is complete madness – a huge part of retail is about understanding your customer, and these retailers need to understand that having leaders in your business that are your customer can only be of benefit."
Myth Five: Equal Pay Is Bad News For Men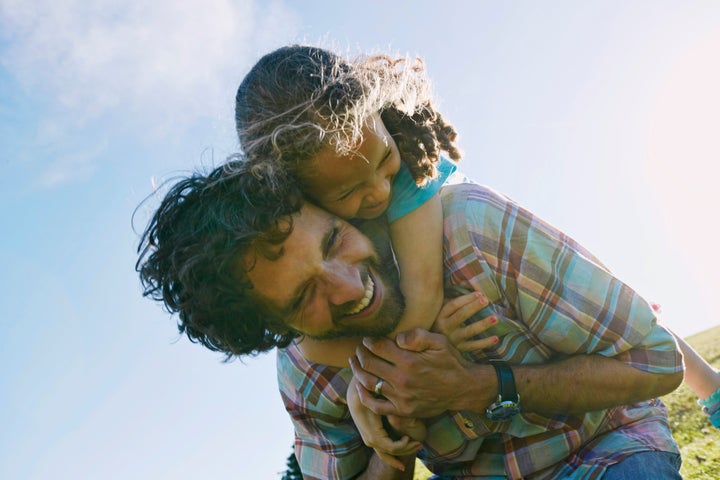 The likes of Green may argue equal pay would make life more difficult for men, but feeling pressure to be the main breadwinner in a family is already having a detrimental effect on males.
A report conducted with suicide prevention charity CALM as part of HuffPost UK's 2016 Building Modern Men campaign found that men are twice as likely to feel financial burden in a relationship than women - and it's having a negative effect on their mental health.
As speakers at the UN have previously pointed out, the gender pay gap is deeply tied to gender stereotypes, so closing it would help both men and women move away from these traditional and outdated gender roles.
What's more, eliminating the possibility that taking time off to have children will impact your career may encourage and enable more fathers to take shared parental leave (SPL).
SPL was introduced in the UK in April 2015, enabling women to reduce their maternity leave and share 50 weeks leave and 37 weeks pay with their partner.
But in August 2016, it was reported just 3,000 couples took up SPL during the first three months of 2016.
Mark Smith, a managing director for Accenture, took SPL after his wife Emma gave birth to his son Louis. He believes "cultural restraints" are preventing many men taking up SPL, but is pleased he took 30 weeks off.
"My memories are still really clear and I wouldn't have changed the time I had with Louis for the world," he previously told HuffPost UK.
"I loved the bonding, the fact that Louis would see me as an 'equal' parent so when he was down or wanted a cuddle he'd come equally to me as much as he would Emma. I also realised how all-encompassing being a parent is – and how little time there is to do anything else. Perhaps a good lesson for a happy home."
While there's plenty of evidence to debunk the myths around the gender pay gap, perhaps Jacqueline Gold best summed up why it's time the world championed equal pay once and for all.
"Equal pay isn't about a benefit to men or the economy, it about doing what's right legally and morally. It is illegal to pay a woman less than a man for doing the same job, so quite simply this needs to be stopped," she said.
"For me, only positivity can come from equal pay and anyone who argues differently is losing sight of the issue. We must remember this isn't just a female issue, it's an everyone issue."