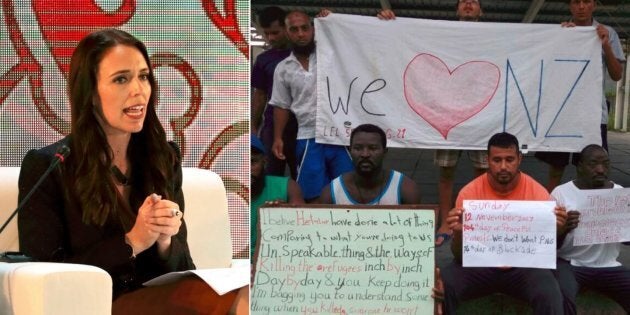 New Zealand Prime Minister Jacinda Ardern has criticised Australia's handling of the escalating refugee crisis as the situation on Manus Island reaches fever pitch.
Approximately 420 asylum seekers are refusing to leave the Papua New Guinea detention centre over fears for their safety from locals. Accusations have also emerged from refugees and their advocates that the West Lorengau site where the Australian Government is forcing detainees to relocate to is inadequate for human habitation.
Speaking at the APEC Summit in Vietnam on Saturday local time, the Prime Minister of New Zealand said the unfolding stand-off between refugees and PNG immigration officials was unacceptable. Ardern again reiterated New Zealand's desire to resettle 150 of the men currently held in Australia's offshore detention centres despite Malcolm Turnbull turning down her offer a week prior.
"We made the offer because we saw a great need. No matter what label you put on it there is absolute need and there is harm being done," Ardern said.
"I see the human face of this and I see the need and the role New Zealand needs to play. I think it's clear that we don't see what's happening there as acceptable, that's why the offer's there.
"It continues to be the easiest option is to go through Australia given the screening that's already occurred of those refugees ... I'm interested in the fastest route."
Ardern said she will again discuss the escalating crisis and stand-off on Manus with Turnbull when the two leaders meet again at the East Asia Summit in the Philippines this week.
Manus Island refugees said they were advised on Saturday by officials their eviction deadline would be extended another 24-hours, by which point they would be forcibly removed from the processing camp which had been without food, water or medical supplies for nearly two weeks.
Manus detainee and journalist Behrouz Boochani tweeted on Saturday that police officers had stood outside the camp and used microphones to tell them they must leave by Sunday.
"They're telling the refugees to leave, saying tomorrow will be the last day you are here," he said.
Throughout Sunday Boochani and other detainees used social media to report they were still in the "prison camp" and "holding a peaceful, silent protest". The same day the PNG Minister for Immigration and Border Protection, Petrus Thomas announced those remaining in the Manus Regional Processing Centre (MRPC) had until Monday to relocate.
"My concern now is the refugees and non-refugees residing at the MRPC who will be vulnerable to health risks," Thomas said.
"We will be taking steps with relevant authorities to move the residents based on serious exposure to health risks for the good of everyone that is still remaining at the Lombrum Naval Base."
The Immigration Minister also took aim at "so-called refugee advocates" and "foreign media" for spreading "misinformation" which was not helping refugees in their move to the new accommodation facilities, adding that it was impossible to reconnect services at the MRPC.
Thomas reinstated PNG's position that "as long as one person under the [Regional Resettlement] Arrangement remains in PNG, Australia will continue to fund and support PNG to manage the residual cases until the last person is independently settled in PNG or departs PNG".
Rejecting United Nations calls to restore utilities to the camp, Papua New Guinea said it would "apprehend" those responsible for the stand-off when it forcibly evicted the men.
Acting Prime Minister Julie Bishop said there was no reason for the remaining men to choose to stay, rejecting accusations that conditions and facilities at the new camp were inadequate.
"Over the last few months they have traveled to East Lorengau on many occasions and never raised any concerns," Bishop said.
Many Australians continue to express disgust and outrage over the government's treatment of refugees, with collective frustration reaching its pitch in the past week as news of the Manus shut-down dominated headlines and social media.