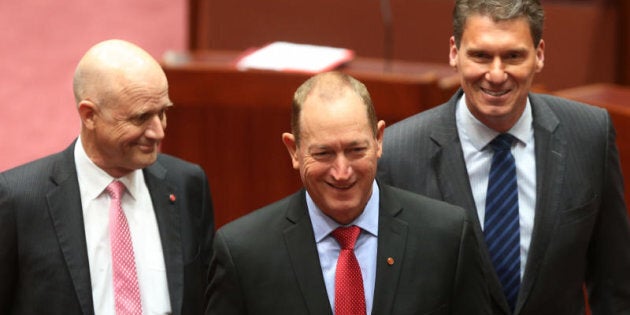 CANBERRA -- Pauline Hanson's One Nation party is back to three senators and the senate crossbench is even more complicated after the man who replaced Malcolm Roberts, Fraser Anning, up and quit the party on his first day.
News Corp reports a 20-year friendship between Hanson and Anning came undone on Monday after a meeting before his swearing in "went to hell in a handbasket".
Then, just over an hour after the man who got 19 primary votes in the 2016 federal election was sworn in, Hanson issued a statement confirming he has gone -- or in her words had "abandoned" One Nation -- and will sit as an independent.
Anning said in a statement that he had been "expelled" from the party by Hanson, over an internal dispute regarding staff. Anning had employed several former members of Roberts' staff, which he claimed had infuriated Hanson and her chief of staff James Ashby.
"The next thing I know, I saw on the TV that I had supposedly become an independent. This was news to me," he said.
As just three votes are need in the new senate make-up to block government legislation, Hanson still has a powerful veto power, but the loss of her third senator -- after Rod Culleton and Roberts -- is still a blow.
There were flashing signs of trouble, even today.
Hanson was not in the chamber for the new senator's swearing in on Monday morning. Instead of being walked in by members of One Nation, Anning was accompanied by independent senators Cory Bernardi and David Leyonhjelm.
In her statement, Hanson said Anning is waiting "until something else comes along".
She confirmed, in the statement, she wanted Malcolm Roberts to be "returned to the Senate" as soon as possible but Anning, through intermediaries, was not responsive.
"I was disappointed Mr Anning made no attempt to contact me or any One Nation executive member off the back of multiple requests to discuss his future plans. Instead he chose to release scathing media releases demanding I pledge my support to him without even meeting or speaking to him."

Pauline Hanson statement
Hanson states previous employees of Roberts "made contact with Mr Anning several months ago, encouraging him to move to Corey (sic) Bernardi's party should Malcolm Roberts lose his seat".
She revealed that she had not spoken to Anning for months and only managed to speak to him prior to his swearing in, but according to the statement, those talks "quickly failed when Senator Hanson refused a number of Mr Anning's staff into a Party room meeting".
"Mr Anning was advised that David Goodridge, Leon Ashby, Richard Howard and Boston White were not welcome to this morning's Party room meeting, because of their disloyalty to their former employer and myself," Senator Hanson.

Fraser Anning said "I know where this is going" and stood up and walked out of the room.

In an attempt to calm the waters, Senator Hanson asked Senators Burston and Georgiou to mediate with Mr Anning to find some common ground, but they were informed Mr Anning would stand as an Independent only minutes before he was sworn into the Senate.

Pauline Hanson statement
But Anning has his own view of the meeting. "I ran for One Nation in '98 and my wife and I considered Pauline a close friend, but that all went to hell in a handbasket this morning," he told The Australian.
"When I walked into this meeting this morning I was very rudely told that none of my staff were to walk in here.
"That was Pauline. Pauline was on her high horse a bit."
In an interview with Fairfax, Anning claims Hanson had "berate[d] me like a 12-year-old schoolboy" at their meeting on Monday, and following the meeting, he saw Hanson's claims appear on TV.
"She made the decision, not me," Anning said.
"I didn't defect. She made my position pretty much untenable with her conditions."
Labor's Murray Watt has told reporters that One Nation history is repeating itself and Queensland voters should be warned.
"This is what we have seen over and over again from One Nation," he told reporters in Canberra.
"Each time they've been elected, whether it be to the QLD parliament or here in Canberra, people sign up to One Nation they start working out it is not what they signed up for and then they pull the pin or end up getting forced out.
"Back in 1998, when One Nation was elected to 11 seats in the state (Queensland) parliament within about 12 months each and every one of those members of parliament had either resigned or gone independent or joined another party. And we are seeing that all over again."
Watt said Hanson still wields too much power over the Turnbull Government.
"They have consistently been Malcolm Turnbull's most reliable ally in the senate to help him get through all sorts of legislation that has hurt the very battlers she says she stands up for," he said.