CANÓVANAS, Puerto Rico ― Juan Medina-Dishmey took stock of everything his family of six had lost in the storm, sweat accumulating on his concerned brow as he studied the piles of damaged household appliances and personal belongings that lay on his driveway.
"The house is uninhabitable right now," the 44-year-old told HuffPost in mid-October. He said that during Hurricane Maria, water rose up to four feet inside his home in Valle Hill, an impoverished community in the city of Canóvanas in northeastern Puerto Rico.
"We lost everything and still no one has helped us," he said.
Four weeks after HuffPost met with Medina-Dishmey ― and seven weeks after Maria hammered Puerto Rico on Sept. 20 ― his family remains in a desperate situation. On Thursday, the Dominican-born father of four told HuffPost by phone that the Federal Emergency Management Agency had come to assess the damages to his home 12 days ago, but he has yet to hear back.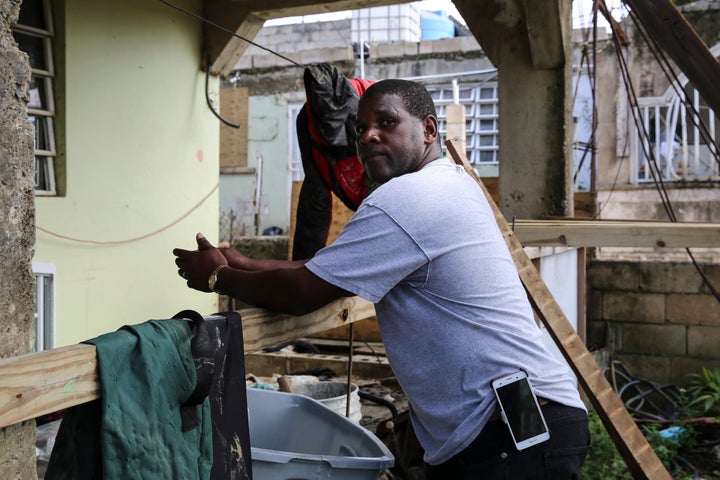 Medina-Dishmey and his wife, Juana Ferrera, have a 19-year-old son and three daughters ages 17, 15 and 11. Their youngest has a cognitive disability due to microcephaly, which causes her to have epileptic seizures and difficulty with speech. The family is currently living with Medina-Dishmey's sister, and has just two small mattresses from their home to sleep on.
"Without electricity, without mosquito nets, that's how we're sleeping on the floor," Ferrera, 47, said.
The family's living arrangements, coupled with the lack of clean drinking water and power across much of the island, have Medina-Dishmey and Ferrera worried about their kids' health. All three of their daughters have had colds; the youngest has been sick for at least four weeks, Ferrera said Thursday. The parents also fear their children could become infected with leptospirosis, a potentially deadly animal-borne bacterial disease.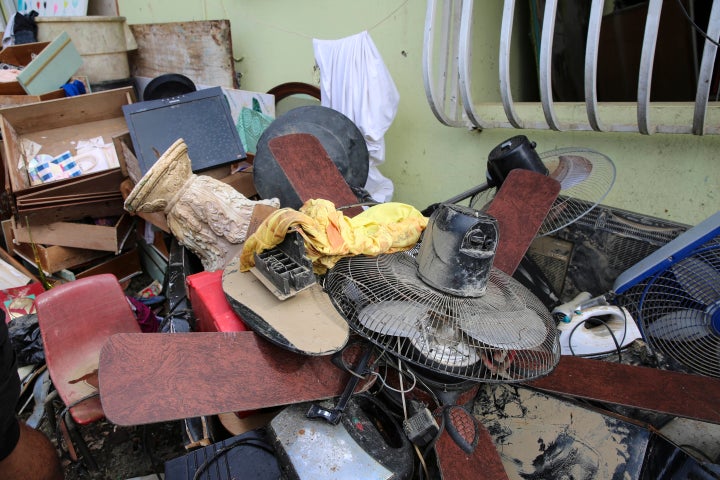 The lack of sufficient food, water and safe living conditions for his family has Medina-Dishmey feeling disheartened. He said his children also "feel sad" when they see the damage to their home and say they want to move to the U.S. mainland.
"I haven't even been able to work and I'm waiting for an organization to give me some sort of help," he said. "I try to act strong so my kids don't see me like that, but I'm still depressed."
The family is one of thousands in Valle Hill and its two neighboring communities, Villa Hugo 1 and 2, that residents say lack basic resources, including shelter, in Maria's aftermath. While several poor communities are still waiting for help, the plight of the Valle Hill area stands out, Angel Marcano, a community leader from Old San Juan's La Perla district, told HuffPost.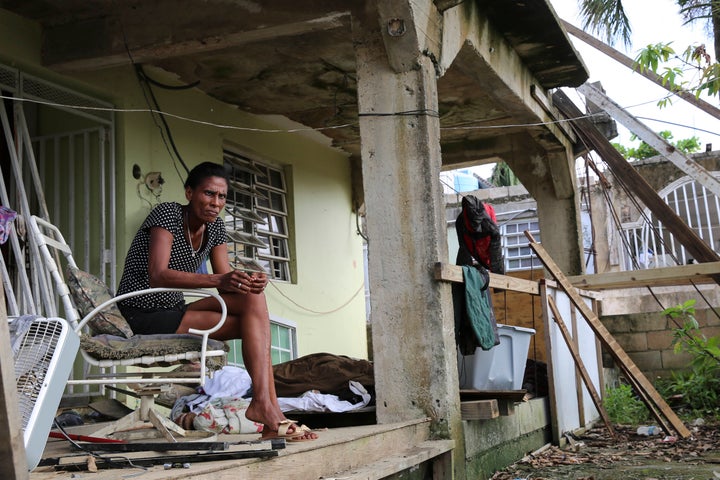 "We're hearing from a lot of communities like this ... the government came once or the government hasn't come at all," Marcano said. "Compared to other communities I've been to, I saw a lot of need [in the Valle Hill area]."
"I saw families that are 'living under four sticks,' as we say here in Puerto Rico," he added.
Jannette Lozada Sabastros, 52, Valle Hill's community president, said she has not heard from the mayor of Canóvanas, Lornna Soto, since Hurricane Irma hit Puerto Rico ahead of Maria in early September. At that time, 79 "small" bags of groceries were delivered, she said.
Lozada Sabastros suspects that aid has been slow to arrive due in part to discrimination against her community, where 40 percent of the area's residents are undocumented immigrants primarily from the Dominican Republic ― an often vilified group.
Alaí Reyes-Santos, an associate professor of ethnic studies at the University of Oregon, has done extensive research on the marginalization of Dominicans in Puerto Rico, both documented and undocumented. She told HuffPost there's "real discrimination and xenophobic violence against" working-class Dominican migrants on the island, who are often viewed as uneducated or criminals.
"[They] are very vulnerable because there's an assumption that they don't have rights or that they're not protected by the state," she said.
Residents also point to a lack of transparency from local officials, which has led to little understanding of how resources are allocated at the federal level. The result: Residents are desperate for basic necessities ― including shelter ― with no known timetable for when help will arrive, if at all.
Multiple calls to the office of the mayor of Canóvanas by HuffPost went unanswered.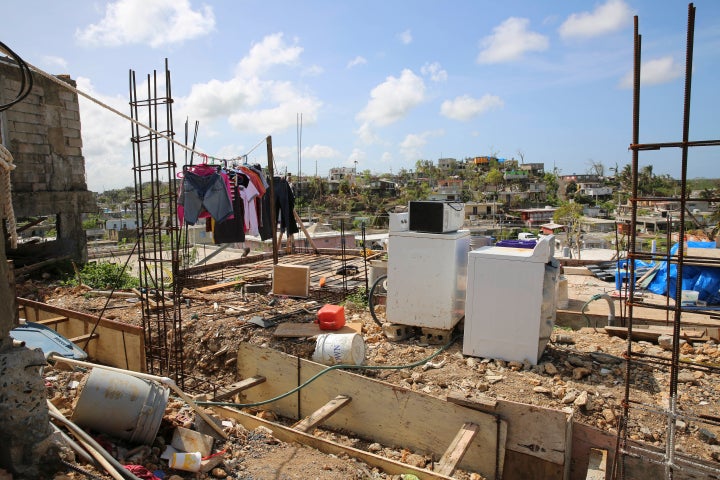 FEMA'S aid distribution pipeline
For its part, FEMA says they are delivering food and water intended for Canóvanas to a regional distribution center.
"FEMA's records show food and water have been delivered to Canóvanas and its associated regional staging area, as requested, on a daily basis for the past month," spokesman Ron Roth told HuffPost.
Once supplies arrive in Puerto Rico, Roth said, the agency transfers them to the nine Regional Staging Areas (RSAs) across the island. The Puerto Rican National Guard manages and operates the RSAs and is in charge of delivering the supplies to local mayors or authorized officials. From there, local officials distribute the food, water and other aid at their discretion.
One of the RSAs is located in Canóvanas and supplies aid to it and the municipalities of San Juan, Carolina, Trujillo Alto, Loiza and Rio Grande. As of Tuesday, the Canóvanas RSA had received 1,422,812 bottles of water and 430,560 nonperishable meals, according to FEMA. As of Sunday, the RSA had also received 131 pallets of perishable food with an average of 330 meals per pallet.
If those resources were distributed evenly among the estimated 697,820 residents in all six municipalities, each person would have received approximately 2.04 bottles of water and 0.68 meals via FEMA since Maria hit.
Other groups, such as the Red Cross and the Salvation Army, have pitched in, but food and water remain in short supply.
When HuffPost asked FEMA about the insufficient quantities of aid available at the Canóvanas RSA, Roth said the agency is working with the government of Puerto Rico to assess communities' needs.
"The request of commodities and distribution is led by local officials as they identify the need according to their impacted population," he said in a statement. "Then the request comes to FEMA to provide and distribute commodities, this is the process for all 78 municipalities."
He added that the Department of Defense has been providing two reverse osmosis water purification units that produce 3,000 gallons of potable water per hour.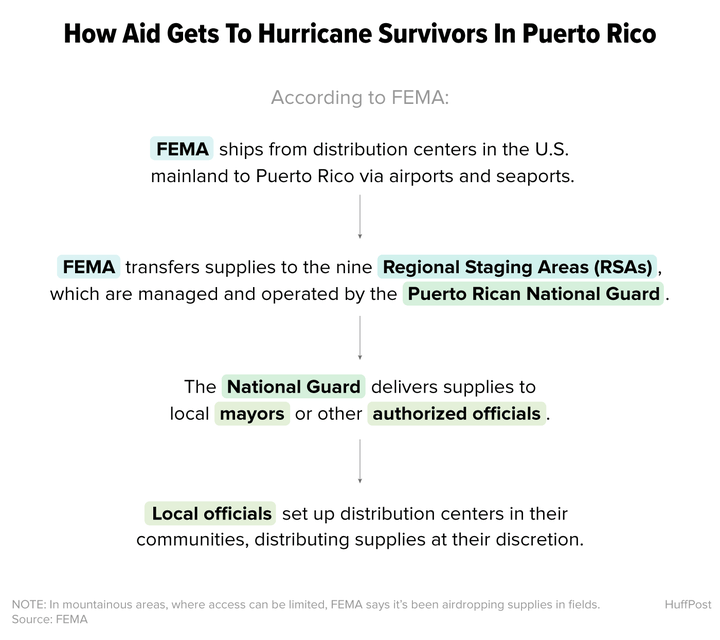 About a week after Maria, Puerto Rico's secretary of the Treasury and the National Guard brought 900 cases of water to be distributed among the 1,600 households in Valle Hill and Villa Hugo 1 and 2, according to Lozada Sabastros. But she said Thursday no one has been back since.
"It's been almost a month since any water was brought here," she said. "There are a lot of families here that have four-to-eight members, one case of water rationed out can last [only] one week or a week-and-a-half."
What's more, Lozada Sabastros told HuffPost the 972 families in the communities remain in dire need of clothes, sheets, mattresses, food, medicine and even shelter.
Thus far, residents have survived on supplies from private entities like Samaritan's Purse, an evangelical humanitarian aid organization that gave all three communities blue tarps to use as makeshift roofs or walls.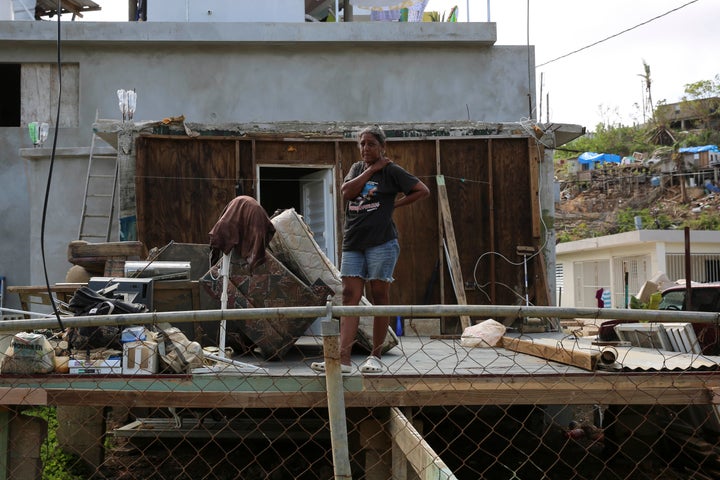 'We didn't expect so much damage'
The wait for aid is particularly difficult for those without a roof over their head. Nearly every family home constructed with wood in Valle Hill and its neighboring communities was either flattened or ripped away by Maria's winds, leaving dozens of residents with little more than cinder blocks to stand on.
"Every corner of my community was affected," Lozada Sabastros told HuffPost. "We knew it was going to affect us, but we didn't expect so much damage."
Danny Guerrero Herrera is one of the many residents who lost most of their home to the storm. He told HuffPost that Irma shook his house, which sits atop a small hill, but Maria ripped away his roof, several walls and destroyed nearly all his belongings.
When HuffPost visited him at his home in mid-October, the 43-year-old was using a donated tarp as a makeshift wall where his bathroom and bedroom used to be. When he pulled the tarp back, dozens of other damaged houses in Villa Hugo 1 came into view below.
The flimsy, temporary tarps were the only protection many residents had from the flash floods and rain that came after Maria until the Army Corps of Engineers arrived to install reinforced coverings on Oct. 28 as part of Operation Blue Roof, a program implemented on behalf of FEMA.
But Roth, who knows of the program, told HuffPost that even these reinforced tarps are an incomplete solution for many families because they can only be applied if at least 50 percent of a house's rafters are still standing.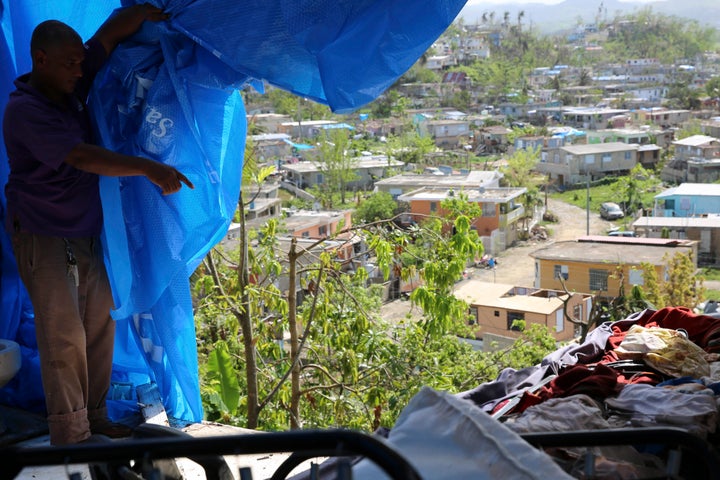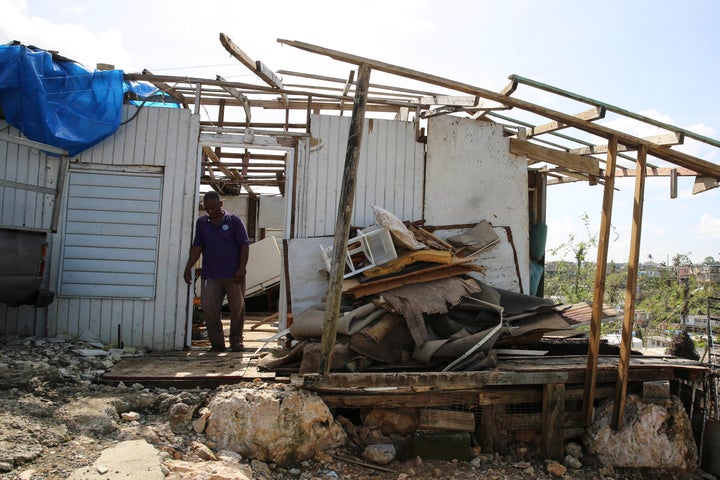 In other words, the program doesn't address the housing crisis faced by many in the Valle Hill area. "They're not going to put many up here, because the majority of houses here were completely destroyed," Lozada Sabastros said.
Guerrero Herrera and his wife have been staying at a friend's house since their home was battered. In the interview last month, he said he was still waiting for FEMA to assess the damage and grant him financial assistance so he could tear down his home and rebuild it. "But they haven't come," he said with a sigh. "Let's see what happens."
Contacted by phone on Thursday, Guerrero Herrera said he still had heard nothing from the agency.
'I've sensed discrimination'
While some residents in the Valle Hill area hold out hope that FEMA will arrive with financial help to rebuild their lives, Lozada Sabastros said she knows of at least 400 residents in her community who won't see a cent because they are undocumented immigrants, mainly from the Dominican Republic.
"I am realizing that because this is a community of foreigners ― meaning there are a lot of people without documents ― I've sensed discrimination," she told HuffPost.
Lozada Sabastros said she is trying to get those families aid through private organizations "so they at least have a place to sleep."
FEMA, responding to a question about aid that undocumented individuals are entitled to, pointed HuffPost to its webpage, which confirmed that undocumented residents affected by a major disaster may be eligible for non-monetary assistance ― including legal help, medical care, shelter, food and water. Undocumented individuals are not eligible for cash assistance programs, though a FEMA spokesman told HuffPost households can apply for such relief as long as any family member has proper documentation, regardless of age.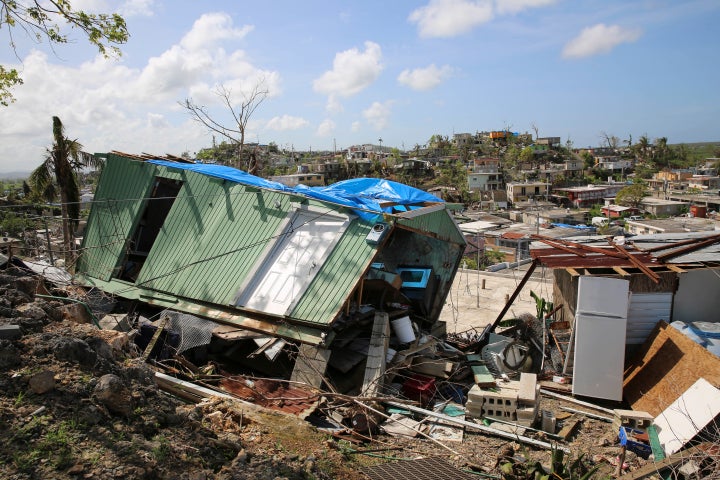 The marginalization of Dominicans in Puerto Rico would be nothing new, according to Reyes-Santos, who wrote Our Caribbean Kin: Race and Nation in the Neoliberal Antilles. A Puerto Rican who has family members of Dominican descent, she said that undocumented Dominicans are more vulnerable and invisible than ever post-Maria.
"I don't know much about Canóvanas but I know enough about how nationalist politics play out in particular moments of fear," she said. "In moments of fear, migrants become scapegoats."
She said Dominicans have been used as such in Puerto Rico since the 1980s, when the island's economic crisis began to take shape.
"I could see people not helping Dominicans and using nationalism as a way to say, 'Well, we just need to help ourselves right now and Dominicans are not part of our community, they just need to go home,'" she said. "In desperate times, sadly, all our biases and prejudices kick in."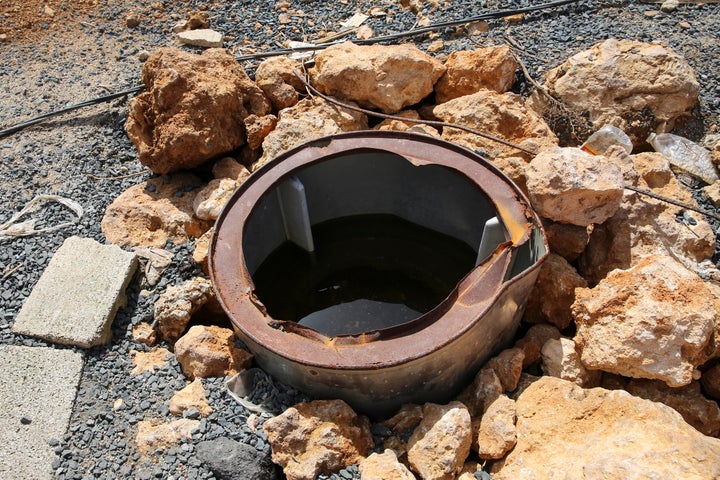 'What I'm most worried about right now is health'
Nearly 58 percent of Puerto Rico still is without power and more than 14 percent is without running water, according to government statistics. Doctors have told HuffPost these conditions make the island ripe for disease outbreaks.
The failure to bring sufficient drinking water and provide clean living conditions has left residents in Valle Hill and its neighboring communities exposed to potentially contaminated water sources or objects that could contribute to a host of health problems.
"What I'm most worried about right now is health, because they haven't picked up the trash and at night there's a procession of rats," Lozada Sabastros said. Rats, among other animals, pose a threat to the community's health since they are known to carry the bacteria that can infect humans with leptospirosis. The disease has killed at least four people in Maria's aftermath.
Lozada Sabastros says that in Valle Hill alone, four others have died from the disease. "When it comes to statistics, [the government] stayed quiet, but I know who died here from that," she said. "I know because I went to every one of the funerals."
The official death toll from all causes related to Maria stands at 55.
Lozada Sabastros said Thursday she knows of about 200 people in Valle Hill suffering from different ailments, including scabies, gastritis and conjunctivitis. She is particularly concerned about the well-being of her community's children.
"The kids have some horrible colds," she said. "I'm scared for my kids and for the kids here because without toys or anything to entertain themselves with, they spend their time going through the trash."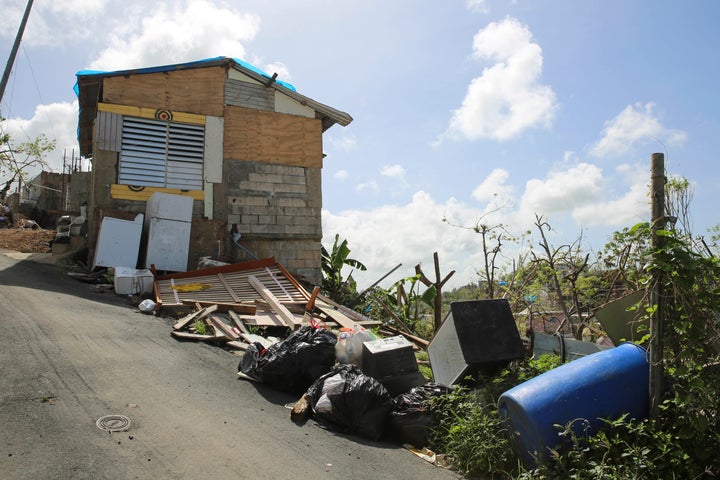 Hermes Ayala and Alejandra Rosa contributed to this report.