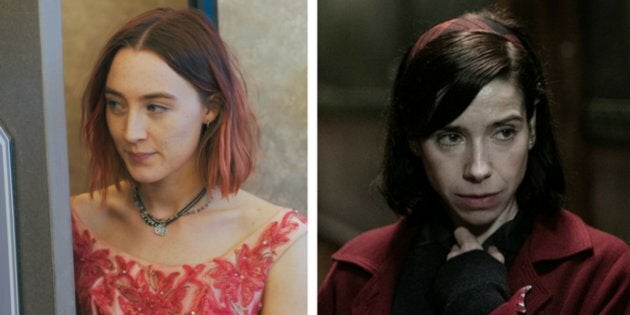 As usual, winnowing the Oscars' Best Actress race to five nominees will be agonizing. Just the way we like it.
With the holidays fast approaching, awards season is entering overdrive. Most of the year's campaign-defining film festivals are behind us, clarifying the narratives that can make or break the top-tier contenders. Between now and the announcement of the nominations on Jan. 23, I'll lay odds on the Oscars' six major categories, ranking the contenders according to their stature at time of publication. Of course, anything can change once more precursor prizes are announced. (For example, will German actress Vicky Kriepsbreak through after Paul Thomas Anderson's "Phantom Thread" screens for press? TBD.)
Consider this your first HuffPost cheat sheet for the 2018 Oscar contest. The awards air March 4.
16

Salma Hayek, "Beatriz at Dinner"

Roadside Attractions

15

Nicole Kidman, "The Beguiled"

Focus Features

14

Gal Gadot, "Wonder Woman"

Warner Bros

13

Jennifer Lawrence, "mother!"

Paramount Pictures

12

Michelle Williams, "All the Money in the World"

Sony Pictures

11

Daniela Vega, "A Fantastic Woman"

Sony Pictures Classics

10

Annette Bening, "Film Stars Don't Die in Liverpool"

Sony Pictures Classics

9

Emma Stone, "Battle of the Sexes"

Fox Searchlight

8

Kate Winslet, "Wonder Wheel"

Amazon Studios

7

Judi Dench, "Victoria & Abdul"

Focus Features

6

Margot Robbie, "I, Tonya"

NEON

5

Saoirse Ronan, "Lady Bird"

A24

4

Meryl Streep, "The Post"

Fox

3

Jessica Chastain, "Molly's Game"

STX Films

2

Sally Hawkins, "The Shape of Water"

Fox Searchlight

1

Frances McDormand, "Three Billboards Outside Ebbing, Missouri"

Fox Searchlight
CORRECTION: A previous version of this story incorrectly stated that Cliff Robertson had won an Oscar for playing a mute character.