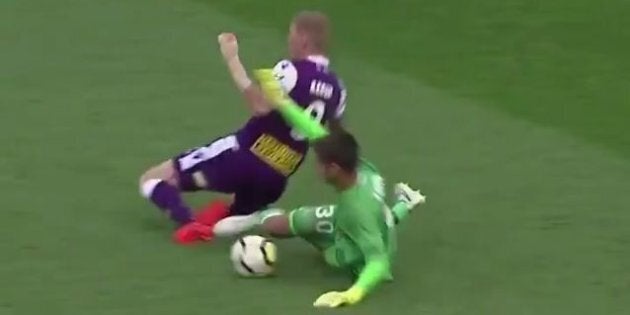 It has got to be one of the weirdest, most unfortunate goals that the A-League has seen in a long time.
On Sunday the Wellington Phoenix faced Perth Glory at Wellington's Westpac Stadium for round six of the 2017/18 A-League season.
While the final score ended up being a comfortable 5-2 win for Wellington, it was an early concession from the home-side that had fans and commentators scratching their heads.
Goalkeeper Keegan Smith initially tries to clear a backpass from teammate Marco Rossi, but as he attempts to stand and pass up the field his right hand hits the ball.
Play goes on for a number of seconds before the referee gives Perth Glory an indirect free kick. The rule is that if someone on your team instigates a pass back to the keeper, that keeper can't then use his hands -- even if he is inside the box.
18-year-old Smith is the youngest goalkeeper in A-League at the moment.