"Should we separate it or shouldn't we separate the art or work from the man?" Jerry Seinfeld recently asked Stephen Colbert during a conversation about disgraced comedian Bill Cosby.
Although Cosby's stage persona is vastly different from the heinous sexual crimes he's being accused of, both Colbert and Seinfeld eventually agreed that Cosby's work is tarnished.
So there's no hope for Louis C.K.
The comedian, who has a penchant for masturbation jokes on the stage and screen, has confirmed the reports of unsolicited sexual stimulation and harassment from at least five women. The accusations appeared in a New York Times article on Thursday. As the piece states, "The stories told by the women raise sharp questions about the anecdotes that Louis C.K. tells in his own comedy."
The fact that some of those anecdotes seem to mirror real-life events is disconcerting, to say the least, and juxtaposing the accusations along with the comedian's jokes on the same timeline serves as a disturbing decadelong confession.
We sifted through Louis C.K.'s stock of standup and on-screen jokes, and found that the once mildly alarming elements of his edgy humor are now impossible to ignore.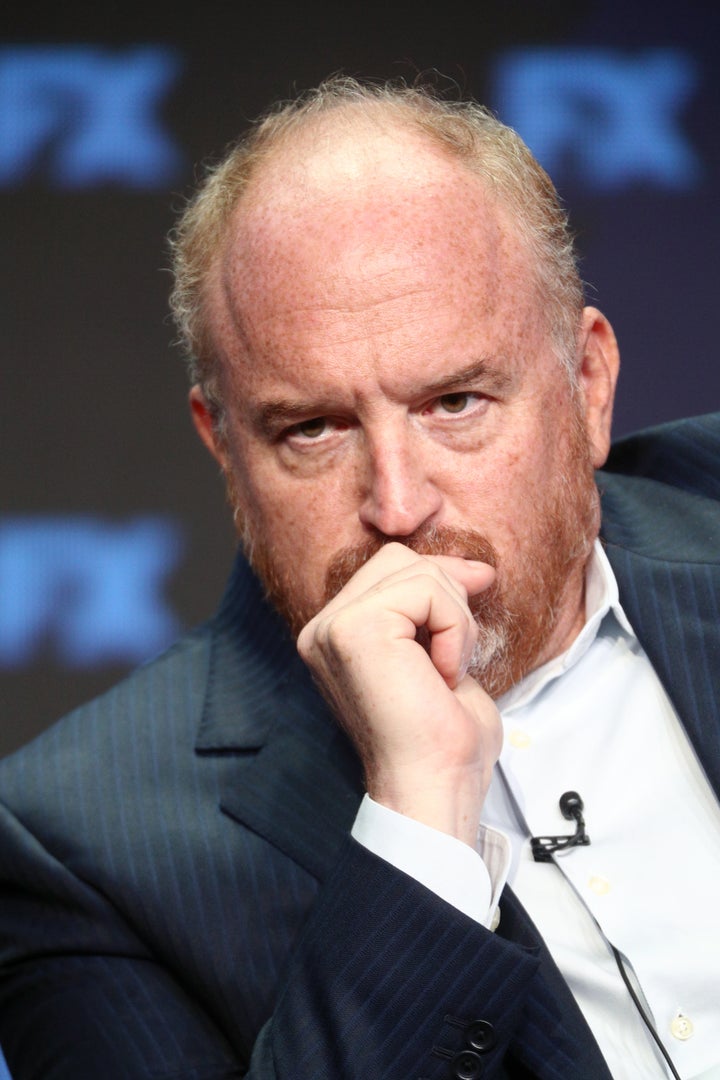 2005 and 2006
In 2005, Louis C.K. reportedly approached comedian Rebecca Corry while she was working on a television pilot and asked to masturbate in front of her. When Corry declined and reminded him he had a pregnant wife and a daughter, she said, per the Times, that C.K. told her he "had issues."
The same year, during the special "Louis CK: One Night Stand," the comedian expounded upon his frustrating urges to masturbate:
My problem is very simple — it's trying to find a place in my house where I can masturbate without somebody bothering me. And that's getting really difficult. There's nowhere to go anymore. She's got her mother living with us, too, in the guest room, and I'm on the streets now. I got nowhere to go. Now I know when I see a guy in the West Side Highway, jerking off in plain daylight. That's not a homeless guy, that's a married man right there. He's got nowhere to go. Fuck it. Fuck you. Go ahead and look, man. What else am I going to do?
He added that masturbation "doesn't bring much joy" to guys, saying it's followed by self-hate and depression:
Masturbation doesn't bring much joy to guys. Women seem to like masturbating; they put flower petals on the pillow and they're like 'AHHH, ME!' or whatever, you know. And the guys are like "Ah, shit ... Ah, fuck it all ... Goddammit." Sometimes you find ecstasy but it's followed by the deepest self-hate and depression you've ever felt. It's an amazing drop from way up here this like, "Aw, yeah, aw ... What the fuck is wrong with me, goddammit! I got to get to work, I don't have time for this shit right now!"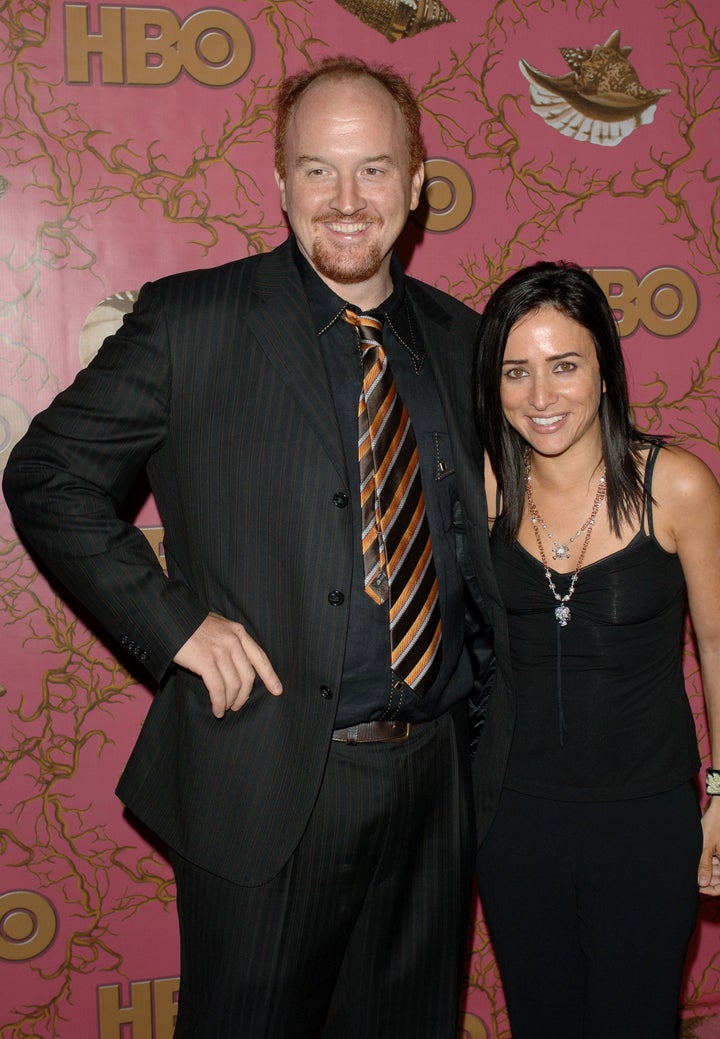 In the 2006 pilot for the short-lived HBO series "Lucky Louie," C.K.'s character is confronted by his wife, played by Pamela Adlon, after she catches him masturbating in a closet. Their ensuing conversation reflected another joke in his 2005 special:
My wife's like, "Well, do you think about me when you're doing that?" What are you fucking high? Why would I do that? I can think about anybody, that's magical. Why the fuck would I, I'm married to you? Do women really think their husbands are going, "Oooh, my wife? Oh yeah, that's fucking hot. Oh yeah, picking her up at the airport and getting yelled at, yeah that's fucking hot."
2007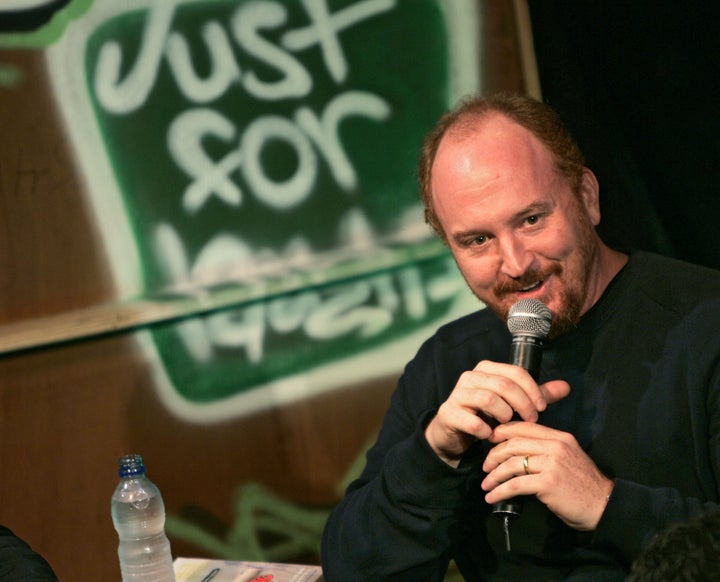 In subsequent years, C.K. continued to joke about his insatiable need.
During a 2007 special "Louis C.K.: Shameless," the comedian said that men needed to masturbate so they wouldn't "murder people":
As far as sex goes, for guys it's a release. It's not complicated. We just need it. Women, it's a fucking emotional thing ... "We need to cum, just because we need to" ... For guys, it's something we need to do so we don't murder people.
He also described the struggles in his marriage and a sexual encounter with his wife that was the "saddest thing that ever happened in America":
Even C.K. can't seem to explain his own behavior. Talking with Opie and Anthony in a recording said to be from 2007, the comedian recalled growing up in Newton, Massachusetts, and once taking out his penis during an encounter with a "weird little old man" named "Florida Steve," who was known to go up to people and masturbate:
I took out my dick and showed it to him. I don't know why. He just went "OK, have a nice day" and he walked away, and I realized I had freaked out Florida Steve.
2008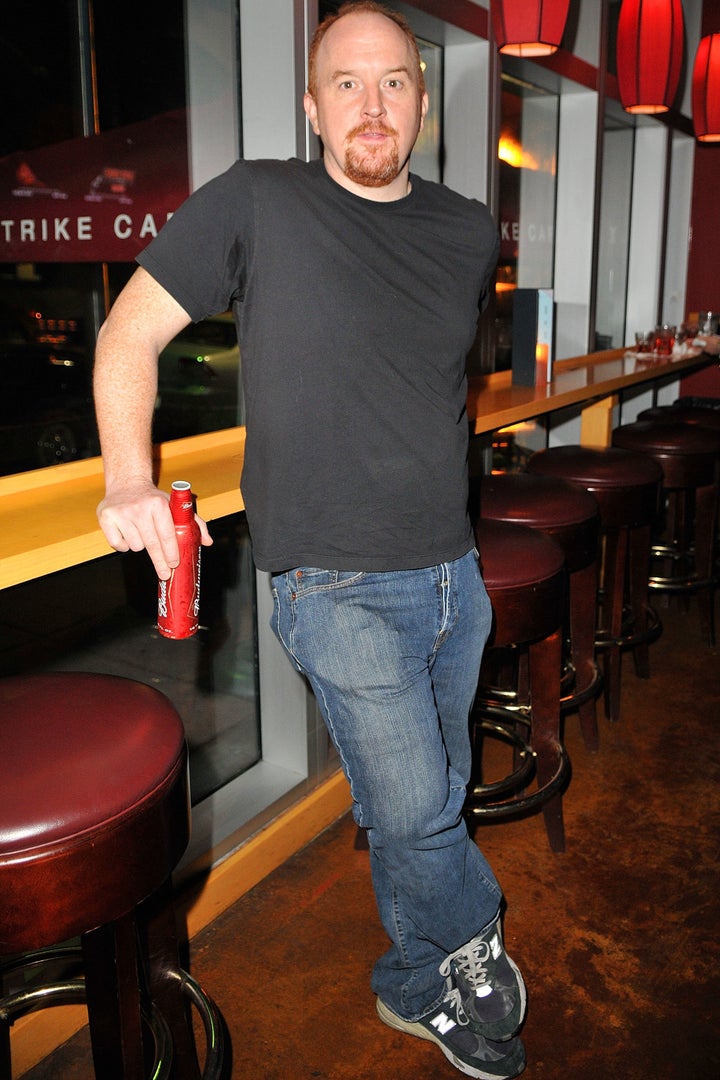 The following year saw C.K. bringing up his urges once again in his "Chewed Up" special:
I need to cum, I need to. Cumming is a need, I came the first time when I was 12 and I haven't skipped a day. I cum everyday, and I've fucked maybe 20 times in my life so.. It's just been me doing most of the work. I jerk off way too much and it upsets me, I don't know why. Maybe it's because it's so selfish. But I know it's bad, I know I'm hurting somebody somewhere.
He continued:
I was thinking the other day that you can figure out how bad of a person you are by how soon after September 11th you masturbated, like how long you waited. And for me, it was between the two buildings going down.
C.K. also mentioned the "shame" that comes with his actions:
You know it's bad to jerk off and run out the door, 'cause you run into somebody, 'Oh, she knows.' You gotta take some time alone to process the shame.
In 2008, C.K. and his wife, Alix Bailey, divorced. (The pair had been married since 1995.)
2009 and 2010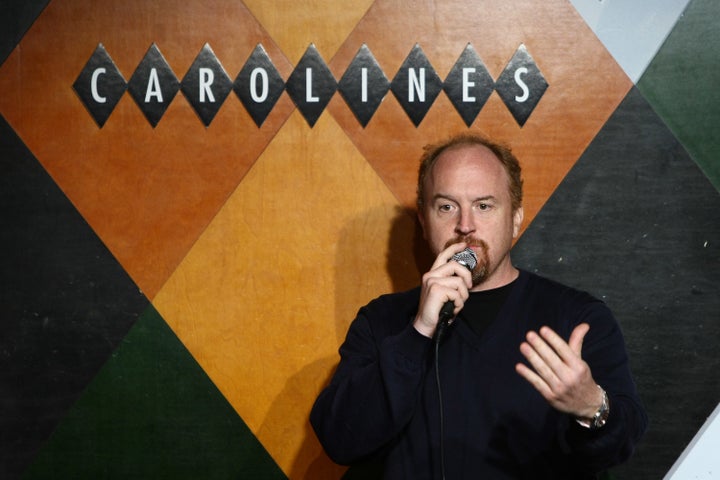 Writer and performer Abby Schachner said C.K. masturbated on a phone call with her back in 2003. In 2009, he apologized, out of the blue, for his actions. According to the Times, the comedian reportedly contacted Schachner on Facebook, writing, "That was a bad time in my life and I'm sorry."
C.K. would later describe a change in his demeanor in the 2010 special, "Louis C.K.: Hilarious":
I'm an adult, so I'm trying to jerk off to "Girls Gone Wild." I can't do it, 'cause I'm a father. I'm too old. I'm just getting mad at everybody in the video. I'm like, "You fucking irresponsible bitches. Go back to school. What are you doing down there? There's two wars and a depression. [...] Get the oil off your tits and study, for fuck's sake." I just don't look at a woman as a pair of tits anymore, and I wish I did, 'cause I could get laid easier, 'cause that's what it takes. Just to go. But I can't now.
2011
The comedian continued the sentiment the following year in "Louis CK: Live at the Beacon Theatre," lamenting his sexual perversions but also conveniently excusing them:
Sexual perversion is a problem. You can't stop it. People gotta do what they gotta do. This country's pretty perverted. We have to jack off to everything. Sex is in everything.
He similarly joked about being sick of perverted thoughts:
Some things I'm sick of, like the constant, perverted, sexual thoughts. I'm so tired of those ... It makes me into an idiot. Jacking off to morons, and "Ooh, look at my tits." Yeah, your tits are awesome. It's a dumb part of life that I'm sick of.
Masturbation references continued to appear over and over in his "semi-autobiographical" FX show, "Louie."
In the 2010 episode, "Poker/Divorce," he was fascinated while his friend, played by Rick Crom, described gay men masturbating together.
And in a now infamous 2011 "Louie" clip, Louis C.K. tells a Christian activist against masturbation that he's going to masturbate to her and there's nothing she can do about it:
It is (important to me). It keeps me sane. I'm a good citizen, a good father, I recycle, and I masturbate. And I'm proud of it ... And later, I'm going to masturbate and think about you. And there's nothing you can do about it.
2014
Perhaps the most controversial "Louie" episode, "Pamela: Part 1," aired in 2014, showing C.K.'s character attacking Adlon's character, Pamela, in his apartment, leaving her no choice but to fight free.
This scene already seemed messed up when it aired three years ago. The moment is even more frightening now following the Times report, which revealed a 2002 incident during which C.K. allegedly brought comedy duo Dana Min Goodman and Julia Wolov into his hotel room in Aspen, Colorado, and unexpectedly masturbated in front of them.
Vulture has described the "Louie" episode as a "21-Minute Confessional."
2015
Louis C.K. again reportedly attempted to make amends, emailing Corry, the comedian he harassed in 2005, with a "very very very late apology." (The apology supposedly came a few months before Defamer reported on rumors of C.K.'s misconduct.) C.K. phoned her and apologized for "shoving her in a bathroom," though Corry told him that's not what happened to her. This suggests C.K. shoved another woman into a bathroom at some point in time.
2017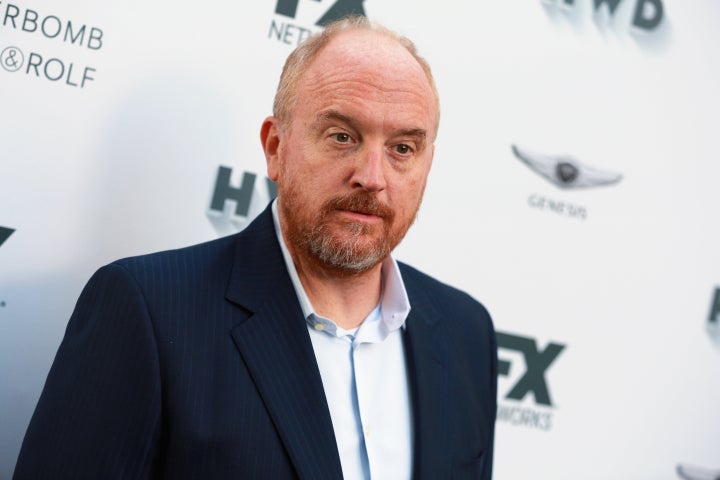 In response to the allegations, the premiere for Louis C.K.'s upcoming film, "I Love You, Daddy," was canceled and the studio, The Orchard, has now pulled its release.
The Times reports that the film, which is being called an ode to Woody Allen, involves a scene where "a character pretends to masturbate at length in front of other people, and other characters appear to dismiss rumors of sexual predation."
The premise of the movie seems like a poor decision, but as C.K. explained in his Netflix special, "Louis C.K. 2017," "Men don't really have judgment, they have intent."
"Should we separate the art or work from the man?"
How can you? Yes, on Friday, C.K. released a statement confirming the women's stories and apologizing for his actions. But with jokes so closely mirroring the real-life crimes he's accused of, the "work" and "the man" are one and the same.