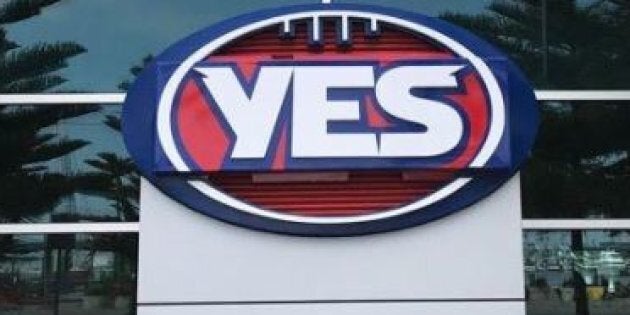 'Superfans' of rugby, soccer and cricket overwhelmingly backed the decisions of their codes to publicly support marriage equality, a survey from YouGov and Monash University has found.
Monash researchers claimed this level of support was "historic", saying an "extensive" international search had not found any other national sporting organisation calling for the legalisation of same-sex marriage in any other country.
"We believe this is a world-first. It is also very significant that every major national sporting organisation in Australia took a public stance on this issue," the researchers said.
At the time of these public displays of support, especially the AFL's prominent announcement, there was condemnation from some quarters including NRL commentator Erin Molan and AFL identity Sam Newman, as well as widespread criticism on social media. However, a survey of 1000 Australians has found that most people -- and especially the 'superfans' of each code -- were overwhelmingly in support of the sporting organisations coming out in support of marriage equality.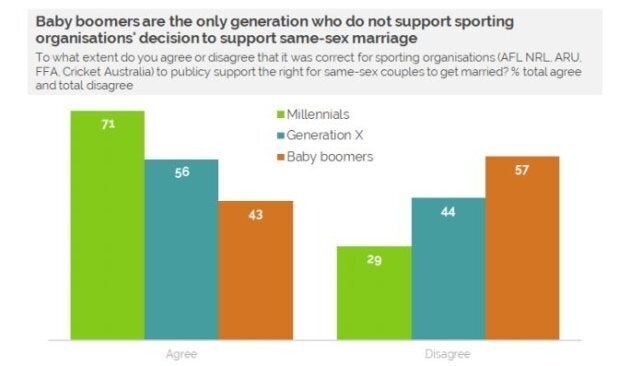 The survey, from YouGov and Monash University, found 58 percent of respondents supported same-sex marriage in the survey while 56 percent said sporting organisations were right to come out in support of the reform. The survey breaks down answers by generation, with millennials (71 percent in favour) the most likely to have supported the codes' public campaigns, with 56 percent of Generation X supporting and just 43 percent of baby boomers.
More than 60 percent of respondents said that being a "strong advocate" on social issues such as marriage equality would help sports remain relevant among young people.
The numbers supporting the codes' decision to enter the marriage equality debate are even higher among people who identified as big fans of each respective code, dubbed 'superfans' by Monash and YouGov experts.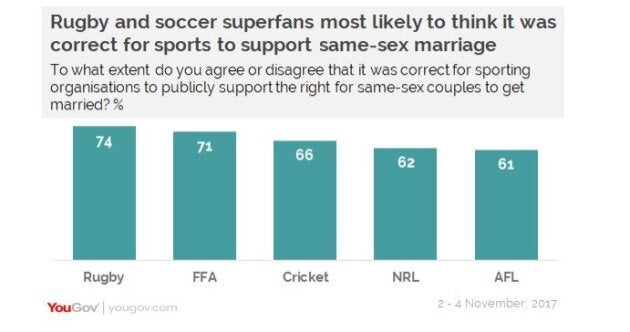 Almost three-quarters of rugby 'superfans' were happy their sport supported marriage equality, while 71 percent of FFA followers, 66 percent of cricket fans, 62 percent of NRL supporters and 61 percent of AFL fans also backed their codes.
"Rugby's core fans were the most supportive of their sport's actions and same-sex marriage. Rugby is only sport where a high-profile star has consistently, and over a long period, supported same-sex marriage," Monash researchers said, citing Wallabies star David Pocock.
Erik Denison from Monash's Behavioural Science Laboratory, and lead researcher on the sport inclusion project, said the survey showed sporting codes had been right to publicly support marriage equality.
"We were initially quite surprised to see so much support from sport fans for the actions taken by the sports. If you looked only at the social media accounts of the major sports, such as the AFL or ARU, it seemed like there was a very strong backlash from fans. It appears, from this research, that the many negative social media comments are not reflective of the views of the majority of sport fans," he said.
"While many Australians might have been surprised to see the sports advocating for the rights of gay people to get married, this has become normal to their core fan base. This may explain why the core fans are supportive of the public stance taken by the sports on same-sex marriage. The core sport fans are also in the best position to know if these activities have delivered benefits to their sports."