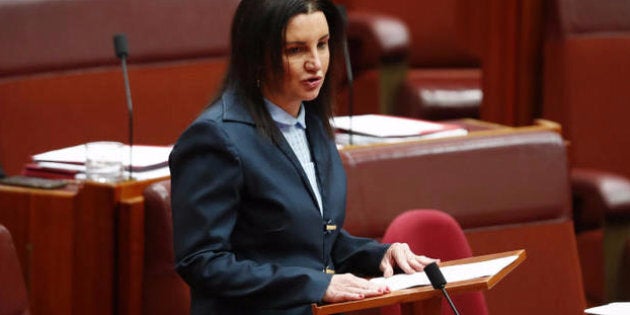 CANBERRA -- Prominent and outspoken Tasmanian senator Jacqui Lambie has confirmed she is a British citizen by descent and has announced she must resign from federal parliament.
Lambie last week revealed her father was born in Scotland and has been scrambling to get confirmation about her status from the UK Home Office.
She has told Tasmanian radio, 89.3 LAFM Launceston, of the moment she knew she was in trouble. It was after the former senate President Stephen Parry's case was revealed.
"I am obviously doing my autobiography and gone back over dad's stuff," she said.
"And straight away I just thought "Oh my god!" My whole guts has dropped and I thought I am in trouble here."
"So I am on the phone to dad. I am going, "please what is going on?" and all unravelled over two to three days."
Lambie broke up as she recounted that three days later, she rang her dad after further checks and said, "Dad, I am gone aren't I?"
She has been consulting with lawyers and the UK Home Office, stating, "It is not fair if I am there (in parliament) and I should not be".
Lambie is expected to officially stand in the Senate and resign after 12:30 pm on Tuesday.
And she has these words for her fellow politicians falling foul of the Constitution, particularly those calling for a referendum to change the Constitution in light of the citizenship saga.
"We should not change the constitution because some of us have gone down because of Section 44. It just does not work like that," she said.
"We suck it up ... And if we want to have another crack we get back out there."
"That is the Constitution. I respect that. That is the way it is."
Despite her resignation, her case needs to be referred to the High Court for official determination. The Australian Electoral Commission (AEC) is also expected to later hold a special recount to determine her replacement in the Senate.
The man likely to replace her in the senate is the current Devonport mayor Steve Martin. He was number two on the Jacqui Lambie Network ticket in the 2016 election.
Lambie has indicated her political career is not over. Her party is registering for the next Tasmanian state election and she said on Tuesday that she would have a look at the federal lower house Tasmanian seat of Braddon, "should Justine Keay go down", a reference to the citizenship question marks over the Tasmanian Labor MP.
"You can't keep a bloody Lambie down. So I'm going to have another swing at it and we will see how we go this time," she said.
"I would like to come back to the senate. You know my staff are going to need jobs," she said. "And that may be an option if she goes down to have a run in Braddon."
Lambie joins an ever-growing group of parliamentarians having to leave federal parliament over the still yet-to-be resolved citizenship scandal. She is the eighth member after Liberal MP John Alexander, Liberal senator Stephen Parry, deputy Prime Minister Barnaby Joyce, Nationals senator Fiona Nash, One Nation senator Malcolm Roberts, and Greens senators Scott Ludlam and Larissa Waters.
The Australian Army veteran was elected in 2013 under Clive Palmer's now defunct Palmer United Party banner. She soon struck out on her own as an independent and later created a party known as the Jacqui Lambie Network (JLN).
She quickly became known for not holding back, describing then Prime Minister Tony Abbott as a "political psychopath" and a "barefaced, uncaring liar", while she called he and then-Treasurer Joe Hockey "nothing less than a pair of deceitful, lying, political politicians".
Lambie also had strident views on Islam, wanting to ban the burqa and declaring all Muslims who support sharia law should be deported from Australia.
She stood up for needy Australians, detailing her personal experience of living on disability support pension as a single mum and urging the Turnbull Government to "stop sledging people on welfare with a hammer".
Former fellow crossbench senator Nick Xenophon has told the ABC that Lambie's departure will be a "great loss".
"Jacqui and I might have our disagreements, but she is a great friend," he told RN Breakfast on Tuesday.
"She is an extraordinarily good person with a really good heart and she has given a voice to Tasmanians that they have not had for a long time, particularly in the north of Tasmania. She has been an outstanding representative in my view.
"I hope she makes a comeback sooner rater than later."
Labor's senate leader Penny Wong has also praised Lambie for her Tasmanian advocacy.
"Look, I get on very well with Jacqui. These are matters for her. She's certainly a passionate advocate for her state," she told reporters in Canberra.