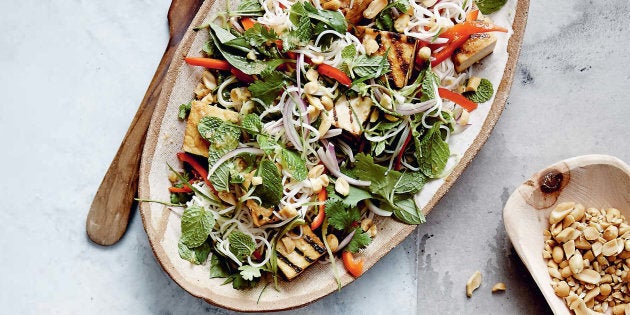 After a long day at work, studying or looking after the kids, for many people one of the last tasks you want to do is spend an hour in the kitchen cooking dinner -- not when a hot bath, a veg out on the couch and our comfy bed are waiting.
Enter this quick and easy recipe for tofu Thai salad. It's vibrant, packed with plant-based protein, flavour and healthy ingredients, and requires only a bit of cooking. You can whip it up for dinner or lunch, and it makes great leftovers. While you do need to marinate the protein, 10 minutes will be enough to ensure the tofu is flavoursome.
This is what street food is all about -- easy, fresh, vibrant and perfect for any occasion. Think dinner on a hot summer's night, a mid-week packed lunch pick-me-up or a lively addition to a shared table. This salad has got you sorted.
INGREDIENTS
400g block firm tofu, fried if available, cut into 2cm cubes
2 tablespoons rice bran oil (or sunflower oil)
200g rice vermicelli noodles, cooked, cooled in iced water and drained thoroughly
1 red capsicum, deseeded, quartered and finely sliced
2 Lebanese cucumbers, cored and julienned using a mandolin
1 medium red onion, finely sliced
2 long red chillies, halved, seeded and thinly sliced lengthways, optional
1 bunch mint, leaves picked, large leaves torn
1 bunch coriander, leaves picked
1 bunch Thai basil, leaves picked, large leaves torn
4 kaffir lime leaves, centre veins removed, finely shredded
55g roasted peanuts, coarsely chopped
2 teaspoons finely grated ginger
1 clove garlic, crushed
½ stalk lemongrass, inner white part only, crushed in mortar and pestle and chopped finely
2 tablespoons lime juice
1 tablespoon vegan fish sauce (or light soy sauce)
2 teaspoons sesame oil
1 teaspoon tamari
1 tablespoon coconut sugar (if unable to source, replace with raw or brown sugar)
METHOD
For the dressing, whisk together the ginger, garlic, lemongrass, lime juice, vegan fish sauce, sesame oil, tamari and sugar in a jug.
For the tofu, place the cubed tofu in a glass or ceramic dish. Drizzle with half the dressing. Cover with plastic wrap and place in the fridge, turning occasionally, for two hours to develop the flavours.
Preheat a barbecue grill or chargrill pan on high. Brush grill or pan with the oil and cook the tofu for 5–6 minutes, turning occasionally to make sure the cubes are evenly browned. Brush with the marinade as you turn.
Place the noodles, capsicum, cucumber, onion, chilli, mint, coriander, Thai basil, lime leaves and peanuts in a large bowl. Add the grilled tofu, drizzle with the remaining dressing and gently toss to combine.
Divide salad among bowls, garnish with coriander and serve immediately.
Notes: vegan fish sauce is amazing. We use Vincent Vegetarian Food brand. No mandolin? Just cut the veggies into 2mm matchsticks.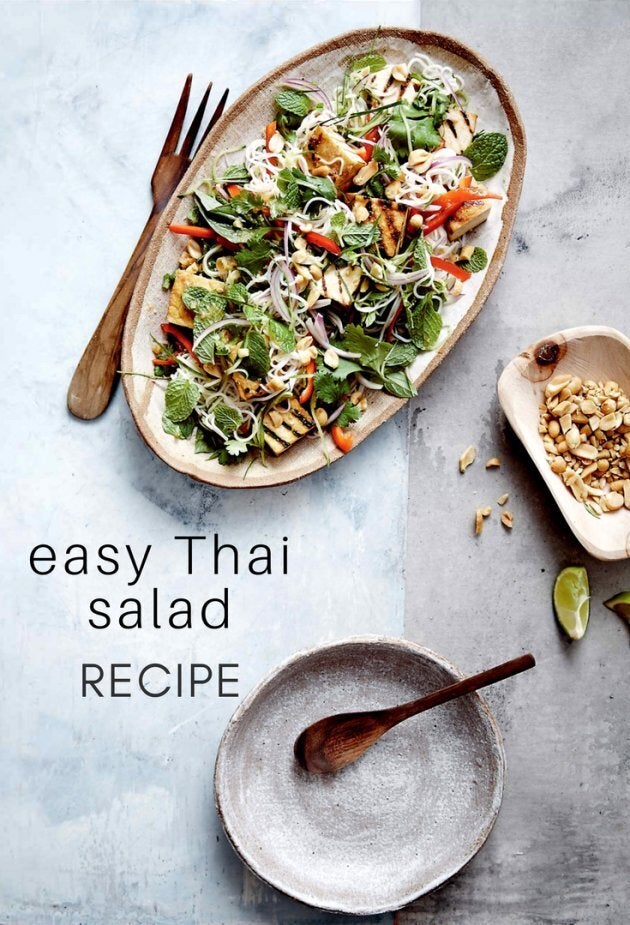 These recipes are extracted from Cooking With Kindness ­-- over 70 recipes from Australia's best vegan chefs and restaurants by Edgar's Mission.