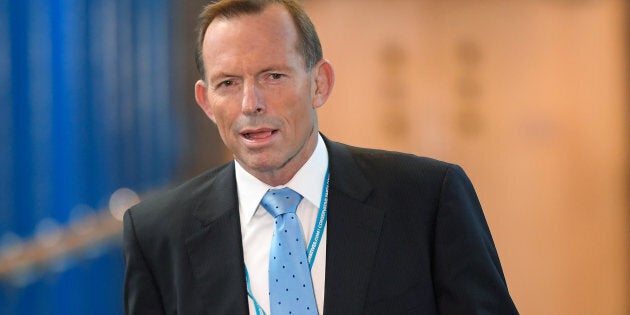 Leading 'no' campaign figure Tony Abbott has not only experienced defeat in the same-sex marriage poll, but he has also proven astonishingly out-of-touch with his own electorate.
And he is not the only one -- a strong anti-marriage equality push from Western Sydney has put a number of Labor MPs at odds with their constituents.
Members of Abbott's electorate of Warringah are more resoundingly in favour of same-sex marriage than they are of him, the survey results reveal.
The people of Sydney's northern beaches seat have soundly rejected the anti-gay marriage sentiments of their local member with 75 percent of respondents in support of the 'yes' result on the same-sex marriage survey.
Abbott, who lobbied prominently for the 'no' campaign as recently as on Tuesday wrote in The Australian that supporters of traditional marriage would be "disappointed, heartbroken" should the 'yes' vote get up.
That feeling may well touch closer to home for Abbott.
This is the fourth strongest 'yes' result in the state, surprising still for what is traditionally a conservative electorate.
And beyond that, the 'yes' campaign received more support than Abbott himself received in the last election.
In 2016, the two-party preferred result for Abbott was 61.09 per cent of the vote. The 'yes' vote for same-sex marriage was 75 percent.
In 2016, Abbott achieved 53,346 votes. The 'yes' response received 64,999 returns.
Meanwhile, Abbott is not the only MP whose views are out of sync with the electorate.
The strongest 'no' result in the nation came from the seat of Blaxland -- at 74 percent against -- held by Labor's Jason Clare, who has expressed his intention to vote in favour of a bill put before parliament.
Member for McMahon Chris Bowen also changed his mind in order to support on gay marriage in 2015, and 65 percent of respondents in his electorate responded against it in the survey.
Labor's Anne Stanley indicated to the ABC she would vote for gay marriage, but her electorate of Werriwa responded to the survey with 64 percent against.
Chris Hayes, the Labor member for Fowler, has indicated he would wait to see the result before committing himself to a course of action in the parliament, and his electorate responded 64 percent against gay marriage.