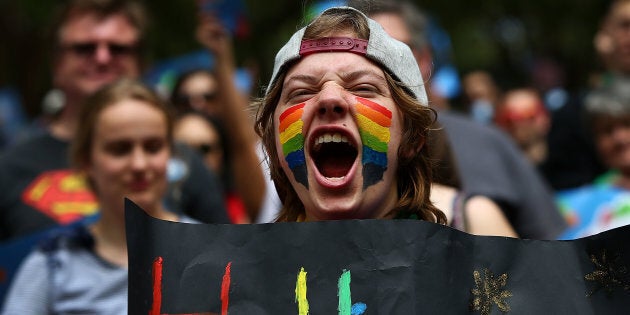 CANBERRA -- Labor's Senate leader Penny Wong has described a possible "yes" vote in the same-sex marriage postal survey as bigger than just a result for the LGBTQ community -- rather she said it would say a lot about Australia.
Same-sex couples hoping to marry will find out if a change to the Marriage Act will be legislated this year when the results are announced by the Australian Bureau of Statistics at 10am Wednesday.
"It will be a profoundly important statement about what sort of country we are," Wong told reporters in Canberra.
"I believe in an Australia that is decent and fair and I hope today that that will be demonstrated in the return of the survey."
Marriage equality advocate and Olympian Ian Thorpe also believes a "yes" vote would reflect well on Australia.
"It think it indicates what modern Australia is," he told Sky News.
"This is a country which celebrates diversity and part of that would be to allow equal freedoms for all of its citizens."
But debate has already shifted beyond the result, with conservative parliamentarians still promoting alternative legislation (to the cross party supported private members bill by Dean Smith) proposed by fellow Liberal James Paterson -- an alternative the prime minister has already rejected - that puts conditions on the LGBTQ community which they deny is a new form of discrimination.
This is direct contradiction to the view of Malcolm Turnbull, who said on Tuesday, "I don't believe Australians would welcome, and certainly the Government does not, would not countenance making legal discrimination that is illegal, that is unlawful today."
Parliamentary opponents of same-sex marriage such as Matt Canavan and Cory Bernardi are standing firm.
"I don't agree with the prime minister that this bill makes activities which are currently legal, illegal," Canavan told RN Breakfast.
"It is not about discrimination," Bernardi told reporters in Canberra. "It is about people conscientiously ... or using their right, their religious right as a way of determining not to participate in certain activities."
"I think that is entirely appropriate."
But marriage equality advocates have slammed any moves to imposed new conditions on the LGBTQ community.
Tiernan Brady, the director of Australian Marriage Equality, told HuffPost Australia the religious freedoms argument run counter-intuitive to the idea of having a vote for marriage equality.
"A yes vote cannot and should not and must not become a moment where others try to unravel existing anti-discrimination law," he said.
Wong said parliament should not be distracted by the Paterson Bill.
"I don't think Australians voted for that," she told ABC radio. "I don't think this survey was a vote on expanding the capacity to discriminate in our society. It was in fact the opposite."
Wong said the bill that everyone should be discussing is the Smith bill which has cross-party support and is due to be debated in the senate on Thursday should there be a yes result.
Cabinet minister Simon Birmingham has described the Smith bill as a "logical starting point" for a parliamentary debate on same-sex marriage.