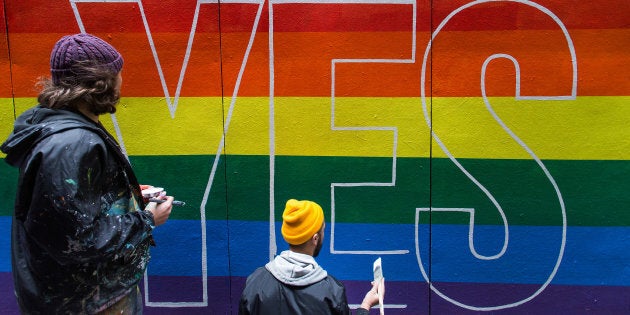 Almost 40 years ago, the men and women protesting for gay rights in NSW couldn't have imagined that today, and just a few kilometres away, thousands of Australians would gather to mark the result of the same-sex marriage survey.
But that's what they'll be doing on Wednesday, as 'yes' campaigners and thousands of other Australians turn out in Sydney's Prince Alfred Park to herald the results of the Federal Government's controversial same-sex marriage survey.
"This one is a bit different," veteran gay rights activist Jamie Gardiner told the HuffPost Australia ahead of Wednesday's vote result, which is widely expected to carry a 'yes' result.
Speaking on Monday, he reflected on the push for same-sex marriage in Australia after other democracies began moving in that direction in the early 2000s.
"What happened in 2004 legislation was introduced to prevent the court from finding that Australian marriage law would recognise same-sex marriages from overseas," he said, referencing the Howard Government's amendment to the marriage act.
"That created a movement against them that has taken much too long to come to a conclusion."
A human rights activist for 45 years, Gardiner was asked by the HuffPost Australia what he'd have said if he was asked during the heady days of 1970s liberation if same-sex marriage would have been possible.
"What I probably would have said is, 'Yes it will come but we have a few steps before it,'" Gardiner said.
But first the community needed the criminal law off their backs, then anti-discrimination protections, and then protections for their relationships.
"I would have said back then that getting recognition of some sort would be a precursor to getting marriage, and getting marriage wasn't a particularly important goal of itself, but it became such because it became the last bastion of reaction," Gardiner added.
That's why it's so important that we break the vice like grip of the 1950s in the governing partiesJamie Gardiner
"Marriage equality is not seen by anybody as the holy grail... but in terms of defeating reactionary, religious opponents of our civil rights, we had to proceed incrementally."
He believes the survey will return a 'yes', because the campaign has maintained a positive focus on human stories.
"Because they're the only ones we've got," said Gardiner.
'We Couldn't Have Pictured It At The Time'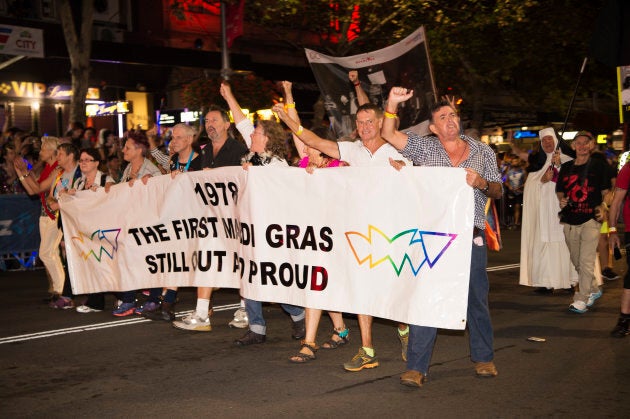 And now -- on the cusp of marriage equality -- compared to then?
"We didn't dream of it, we didn't dream it was possible," Minnis told HuffPost Australia.
"Some of our people don't believe in marriage per se, but people I've spoken to are voting for it because it's people who are voting no are homophobic."
It's a referendum on homophobia.Diane Minnis
'Not The Church, Not The State, The People Will Decide Their Fate'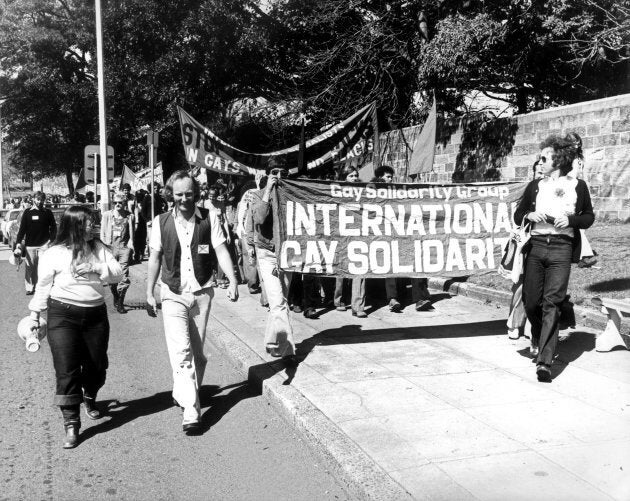 Marriage wasn't the point for those men and women who marched in '78. They were after more basic rights, but were also the tip of the spear in a sexual revolution marching through the country and other parts of the globe.
The march in '78 was "a request from lefties" in the United States in solidarity against an anti-gay political movement in Florida, said Gary Schliemann, a 78er.
"Personally I came from an earlier generation. There had been an Australia-wide gay pride week -- a much bigger affair, in fact, in 1973," he told the HuffPost.
"It was gay liberation, and end to sexual repression which we dreamed was much more basic and society wide for us all to be, I suppose, psychologically liberated to go about our lives without being backed into absurd corners.
Offering up apologies in confessionals for bullshit things. Gary Schliemann
"It was a 'not the church, not the state, people will decide their fate' kind of thing."
"We saw it as an oppressive society, and it was liberation."
The expected outcome of the vote gives Schliemann hope, but he points out the "normality" of marriage was a far cry from the dream of some of those early marchers.
A Failure Of Malcolm Turnbull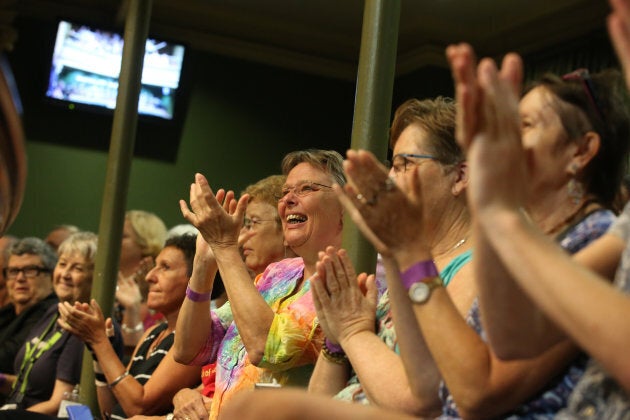 Last year the NSW government apologised for the parliament's role in vilifying those early campaigners in the 1970s.
It was another step in the long road Gardiner detailed to HuffPost Australia on Monday.
The road will be longer still for some, who believe that even if the ballot passes with a convincing 'yes', believe reactionary forces within the government will try and delay legislation to legalise same-sex marriage.
Minnis is expecting the Coalition's right wing to try some "nasty tricks" to bail up a vote on any bill.
She believes it should have been done without the postal survey. The survey's six week long campaign period has taken its toll on some.
"They should have done it without this postal vote," Missen said.
"That's a failure of Malcolm Turnbull's."
Marriage and Gay Rights In Australia -- A Timeline

November 9, 1961 -- Uniform marriage laws are set around the country, also setting the minimum marriageable age as 18.

July 19 1973 -- Lois D'Arcy, 26, becomes Australia's first independent civil marriage celebrant after Civil celebrancy is formally established in Australia amid widespread opposition.

June 12, 1975 -- The principle of no-fault divorce is established, with 12 months separation being sufficient to prove breakdown of the marriage. Shortly after it passes, the divorce rate briefly skyrockets.

September 17, 1975 --South Australia is the first Australian state to decriminalise male homosexuality under premier Don Dunstan and attorney-general Peter Duncan.

October 4, 1983 -- NT decriminalises homosexuality without a grassroots campaign for change.

May 22, 1984 -- Being gay is decriminalised in NSW in 1984, two years after anti-discrimination laws were passed.

December 7, 1989 -- Western Australia removes consenting homosexual activity from the criminal code in December 1989 following four prior failed attempts during the 1970s and 1980s. It passes into law in March 1990.

November 29, 1990 -- After the election of Labor's Wayne Goss in late 1989 the law was changed in October 1990.

May 13, 1997 -- Tasmania remains the holdout. Gay activists take the matter to the High Court, so faced with the state law being struck down Tasmania's Upper House finally passed gay law reform by one vote. It came into effect on May 13, 1997.

April 1, 2001 -- The Netherlands becomes the first country to extend marriage laws to include same-sex couples.

August 16, 2004 -- John Howard's government amends the marriage act with the definition: "Marriage means the union of a man and a woman to the exclusion of all others, voluntarily entered into for life." It also says "certain unions are not marriages" and refuses to recognise same sex unions from overseas as marriage.

March 1, 2009 -- De facto relationships are granted similar rights to married couples.

November 1, 2016 -- In November, the Australian government's push for a plebiscite on same-sex marriage is defeated in the Senate.

August 6, 2017 -- Five Liberal Party MPs to change party policy and have a free vote in the parliament on same-sex marriage legislation, the government announced it would move for a voluntary postal survey to be held later in the year if the referendum/plebiscite legislation was again defeated in the senate.

August 9, 2017 -- Following the result in the Senate, the government directed the Australian Bureau of Statistics to survey the views on same-sex marriage of all Australians on the electoral roll.

September 12, November 7 2017-- ABS Postal Survey runs.

November 15, 2017 -- The result is delivered.

Source: The ABC, Australian Lesbian And Gay Archives