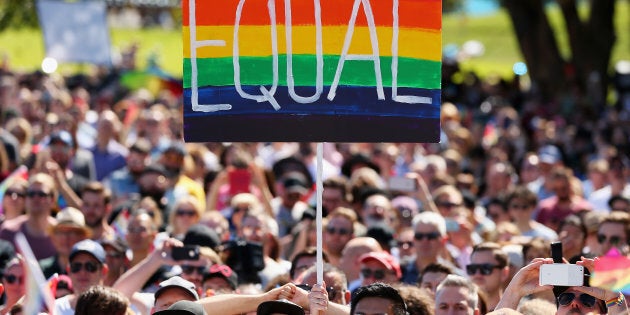 SYDNEY -- It felt like a fist unclenching when 'yes' boomed out over the loudspeakers at Sydney's Prince Alfred Park, where thousands gathered to hear the result of the Government's controversial national survey.
In the crowded hour leading up to the announcement, speakers warned the crowd to hope for the best, but prepare for the worst.
"When it's a yes vote, then the real fight will begin," declared indigenous campaigner Aunt Millie from the stage, moments after 'no' advocate Eric Abetz's voice boomed out to the crowd when a news broadcast briefly appeared on the screens.
But even Abetz's unique tones couldn't cut through the nervousnes, and barely anyone made a peep when the prominent 'no' advocate's voice appeared.
Sydney Lord Mayor Clover Moore followed Aunt Millie, urging the crowd to physically move forward and prepare for a 'no.'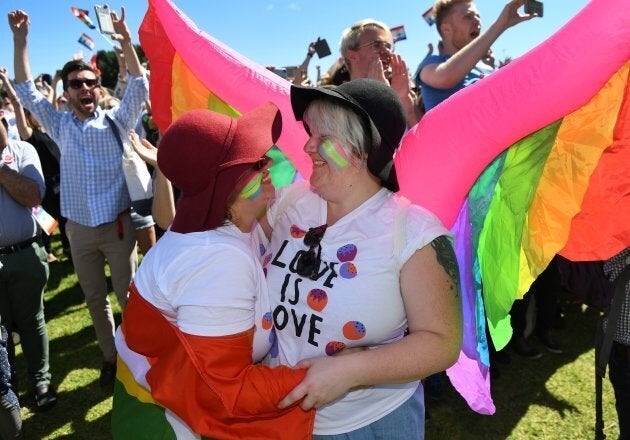 And then it was happening.
For a brief few minutes the country was wrapped in the voice of statistician David Kalisch. The tension in the crowd at St Alfred's eased for half a second when he joked about it being the "only time millions of Australians will gather to hear from the Australia statistician".
But it was brief, then everyone was holding their breath again.
Nervous tension rippling like electricity over water.
"For the national results, yes responses, 7 million 817000 and 247, representing 61.6 percent of clear..." the roars from the crowds drowned out Kalisch.
From our vantage point in the centre of the crowd there was a crush of hugs and laughter and tears as well.
"I can't believe it. I kept thinking yes but didn't..." said one young woman to a friend before she was swallowed into a warm and generous bear hug by a group of friends.
Deputy opposition leader Tanya Plibersek and Olympian Ian Thorpe mingled with the crowd, while after the announcement comedian Magda Szubanski could barely take a step without being embraced as she tried to make her way to a press conference.
Just joy. Pure joy that pushed away the crowded hour before the vote, if not the damage done by the past few months as the 'no' side wielded its undignified untruths about what the vote actually meant.
Irish marriage equality campaigner Tiernan Brady spoke about "steely dignity" to a nearly silent crowd just ahead of the vote result.
"No group of people in Australia should have to go through this process again for any reason ever," he said, acknowledging the effect of the eight week campaign on the LGBTI community.
"We have had a public vote on our dignity," he said.