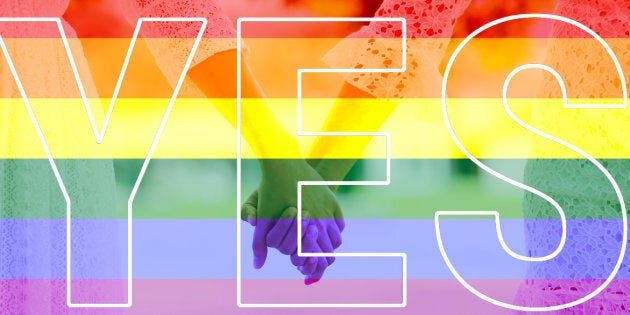 Marriage equality has taken a major step closer to being realised in Australia after it was revealed the nationwide postal survey on same-sex marriage returned a majority 'yes' result, with more than 60 percent of the response.
A short time ago the Australian Bureau of Statistics (ABS) confirmed that a majority of voters answered 'yes' to the question: "should the law be changed to allow same-sex couples to marry?"
Shortly after the 'yes' result was revealed, Prime Minister Malcolm Turnbull stated that his goal remained to have legislation to change the Marriage Act passed through the parliament before Christmas."
The people of Australia have spoken and I intend to make their wish the law of the land by Christmas. This is an overwhelming call for marriage equality. pic.twitter.com/PWZbH5H71r

— Malcolm Turnbull (@TurnbullMalcolm) November 14, 2017
"That is an overwhelming result," he told reporters in Canberra. "And so the message is clear."
"It is our job now to get on with it, get on with it and get this done. It is fair. The people have voted yes for marriage equality. Now it is our job to deliver it."
In Melbourne, Labor leader Bill Shorten issued this promise; "Today we celebrate, tomorrow we legislate!"
ABS chief statistician David Kalisch said 12,727,920 Australians returned the survey.
The participation rate was slightly higher among older age groups, but there remained a strong interest among first time voters, with 78 percent of 18-19-year-olds responding.
The 'Yes' vote received 7,817,247 responses, making up 61.6 percent of the responses cast.
Thirty-eight percent of respondents voted 'No', a total of 4,873,987.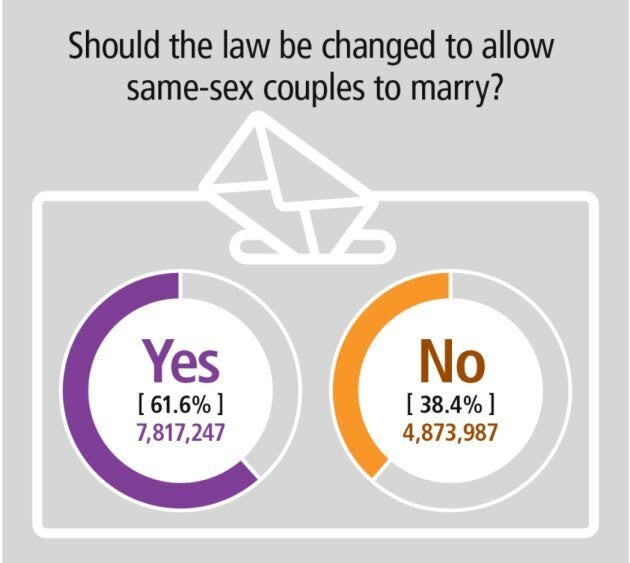 'Yes' parliamentarians were jubilant upon the majority result, hugging, cutting a rainbow cake and popping champagne in federal parliament.
"I am just really relieved," Labor's Senate Leader and long time marriage equality advocate, Penny Wong told HuffPost Australia while also shouting to colleagues, "now we have to get the bill through".
"And now I have cried in front of millions of Australians, so I will have to deal with that tomorrow."
Greens senator Sarah Hanson-Young was also in tears. "I am just so incredibly proud of Australia. Incredibly proud," she told HuffPost Australia.
"This is a turning point for equality for all people. Go Aussie!"
The participation rate was strong across the nation excepting the Northern Territory, where only 58.4 percent of eligible voters responded.
But don't expect gay marriages will be instantly celebrated.
The result of the non-binding, voluntary poll is a guide for parliamentarians.
Now marriage equality heads back to the Federal Parliament for a free vote on a Private Members Bill to change the Australian Marriage Act.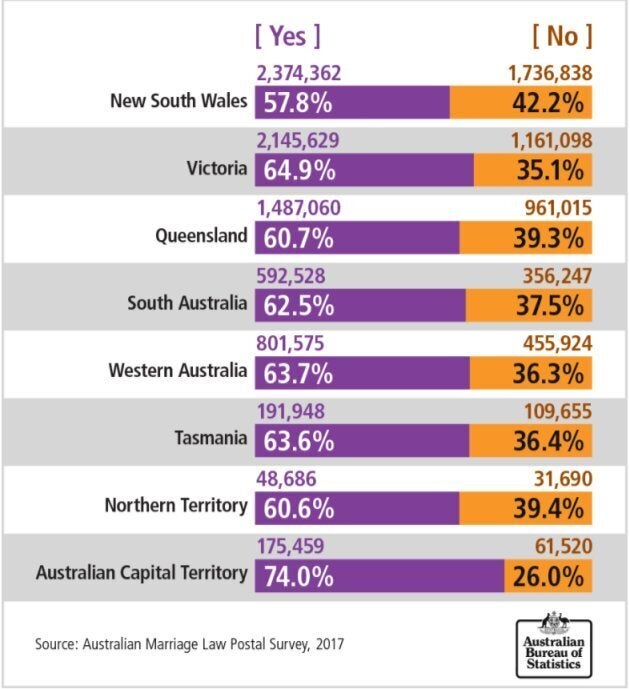 Malcolm Turnbull has on Wednesday repeated his vow that a free, or conscience, vote based on private members bill should be held before the end of the year.
Now he is saying "before Christmas" as a "goal," but that it "must be our commitment".
The Prime Minister is expecting a marriage bill will sail through Parliament, but at the same time is expecting a lively debate.
"Members of the coalition can vote on the bill which ever way their conscience tells them to vote and on amendments," he said.
"And they can move whatever amendments they wish. And there will be a very lively debate.
"Some will get up, some will not. That is the nature of the debate. It is a free vote. And that is the commitment we made at the election. We are sticking scrupulously to the promises we made at the election."
There are at least two bills in public circulation, including one drafted by Liberal Senator Dean Smith and another by Liberal senator James Paterson, but just which bill will be voted on is yet to be determined.
The Smith bill has religious protections and has been described by Cabinet minister Simon Birmingham as a "logical starting point" for debate, but conservative critics say it is does not go far enough.
The Paterson bill covers extra religious protections and conscientious objectors, but has been criticised for intending to roll in extra discrimination for same-sex couple seeking to wed.
The Smith bill is expected to be debated on Thursday.