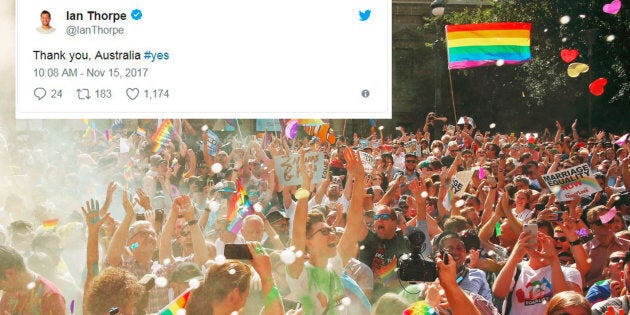 Nerves and anticipation have erupted into jubilation for supporters of marriage equality as they received the news that Australia had voted 'yes' in the same sex marriage postal survey.
A clear majority of 61.7 percent of participants voted in favour of legalising marriage between same sex couples -- and the 'yes' campaigners couldn't have been more excited:
Twitter also exploded with the news:
Politicians who have come out in support of same sex marriage joined the celebrations, most notable among them long-time supporter Labor senator Penny Wong, who told HuffPost Australia she was "really relieved" with the result.
In the lead up to the release of results, she told reporters in Canberra that the outcome would be "a profoundly important statement about what sort of country we are".
Other public figures, including five-time Olympic gold medallist and openly gay man Ian Thorpe, were also celebrating.
But it was not only Australians who were waiting with baited breath at 10am on Wednesday. The world was also watching.
It's been four years since New Zealand legalised same sex marriage, three years since the United Kingdom joined suit and two years since same sex marriage becoming legislated in all US states, but that didn't stop pro-same sex marriage politicians, celebrities and even CEOs applauding Australia for its collective decision.
Congratulations to Australia on their incredible show of support for #marriageequality! What an amazing achievement for the Australian LGBTIQ* Community.

❤️💛💚💙💜

— New Zealand Labour (@nzlabour) November 15, 2017