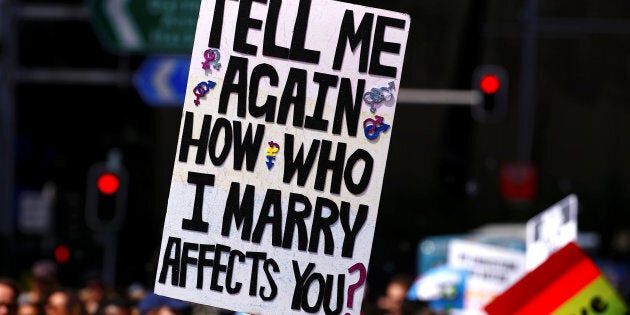 As we reach the final day of the marriage equality postal survey period, with the long-awaited results to be announced from 10am Wednesday, many will be hoping to breathe a sigh of relief in the event of a 'yes' vote.
But no matter the result, this survey has left many people -- LGBTQ or not -- upset, worried and distressed.
Polls are pointing to an overwhelming Yes result being announced Wednesday but even still mental health services predict many people will be left feeling upset, distressed and exhausted after the survey.
ReachOut CEO Jono Nicholas shared some tips for people who were feeling worried, including surrounding themselves with loved ones and staying off social media for a while.
"Make sure you look after yourself... make sure you are surrounded by people who care for and love you," Nicholas told the ABC.
"Consider getting off social media, particularly for the next week or at least surround yourself with media that is positive."
Nicholas said he feared more people would feel the need to access mental health services in coming days, but that the services were ready to help.
"If you are anxious, make sure you access services like ReachOut, great counselling services like QLife or Headspace. There are lots of people who care about you, lots of people who want to support you," he said.
You can contact ReachOut, and its online help platforms, at Reachout.com.
QLife's counselling services are available online at QLife.com, or by phone on

1800 184 527

.
If you need help in a crisis, call Lifeline on 13 11 14. For further information about depression contact beyondBlue on 1300224636 or talk to your GP, local health professional or someone you trust.​​​​​​​
The Bureau of Statistics will publish detailed information breaking down the vote, including specific information about how each electorate area voted.
Nicholas said ReachOut was deploying more counsellors and staff to areas where it was likely that the No vote was the majority view, in order to help LGBTQ people who may feel ostracised or rejected by their own community.
Tiernan Brady, head of the Equality Campaign, was of course hoping for a Yes result but said his team was prepared to help if the vote came back the other way.
"Our first duty, if there's a No vote, is to take care of people. It will be an awful moment for LGBTI people, they will feel rejected by the communities they love and the country they love. It will be a real tear of the social fabric of the country," he told HuffPost Australia last week.
"We're working with organisations to make sure all the support services that will be required are available, because we would need them."
In the event of a No result, Brady said he and the millions of marriage equality supporters nationwide would not give up the fight, and that even in the result of a Yes vote, there would be more work to do.
"Treating LGBTI people equally is a campaign of persuasion. We've never wanted to defeat anybody, we wanted to persuade everybody. Regardless of whether it's a Yes or No vote, that work will continue," he said.
"We continue to persuade, to reassure people they have nothing to fear from LGBTI people being treated fairly and equally by the law. Nobody will walk away from their equality, what person would accept that?""But we do have to recognise, in a No vote, we have to persuade more people and that will be our job."