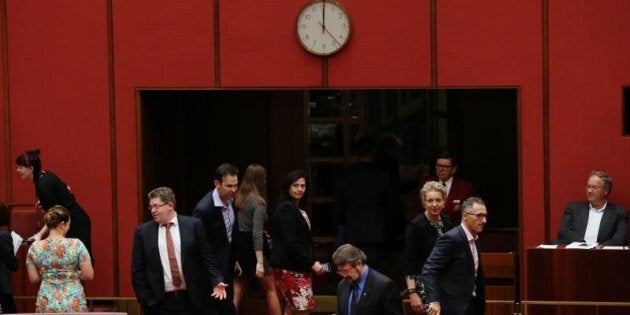 CANBERRA -- Australian voters have provided a mandate for same-sex marriage, with 61.6 percent of respondents voting 'yes' in the postal survey.
Now the attention entirely shifts to federal parliament and whether the result will be supported or ignored.
Prime Minister Malcolm Turnbull has on Wednesday repeated his vow that a free, or conscience, vote based on private members bill should be held before the end of the year.
But what do we know already about the intention of politicians who will be ultimately now exercising their conscience on marriage?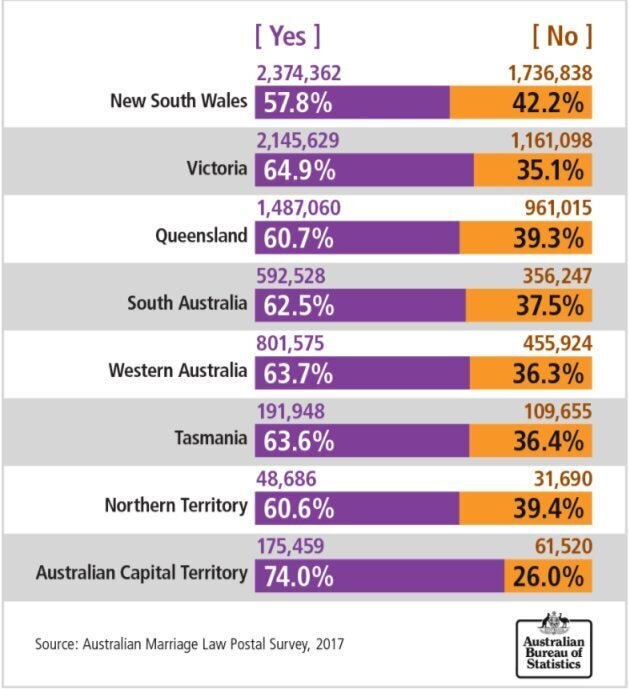 Here's what we know so far.
Politicians who are going to vote with the electorate over the national vote
Liberal MP Eric Abetz - "The decision by the Australian people reflected in the postal survey is a decision that I regret but respect," he said in a statement upon hearing the 'yes' vote.
He stated on August 8, "I will be guided by the electors of Tasmania who have put their faith in me to represent them."
However, he remains concerned about the issue of religious freedoms and must be satisfied that greater protections are added to any bill.
Tasmania has returned a 'yes vote of 63.6 percent.
Liberal MP Craig Kelly - The Liberal member for Hughes stated on his Facebook page that he will vote with his electorate and was expecting a 'no' vote returned.
Hughes has returned a 58.4 percent 'yes' vote. He has subsequently told the ABC he will vote for marriage equality.
LNP member David Littleproud - 26/09/2016 Well, obviously if there is a plebiscite and the people of Maranoa direct me to vote 'No', then I will vote 'No'. If they direct me to vote 'Yes', I'll vote 'Yes'," he told the ABC in September 2016.
Maranoa returned a 'yes" vote on 43.9 percent.
Veteran Affairs Minister Dan Tehan - Told HuffPost Australia on the September 7 that he will be voting with his electorate.
Wannon returned a 'yes' vote of 61 percent.
Nationals MP Andrew Broad - Had promised in October to respect the majority view of his constituents.
Upon hearing the yes, nothing had changed.
"I will be honouring the Mallee electorate and representing their views which came in at 54.3-per-cent yes and 45.7-per-cent no," Mr Broad said.
Politicians who are going to vote yes, but want to vote no.
Barnaby Joyce - The former deputy Prime Minister is re-contesting the electorate of New England in a by-election right now, but could be returned before a conscience vote is held. He states in September he would vote 'yes' if that is what the people want.
New England returned a 52.5 percent 'yes' vote.
Liberal assistant minister Michael Sukkar - The Victorian is opposed to gay marriage, but has indicated he will vote yes.
Deakin returned a 65.7 percent 'yes' vote.
Immigration Minister Peter Dutton - The Queenslander will follow the national vote. He told 3AW last Friday, "I've said at a personal level I've voted no, but if the majority of Australians support a change to the law, then I'll vote for that change in Parliament. And the reason for that is that I advocated very strongly for a postal plebiscite because I wanted people to have their say, yes or no, and having promoted that democratic process I will honour the outcome of it."
Dickson returned a 65.2 percent 'yes' vote.
Finance Minister Mathias Cormann - Will follow the national vote.
Western Australia returned a 63.7 percent 'yes' vote.
"I have always said that as a Federal Member of Parliament, I would always respect the majority view within my electorate in determining my position on this issue in the Parliament, regardless of my own personal views on the religious definition of marriage," Gillespie said in a statement after the result. "I look forward to now dealing with the legislation that facilitates the will of our electorate and the Australian people with the religious protections that have been committed to throughout the debate leading up to the completion of this survey."
Lyne returned a 55.3 percent 'yes' vote.
Too complicated
Former prime minister Tony Abbott - "The people have spoken and, of course, the parliament should respect the result," the member for Warringah said upon hearing the 'yes' result.
But it is not that simple. He has not said yes or no, but "I look forward to a parliamentary process that improves on the Dean Smith bill to implement same sex marriage with freedom of conscience for all, not just the churches."
Warringah returned a 75 percent 'yes' vote.
Assistant minister Alex Hawke - Will consider both electorate and national result.
Mitchell returned a 49.1 percent 'yes' vote.
Pauline Hanson and the rest of One Nation - "One Nation will take a balanced approach when considering the final legislation" and "any bill will be thoroughly examined before One Nation considers its position in the Senate."
Assistant minister Zed Seselja - Opposes same-sex marriage and has previously reserved the right to abstain in a free vote.
Upon hearing the national result, the ACT senator told Fairfax, "I voted no and whilst I am naturally disappointed in the result, I respect the decision of the Australian people. I will now work to ensure the result is reflected in the Parliament and the appropriate safeguards are put in place to protect freedom of speech, freedom of religion and parental rights."
Politicians who are just going to vote no.
Independent senator Cory Bernadi - Will be voting no regardless of the public vote.
Liberal senator Slade Brockman - Will vote with his conscience to retain the current definition of marriage regardless of the result of any public vote.
Nationals senator Bridget McKenzie - She has previously indicated she would vote no.
​Invoking the right to abstain.
Labor MP Chris Hayes - Is not a same-sex marriage supporter, but has stated in October that if the result were in favour of change, he would "not act to frustrate or delay the passage of legislation to give effect to the community's decision."
Upon hearing the national 'yes' vote, he told Fairfax Media he could abstain from voting, or vote yes.
Werriwa returned a 'yes' vote of 36.3 percent.
Liberal MP Andrew Hastie - An opponent of marriage equality, the member for Canning in WA has told Fairfax he will abstain.
Canning returned a 60.2 percent 'yes' vote.
Politicians all about the yes vote in parliament, even if the people voted 'no'.
Labor's Jason Clare, Labor's Tony Burke. Labor's Linda Burney, Labor's Julian Hill, Liberal David Coleman, Labor's Ed Husic, Labor's Maria Vamvakinou, Labor's Michelle Rowland, Labor Chris Bowen and Labor's Julie Owens will all be voting for same-sex marriage despite their electorates returning a majority 'no' vote.
Liberals and Nationals for yes in parliament.
Malcolm Turnbull, Christopher Pyne, Simon Birmingham, George Brandis, Greg Hunt, Darren Chester, Josh Frydenberg, Arthur Sinodinos, Kelly O'Dywer, Melissa Price, Trevor Evans, Trent Zimmerman, Warren Entsch, Tim Wilson, Dean Smith, Jason Woods, John Alexander, James Paterson, David Leyonhjelm, Sarah Henderson, Julia Banks.