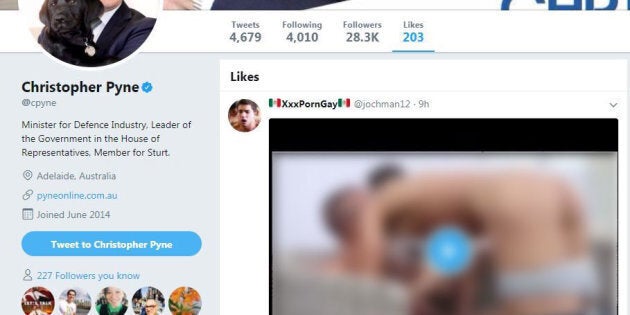 A hardcore porn video was liked by Christopher Pyne's Twitter account early this morning, and former Liberal senator Cory Bernardi wants a full investigation and report on national security grounds.
Pyne, the Minister for Defence Industry and the Government's leader in the House of Representatives, claimed his Twitter had been hacked after people spotted that his account had liked a video from an account named 'XxxPornGay'.
The like was also registered by Auspolwatch, an account which keeps track of how Australia's politicians interact with other Twitter users.
The video, from a studio called CockyBoys, was finally unliked by Pyne's account around 5.30am. Some compared it to the infamous incident involving U.S. senator Ted Cruz, whose account was found to have liked another hardcore porn video in September. Cruz blamed a staff member who had "inadvertently hit the like button" on the video.
At 6am, Pyne tweeted his defence, blaming a hacker "making mischief over the plebiscite".
Pyne's former Liberal colleague Cory Bernardi, also from the state of South Australia, quickly jumped on the Minister's excuse and is demanding Attorney-General George Brandis take action. Bernardi said he was concerned about the national security implications of a Government minister's social media account being hacked, and wants a full investigation.
The Australian Conservatives senator will soon move a motion that Brandis investigate the incident, and report back to the Senate on whether the country was placed in a "compromising position" by the alleged hack.