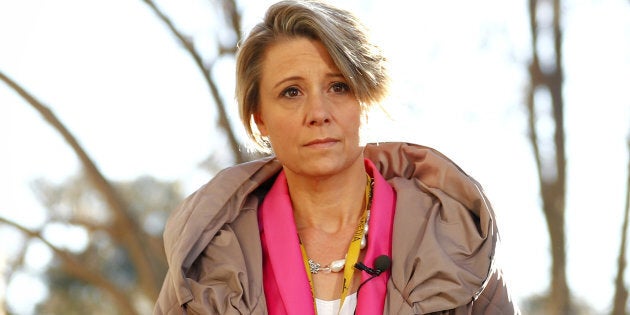 Former NSW Premier Kristina Keneally released a full archive of all of her deleted tweets on Wednesday to prove that she has nothing to hide -- except there is no record of an entire month's worth of activity.
In light of the news that she will run against John Alexander, the Liberal MP who was forced to stand down from the Parliament due to his British dual citizenship, the Twittersphere noticed that her entire list of tweets prior to November 2016 had mysteriously disappeared.
In an interview with 'The Project' on Tuesday night, Keneally was questioned about the deleted tweets, with particular focus on one tweet from November 3 where she appeared critical of Prime Minister Malcolm Turnbull and Opposition Leader Bill Shorten's standpoints on the currently unfolding situation on Manus Island.
In response, Keneally said that the New South Wales State Library (NSWSL), who is archiving both the print and digital copies of "personal papers" from her life, had a part to play in the disappearance after it "scooped up all of the tweets and put them on a hard disc".
Despite this, when HuffPost Australia asked the NSWSL why an archiving process would require Keneally's tweets to also be deleted from her online Twitter account, a Library spokesperson said archiving staff only deal with documents provided to them directly from the people they're archiving.
To clear up any doubt that "those conspiracy theorists" had regarding the content of those tweets, Keneally tweeted a live link on Wednesday to a Google document detailing the timing and nature of each of her past tweets.
But a cursory glance of the document reveals more than a month's worth of daily tweets from the former NSW premier are missing from the archive.
According to Twitter, Keneally's earliest recorded tweet that still remains live on her account is a link on November 7 to an article from The Australian regarding talks between Liberal MPs and campaigners of the left-wing not-for-profit group GetUp!.
Despite this the most recent deleted tweet from Keneally, as recorded in the archived document, was originally posted on October 5. That means there are 33 days of missing tweets -- which include her critical tweet of Turnbull and Shorten. For the five days prior to October 5, the Labor candidate posted at least five or more updates to Twitter each day.
HuffPost Australia was told by Keneally's office that this was probably owing to an "administrative error" and is awaiting a full response regarding the missing tweets.