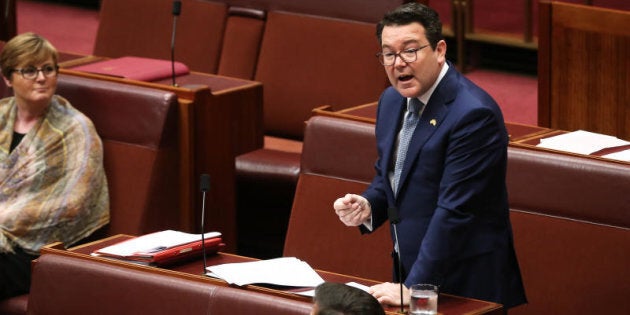 CANBERRA -- The moment and the raw emotion of finally presenting his same-sex marriage bill and speaking about his life, his beloved Liberal Party, his Christian beliefs and Australia returning a 61.6 percent 'yes!' result was almost too much for Dean Smith. Almost, but no.
The openly gay senator, as he neared the end of his parliamentary speech on his bill on Thursday, was proudly detailing the barriers he'd broken in his party and with Liberal voters as a gay man and then stopped suddenly mid-sentence, before resuming with a waver.
"I never believed the day would come ... when my relationship would be judged by my country to be as meaningful and valued as any other," Smith said.
"The Australian people have proven me wrong."
"Don't underestimate our country's sense of fairness, its sense of decency -- and its willingness to be a country 'for all of us'," he told parliament.
"Not only does our country live these values, it votes for them as well."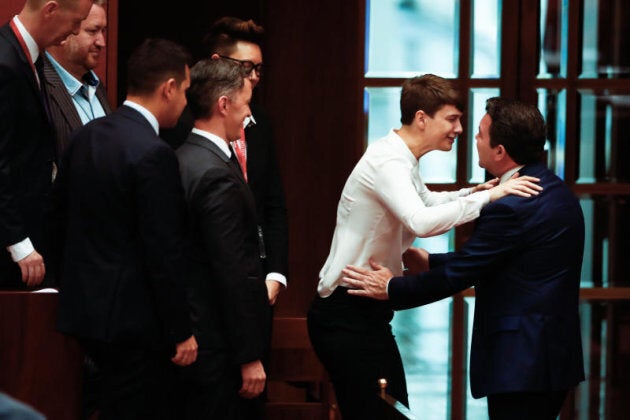 He finished and received a standing ovation and then got what is turning into a signature parliamentary move during the same-sex marriage debate; a series of hugs and congratulations from colleagues across the political spectrum.
He was supported in the chamber by lower house pro-marriage equality Liberals Trevor Evans, Trent Zimmerman and Tim Wilson. During the speech he paid tribute to Liberal equality trailblazer, Warren Entsch, who is overseas.
But Dean Smith's main message was that his bill -- the result of a cross-party parliamentary committee and co-sponsored by eight senators -- was the right bill to see same-sex marriages legalised in Australia.
"This Bill advances the civic right of all Australians and provides protection for religious institutions to continue to be guided by the tenets of their faith," he told parliament.
"Nothing in this Bill takes away an existing right, nor does any of it diminish an existing civil freedom."
"The change proposed in this Bill is not revolutionary, it is evolutionary."
He insisted the bill -- which is supported by Labor and the Greens -- should not be serious amended.
"Let me be clear -- amendments that seek to address other issues, or which seek to deny gay and lesbian Australians with the full rights, responsibilities and privileges that they already have, will be strenuously opposed," Smith warned.
"Australians did not vote for equality before the law so that equality before the law that has already been gained is stripped away."
But he reached out to conservative colleagues who are concerned his bill may not adequately cover religious freedoms and conscientious objections.
"One of the reasons this Bill is so vital is that it reflects the deepest of liberal and conservative ideals," he said.
"Liberal because it advances the sum of freedoms, and conservative because it nurtures our families, affirms a vital institution, and strengthens the social fabric which is but the sum of all of our human relationships."
While Smith is a marriage equality proponent, he is still very much a conservative Coalition member who is a passionate monarchist with deep Christian beliefs.
"My faith is not a platform, it's a refuge," he said. "It's why on my office desk there stands a crucifix -- it gives me strength when there appear to be difficulties ahead."
"I want to acknowledge the very genuine concerns of some Christians and religious people around Australia have expressed during this postal survey -- and give voice to them."
He said he understood, especially as "they are reflections of the fears that LGBTI citizens have felt through our country's history".
"Fears about acceptance, fears about jobs, fears about hiding part of you, and yes, fears about violence.
"This vote is not about -- and must not be about -- replacing one persecuted minority with another. Or giving one group hope, while inflicting another with fear. It must be about advancing the hopes and dreams of all citizens no matter their sexuality, ethnicity or religion."