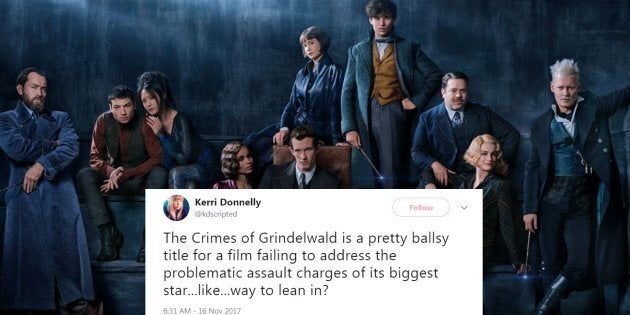 Calling it 'The Crimes of Grindelwald' many fans were excited for the next installment of the 'Harry Potter' adjacent series that has been confirmed for a total of five films.
While many fans were excited by the announcement, there was a bit of push-back with the film focusing on the controversial casting of Johnny Depp as the big bad, Gellert Grindelwald.
In fact many fans aren't happy at all that, after Depp's ex wife Amber Heard went public with allegations of domestic abuse, Depp is not only still involved, he's taking the top billing.
Depp's involvement began in the first 'Fantastic Beasts' film where his character reveal was a plot twist, having been played by Colin Farrell for a majority of the movie.
Depp's involvement in the film comes at an odd time for Hollywood, as more and more people are speaking out as victims of sexual abuse or misconduct.
Many fans have even asked the 'Harry Potter' scribe J. K. Rowling to comment, or weigh in on a recast.
So many abuse victims have turned to Harry Potter as a source of comfort and healing. The Crimes of Grindelwald shows how little the creators of this franchise care about its fandom, and I'm over it. #FantasticBeasts

— MONICA 🎄💕 (@monicakwatson) November 16, 2017
The Crimes of Grindelwald is a pretty ballsy title for a film failing to address the problematic assault charges of its biggest star...like...way to lean in?

— Kerri Donnelly (@kdscripted) November 16, 2017