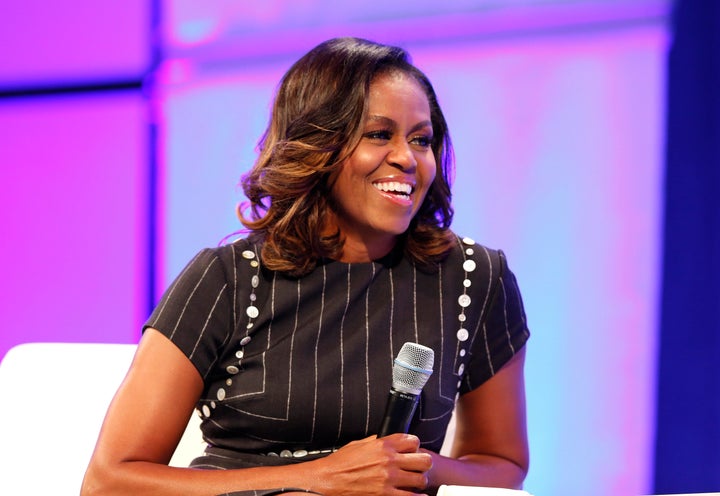 If you're like most humans, the current political climate has caused you some excess anxiety or tension. Recent research shows that the majority of Americans are stressed about the future of the nation and even relationships with loved ones are feeling the strain.
Michelle Obama is here to offer some guidance on how to deal with it all ― and her advice is pretty spot on.
The former first lady spoke at the Bushnell Center for the Performing Arts in Hartford, Connecticut, this week, where she offered some suggestions on how to survive chaotic times, the Hartford Courant reports.
"Focus on what you can control,'' Obama advised the audience. "Be a good person every day. Vote. Read. Treat one another kindly. Follow the law. Don't tweet nasty stuff."
Pretty sage wisdom, right? But does it actually work?
We examined stress research and chatted with a mental health expert about Obama's tips. Below is a breakdown on their effectiveness when it comes to dealing with tough times:
1. "Focus on what you can control."
Current events can feel incredibly overwhelming, according to Dan Reidenberg, executive director of Suicide Awareness Voices of Education and chair of the American Psychotherapy Association. Looking at everything that is out of your hands can cause anxiety.
Focusing on what you can do helps, Reidenberg told HuffPost. That includes limiting your exposure to the news cycle and participating in activities that bring you joy.
Filtering out the unhappy, angry, chaotic, stressful, dark headlines and maintaining a healthy balance between the challenges and the good things "will allow you to feel in control of your life rather than feeling life is controlling you," he said.
2. "Be a good person every day."
This has long been go-to advice when it comes to improving mental health. It applies to how you deal with yourself as well as how you behave toward others.
Being good to yourself and to others "will increase your self-worth, self-esteem, self-confidence and your sense of pride," Reidenberg said.
3. "Vote."
Therapists say their clients are reporting feeling helpless more often since the election. An antidote to that? Taking action. Voting in elections and getting involved on issues that are important to you are tangible ways to ease politically related stress, according to the American Psychological Association.
4. "Read."
Reading about what's going on in the world and staying updated can help you feel in touch. It's a method even some experts use to ease their own stress over politics.
"My personal approach is to stay immersed in the news cycle, hoping for some shred of encouragement or at least consolation from hearing my views shared by others," Susan Krauss Whitbourne, a professor of psychological and brain sciences at the University of Massachusetts, Amherst, previously told HuffPost.
But if following the news is causing you to feel uneasy, other kinds of reading can help with that. A study published in 2009 found that getting lost in a good book can be one of the most effective ways to reduce stress, sometimes even better than listening to music or enjoying a cup of tea.
5. "Treat one another kindly."
Research shows that being kind to another person not only improves that person's mood; it can boost your happiness levels too. Looking for ways to spread a little kindness? Try one of these.
6. "Follow the law."
This one seems pretty obvious, no? Laws are needed for a well-functioning society. But Reidenberg said it's worth keeping in mind for your mental health as well. Having a set of rules to follow can help enhance your feelings of control.
7. "Don't tweet nasty stuff."
This is perhaps one of the most vital rules to follow today.
"Sharing of negative thoughts and feelings isn't helpful to anyone," Reidenberg said. "By speaking poorly of others you aren't helping anyone, and you are contributing to the angst so many people are feeling right now. And when there is a lot of this coming from every direction, the ugliness can contribute to anxiety and stress."
Obama also added one final piece of wisdom, which she said is worth heeding no matter who is president.
"The impact of all of us in our everyday lives is greater than anything ... that can come from the White House," she said.
Consider it noted.