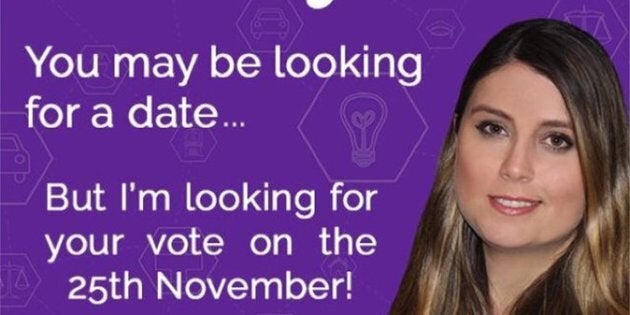 Queensland is in full election mode with the Labor government, the Liberal opposition and the insurgent One Nation competing for votes in what is a genuine three-horse race.
So as an independent, short on cash and resources compared to the big parties, how do you stand out?
For Saraya Beric -- a former staffer to Pauline Hanson and national secretary of One Nation, who claims she was forced out of the party last year -- has turned to dating app Tinder to shill for votes as she runs for election in the seat of Mermaid Beach, a safe Liberal seat on the Gold Coast.
"As an independent, I don't have the big party machine. I'm doing the traditional methods of getting out there, but I was sitting at home thinking of how to reach people around me," she told HuffPost Australia.
"I thought up dating apps. Just set your radius to your electorate, there you go."
Tinder, which allows users to set a distance radius around them to search for potential romantic matches, has been an unlikely tool for Beric's campaign.
Since setting up her profile on the weekend, featuring campaign material bearing slogans like "you may be looking for a date but I'm looking for your vote", she said she had scored almost 30 matches with local voters, and more than a few saying they would be voting for her.
"We've had a good laugh. I think there was over 100 likes sitting there too. It's a way to get out there, tell people I'm here and that you have a choice," Beric said.
"People have had a laugh about it but I'm dead serious about winning this seat. The feedback I'm getting from the electorate is they want someone fresh in there, someone to listen."
Beric said she wasn't worried about her profile being removed by Tinder, claiming she had followed the rules and conditions of the app.
"I looked up the terms of service, you can't do anything commercial and what I'm doing isn't commercial. I checked the rules, I'm following the rules," she said.
Beric admitted she supported several One Nation policies, such as opposing asset sales to foreign owners, but the circumstances of her departure from the far-right party mean she probably won't be too sympathetic to Hanson's members.
She told The Australian in January that she held the positions of One Nation's national and Queensland secretary, as well as "running Senator Hanson's online and social media strategy during last year's federal election campaign" including the party's entire website, but reportedly left the party after she said it "swayed away from its principles and values".
Mermaid Beach is held by Liberal member Ray Stevens, who Beric gave a sly dig in her Tinder photos.
"This is who you are currently in a relationship with", she wrote on a photo of Stevens, accompanied by an emoji with an embarrassed face.
"Or you could have me instead."