A big, greasy parcel of fish and chips, the brilliant blue ocean in the background and hundreds of seagulls cawing and swarming around your lunch is an iconic Australian image.
While fish and chips mark a great day at the beach, if you want to make the tasty meal at home you need to try Matt Moran's flavour-packed recipe for oven-baked fish and chips.
This healthier version of fish and chips uses fresh flathead coated in a toasted breadcrumb batter with thyme, garlic and lemon zest, which is oven-baked (not deep-fried) to flaky perfection. The chips get a healthy makeover too, being tossed in olive oil and baked in the oven until crispy.
To make these fish and chips extra nutritious, serve with a crunchy side salad or switch up all (or some) of the potato chips with sweet potato.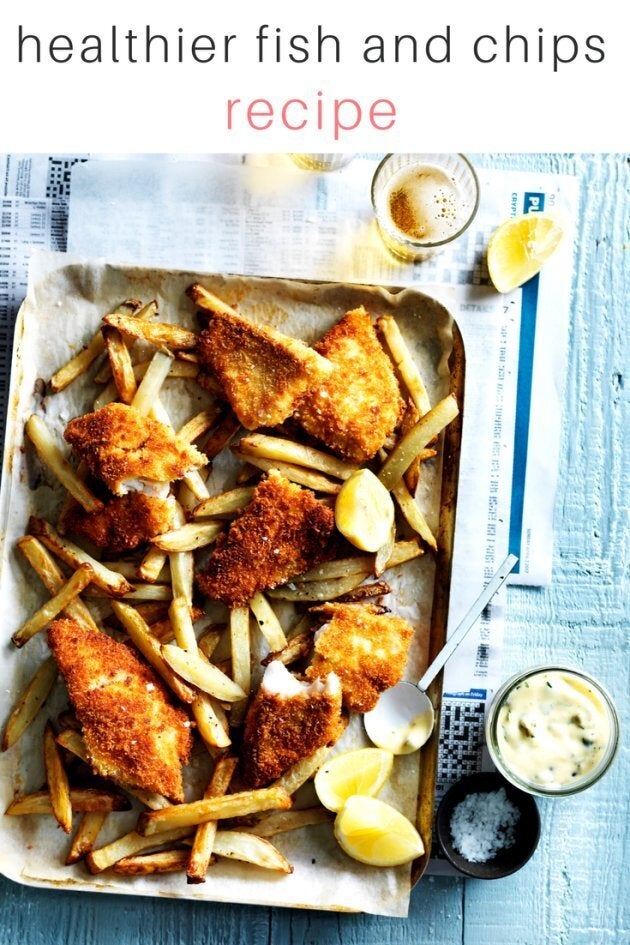 "I love fish and chips when it's done well, and when it came to the fish and chips on the menu at North Bondi Fish, I was a stickler for getting it right. This oven-baked version is the next best thing and surprisingly easy. Serve with mayo or tartare sauce for dipping and a crisp green salad for a fresh and crunchy contrast," Matt Moran said.
Preparation time: 15 minutes. Cooking time: 35 minutes.
INGREDIENTS
1kg floury potatoes, such as Sebago, scrubbed and cut into 5mm thick chips
90ml olive oil
120g (2 cups) panko crumbs
2 teaspoons finely chopped thyme leaves
1 garlic clove, finely chopped
Finely grated zest of ½ lemon, plus lemon wedges to serve
2 eggs
1 tablespoon Dijon mustard
Seasoned plain (all-purpose) flour, for dusting
500g skinless flathead, snapper or other firm white fish fillets, cut into rough 10cm pieces
METHOD
Preheat the oven to 240°C (475°F) and place a baking tray in the oven on the top rack. Toss the potatoes and two-thirds of the olive oil in a bowl to evenly coat the potato, season, then spread in a single layer on the baking tray. Bake, tossing occasionally, for 20–25 minutes while you prepare the fish.
To prepare the fish, heat the remaining oil in a frying pan over a medium–high heat, add the crumbs, thyme, garlic and lemon zest and toast for 1–2 minutes until crisp and light golden, then tip onto a plate and season.
Whisk the eggs and mustard in a bowl to combine and place the seasoned flour in a separate bowl. Dust the fish in the flour, then dip into the egg mixture and toss into the crumbs, pressing so the crumbs stick evenly to the fish. Place the fish in a single layer on a well-oiled rack placed over a baking tray and put the fish on the middle rack of the oven. Bake for 6–8 minutes until the fish is just cooked through. Serve with the chips, lemon wedges, mayo or tartare sauce and a crisp green salad.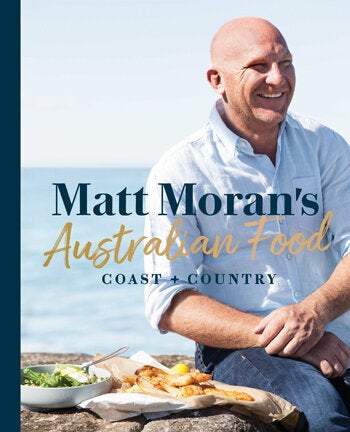 Matt Moran's Australian Food by Matt Moran (Murdoch Books, RRP $45.00) available now. Photography by Will Meppem.