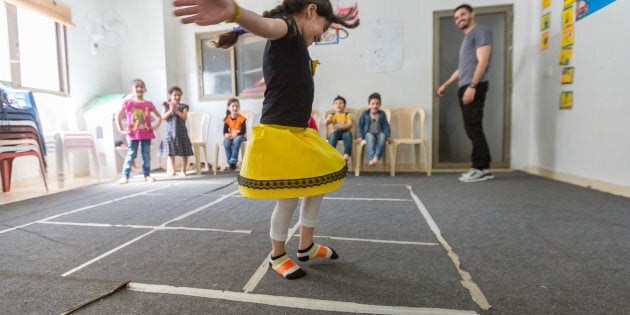 If you cast your mind back to how you spent the first years of your life, the memories are probably a hazy combination of having fun, playing and learning about the world from the safe environment of your home, neighbourhood and school.
That's almost the equivalent of the entire population of Melbourne, missing out on the simple joys of childhood; learning, play, living without fear of persecution or the destruction of their communities.
Nearly five million Syrian refugees -- mostly women and children -- now live in neighbouring states, in under-resourced communities and camps like the Shatila refugee camp in Beirut, Lebanon where we run The Peace Play Project that The Body Shop Christmas gift initiative is supporting this year. It's the opportunity for people to make an active difference in refugee children's lives, buying a seasonal gift that directly supports The Peace Play Project in the Shatila camp for a year.
Lebanon is home to Syrian refugees as well as Palestinian and Lebanese children, and the centre in Shatila where The Peace Play Project is run hosts 600 children a year between the ages of six and 11. The project was launched by International Alert in September 2015, in partnership with Basmeh and Zeitooneh.
We were looking at what promotes resilience and wellbeing in children after war and started to measure the impact that play and art-based therapies have in supporting children's wellbeing after trauma. We came to understand that having a space where they feel safe and able to express themselves can help with resilience and development.
The children come for two hour sessions twice a week, and do therapeutic and creative activities -- these are kids who often are unable to access school resources as it's extremely difficult for families to travel outside of the refugee settlement.
One of the most successful therapies is 'playback theatre', which is an improvised expressive theatre. The staff ask the children to tell them about their experiences and perform them. Then they can interpret the drama and comment on it. It's a great way to assess what's on the children's minds and see who might be experiencing trauma. They also do drawing, play games and excercise, it's really important they get that space to be kids.
While education is a given for most kids in Australia and the UK, for many of these refugee children, these two hour sessions are the only education they receive. It's sobering to think about how many hundreds of thousands of children are affected by war and receive no support at all.
When children first arrive at the centre where we run the project, their behaviour can be difficult. This is them responding to the chaos and distress they have experienced -- their world is in turmoil so it's only natural their emotions and behaviour are in turmoil too. When the kids are asked to close their eyes, some have flashbacks to traumatic experiences. It's a reaction that the staff have to be very understanding about, changing the way we work based on what the children are going through.
I visit Lebanon once a month from my base in London, and it's wonderful to see the change in the children. We speak to the parents to see what they've noticed changing about their children. Those who have been especially shy or underconfident grow in confidence just by being part of a positive environment.
As I see how much the children get out of a session, and how happy it makes them, I wonder what will happen to this generation who've had no formal education; many of these children have the potential to be brilliant yet it may never be realised. This is where our commitment comes in; we need to have a generation that can build peace, and sustain it.
This Christmas as part of the Play for Peace Campaign, The Body Shop® in partnership with International Alert, will be able to help refugee children affected by the war in Syria to heal through play. By purchasing any of their seasonal gifts, you will help to provide the children with a safe-haven to play where they will take part in therapeutic recreational and creative activities. Each gift purchased will help support The Peace Play Project for one year in Shatila refugee camp in Beiruit, Lebanon.