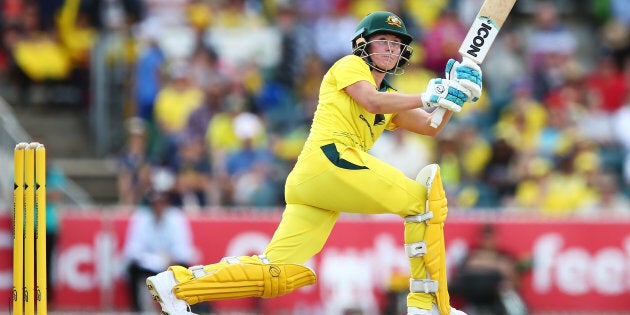 Australian cricketer Beth Mooney took no time at all in smashing her way to a century against England in the final match of the Women's Ashes series in Canberra on Tuesday night.
In fact Mooney's ton in the match, which was notched up remarkably fast off of just 70 balls, makes her the second-ever Australian women's player to post 100 runs in an international T20 match. If that's not impressive, we have no idea what is.
You can watch the moment she knocked away the final ball to cross over into triple figures, below.
Throughout her innings Mooney put away 19 fours and a six, ending on 117 not-out to help Australia post an intimidating score of 2/178 for England to chase.
And while scoring centuries is usually an act that takes some time and expertise, the T20 format meant Mooney only had 20 overs to make her mark, and she didn't waste any time making her presence known.
In fact, if you check out the aerial view of every ball she hit around Canberra's Manuka Oval it becomes pretty evident that there isn't one part of a cricket pitch that Mooney can't target.
And wow, that's incredible.
Australia has won three games in the multi-format Women's Ashes series that includes three one-day internationals, three T20 matches and a single four-day Test match.
With the Test match ending as a draw, Australia are leading England 8-6 on series competition points and because we won the Ashes last year, even if we tie on points by the end of the series the title remains Australia's.