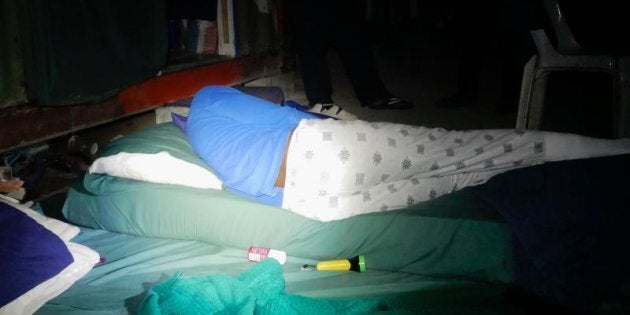 CANBERRA -- The UN refugee agency is not holding back on the unsanitary and deteriorating conditions faced by hundreds of refugees and asylum seekers in the decommissioned detention facility on Manus Island, labelling it a "damning indictment of a policy meant to avoid Australia's international obligations".
As reported by HuffPost Australia on Wednesday, around 400 men -- who are refusing to move to alternative accommodation in Lorengau out of fears for safety -- are battling diarrhoea and mental distress and are at risk of cholera while drinking salt water and doing without prescribed medication.
Despite the Turnbull Government's view that the more than three week old stand-off is in the hands of Papua New Guinea authorities, the UNHCR is holding firm on its view that Australia remains responsible for the men.
"This is a man-made and entirely preventable humanitarian crisis," Nai Jit Lam, the UNHCR's Deputy Regional Representative in Canberra told reporters in Geneva by phone from Manus Island.
"It is a damning indictment of a policy meant to avoid Australia's international obligations."
He rejected official announcements that alternative accommodation and services outside the centre are ready.
"What we have observed so far actually represents a very different picture," Nai Jit Lam said. "The accommodation outside of the former centre is still under construction.
"We were there and saw for ourselves that they are trying to complete the site as quickly as possible. But the fact remains that major work is still in progress and might take a couple of weeks before completion."
He said the situation on the ground in Manus is "very serious" and it is "deteriorating by the day". He went on to describe hot and humid weather mixing with a "significant accumulation of waste and rubbish," a lack of clean water and unresolved community tensions.
"People are increasingly physically and mentally unwell," the UNHCR representative said.
"What we have been dealing with right now are the consequences of the problem that was created four years ago, when Australia forcibly transferred people, refugees and asylum seekers to PNG and Nauru under their offshore policy.
"What we want to say right now and what we are calling for is that Australia must take responsibility, continue to take responsibility and play an active role in achieving solutions."
The Immigration Minister Peter Dutton has been contacted for comment.