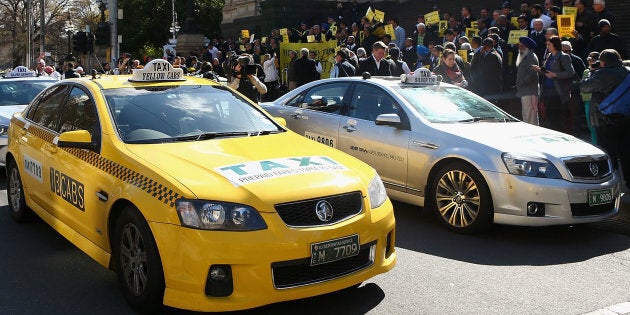 The leader of a Victorian volunteer organisation that fights for the rights of taxi and hire car drivers has shed light on the devastating toll Uber has had on displaced workers in light of the announcement of a possible class action against the mobile ride-sharing app.
In an emotional interview with 'The Project' on Tuesday night, president of the Victorian Taxi and Hire Car Families group Sandy Spanos said Uber's arrival in Victoria in 2013 and the state government's legalisation of the service this year has left many licensed drivers destitute.
"I don't think anybody was concerned about competition -- what we wanted was fair competition," she said.
"What it's done to my life -- I now find myself after 35 years of work nearing retirement [and] I don't have any retirement [money]. I'm going to have to be dependent on aged pension."
The comments come after it was revealed on Tuesday that Victorian taxi and hire car drivers who lost customers due to Uber's arrival in the state now plan to launch legal action against the service, claiming they have suffered "severe financial losses" as a result of Uber acting illegally by avoiding licensing regulations.
According to law firm Maurice Blackburn, up to 6,000 Victorian taxi and hire car drivers have been affected by the disruption provided to the local market by Uber, which was worsened by extremely high licensing costs put in place by the Victorian government.
On Tuesday night, an emotional Spanos told 'The Project's panel that the Victorian government has played a role in causing the monumental financial and emotional effects that have been put on taxi and hire car drivers as a result of the situation.
"There are 5,000 families out there, many of whom have lost their homes, some have committed suicide. I don't understand how a government can stand by the mental health issues of our husbands, our fathers, our brothers -- it's beyond anybody's understanding," she said.
"I believe a government is voted into power to protect its taxpayers, its citizens. I don't deserve this. I've done everything right.
"I've paid fees and charges, taxes, I pay capital gains tax, I pay GST and in walks an American multinational who says, 'I don't like these laws so change them to suit me,' [and] the [Daniel] Andrews Labor Government says, 'yes, sir, we'll do that for you', and the 5,000 families be dammed."
According to an ABC report, the basis of a possible class action lawsuit would center on an alleged "conspiracy to injure" local Victorian taxi and hire car drivers created by Uber drivers skipping out on mandatory regulations put into place for the industry.
The legal action will need to attract a high number of drivers interested in pursuing the lawsuit for it to proceed.