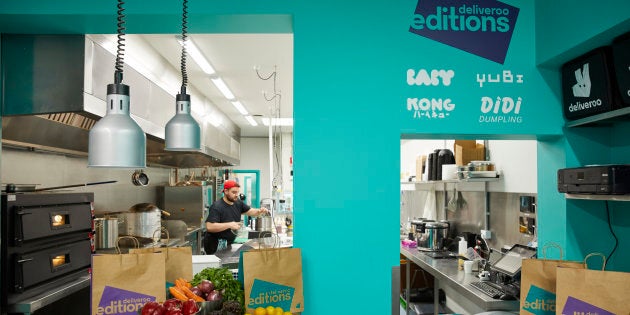 In an Australian first, Deliveroo has opened a kitchen in the middle of Melbourne that will host chefs from a number of local outlets, to cook food to be sent out directly by delivery drivers.
The kitchen will service restaurants Baby, Kong, DiDi Dumpling, Yubi, 8Bit, Up in Smoke and Messina. The stores will supply cooks to the Deliveroo kitchen, but instead of waitstaff the food will go straight onto the backs of Deliveroo riders.
Where the deliver-only shops, known as Deliveroo Editions, have been opened before in places such as the United Kingdom and Singapore, revenue has jumped by more than five times for Deliveroo. The company uses data analysis to determine which food is demanded at what locations.
The company is hoping to expand to have 200 Deliveroo Editions up and running by Christmas, and aims to develop up to 70 of them in Australia during 2018.
According to The Australian, Deliveroo Editions may be a pathway for Australian chefs to sell their product overseas.
"We believe in an exchange program where Deliveroo restaurants get an opportunity to sell their food in different markets," Deliveroo founder and CEO Will Shu told The Australian.
"You have some incredible brands here that we can take abroad".
This concept may signal a new phase in the growing gig economy. But the expansion isn't all good news, especially for the growing body of workers who may be getting short-changed by companies like Deliveroo, Foodora, Uber and Airtasker.
A recent study found that around 100,000 Australians make money via the gig economy -- and they might not be receiving the superannuation they are entitled to under contracting arrangements with these new corporate giants.
In the UK, a court decision recently determined that Uber drivers are not self-employed, and so are entitled to minimum wage and sick leave. In Australia there is ambiguity, but Uber still considers their drivers as contractors.
And in an emotional interview on 'The Project' this past Tuesday, head of the Victorian Taxi and Hire Car Families group Sandy Spanos lamented the disruption that such businesses are causing.
"I now find myself after 35 years of work nearing retirement... I don't have any retirement. I'm going to have to be dependent on an aged pension... I've done everything right, I've paid my taxes!" #TheProjectTVpic.twitter.com/bIVMMP0Oz7

— The Project (@theprojecttv) November 21, 2017
"I don't think anybody was concerned about competition -- what we wanted was fair competition," she said.
"What it's done to my life -- I now find myself after 35 years of work nearing retired [and] I don't have any retirement [money]. I'm going to have be dependent on aged pension... I've done everything right, I've paid my taxes!"
Maurice Blackburn, the law firm that plans to bring a case to court against Uber in Victoria, claims that 6,000 Victorian taxi and hire car drivers have been hit by Uber's rise.
Deliveroo's rise has done less to anger workers, but this expansion will be a test for the tolerance that employees, the public and the government have for the gig economy.