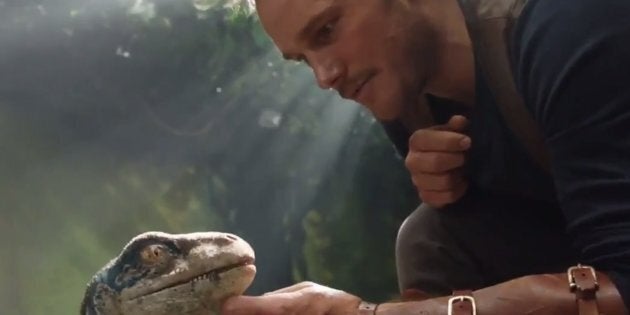 If you were wondering what's happening with the next installment of the 'Jurassic World' franchise don't worry life, uh, finds a way.
On Thursday Universal Pictures released the first teaser of the upcoming sequel, 'Jurassic World: Fallen Kingdom'.
"Wait, is that it?" You may be asking yourself about the six second clip, and yep pretty much. It's just a really quick look at Chris Pratt's character Owen Grady as he pets a little velociraptor.
Eagle-eyed fans were quick to notice the raptor looked remarkably similar to Grady's right-hand-raptor from 'Jurassic World', Blue but it's unclear if the tease clip is a flashback or if it's Blue Jr.
So cute right! Until it chases you down and rips off your face like dinosaurs are oft want to do.
There aren't many details for the sequel, but several plot leaks have indicated that it will move away from the militarisation of dinos we saw in the first 'Jurassic World' and more toward kinder animal treatment.
If you remember from the first film Owen Grady was very much all about treating dinosaurs with respect and kindness thus leading to his friendship with Blue. That was all despite, you know, dinosaurs being let loose on a theme park full of people who were mostly brutally maimed and/or killed.
'Jurassic World: Fallen Kingdom' sees the return of Pratt as well as Bryce Dallas Howard and B.D. Wong, as well as the 'Jurassic Park' legend himself Jeff Goldblum reprising his iconic role of Dr. Ian Malcolm.
The film is currently scheduled for a mid-2018 release and if the rumours are true we'll see trailers start to come out next month.