Pink shut down rumors she slighted Christina Aguilera at the American Music Awards on Sunday night.
The "What About Us" singer was accused of making an awkward face during Aguilera's touching tribute to Whitney Houston.
But Pink says she was doing no such thing, according to a tweet she posted on Monday.
"Waking up to see a newly created riff between myself and another incredible woman, Christina, who took on an incredible feat, who I support fully, makes me so sad," the singer tweeted. "You all perpetuate keeping women apart b/c you're afraid of the power we have when we get together."
Instead of focusing on the perceived slight, Pink asked people to focus on the women who were honored at the award show, as well as all of the other incredible performers.
"I choose to remember last night as being a celebration of women, of Diana, of Whitney, of love and life and joy and all things good," Pink said in a follow-up tweet. "THANK YOU to everyone that had the courage to take that stage- wether it be right side up or sideways. All love."
Rumors of a feud between the two are nothing new, as Pink and Aguilera were in constant competition with each other as fellow young pop stars early on in their careers ― which almost led to a physical altercation. I
n October, Pink revealed that Aguilera once tried to punch her at a club.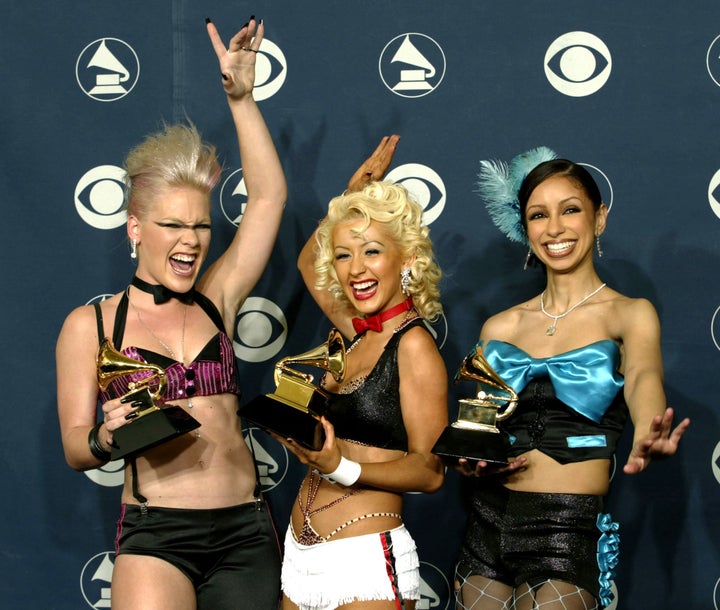 "She swung on me in a club. Hilarious! I was like, 'What's happening right now? What's happening?'" the singer told Andy Cohen on "Watch What Happens Live."
But looking back, she understands the competition between the two that later led to the confrontation.
"We were super young and super new at the whole [fame] thing," Pink said. "I think I'm an alpha and she's an alpha, and I'm used to taking my altercations physical and she's used to having them verbal. We just are very different, we're very different. … Women have to learn how to support each other. It's not taught to us on the playground."