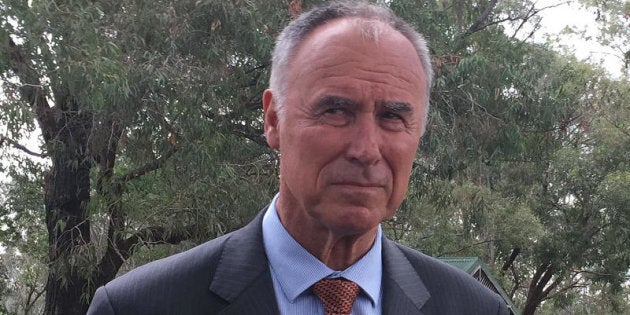 CANBERRA -- Prime Minister Malcolm Turnbull is supporting his John Alexander as he fights to get his old job back in the federal seat of Bennelong, but he just can't support 22-year-old "ill-judged" racial jokes -- including one about rape -- that have suddenly resurfaced.
The Liberal candidate in the crucial by-election is seen on the 2011 Youtube post telling two jokes of a clear racial and sexual nature at a Brisbane pub in 1995 while he was a judge on the TV show Gladiators.
The second joke is about "a black guy in Chicago" who had "witnessed a rape and he's been called into court".
Since the 3:32 minute clip has been getting an airing on Thursday, Alexander has issued an unreserved apology.
"More than twenty years ago I told crude and inappropriate jokes, which were completely unacceptable and I apologise unreservedly.

"There is no place for jokes about violence against women. Again, I apologise unreservedly."

John Alexander statement
The Prime Minister said the apology is a "measure and dignity of the man," but he can only condemn what he said in 1995 as "completely and utterly unacceptable" and "ill judged"."Statements like that, whether they're intended as jokes or not, are completely and utterly unacceptable," Turnbull said.
"There is no place for joking about violence against women.
"And I want to say once again something I have said many times to you. Not all disrespect of women ends up in violence against women, but that's where all violence against women begins, so all of us need to reflect on that.
"John has done so on some ill-judged remarks 20 years ago. And it is a measure of the man and of the dignity of the man that he has acknowledged that those remarks were unacceptable and he's unreservedly apologised for them."