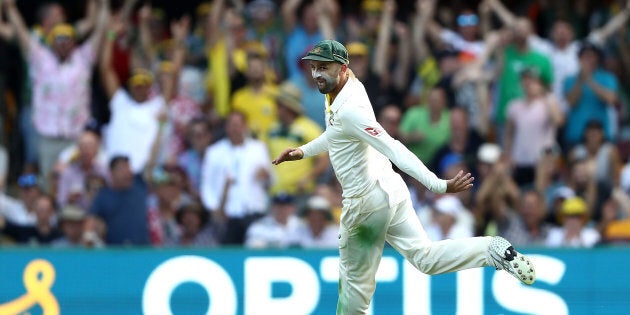 Just when England's batsmen had once again assumed control in the first Ashes Test between Australia and England at The Gabba in Brisbane, a brilliant piece of work from Nathan Lyon changed everything.
Lyon gathered the ball one-handed as James Vince took off for a quick single, threw, and boom! The direct hit meant it was bye-bye Vince for 83.
England were 3/147 after Vince departed.
Earlier, the visitors had consolidated nicely after the early loss of Alastair Cook for 2. Vince brought up his first Test 50 (in his seventh Test) and was soon joined by Mark Stoneman, who eventually notched his second Test half century in just his third match.
The visitors were 1/127 when Vince was dropped, but the Aussies broke the century partnership before another run was added. Pat Cummins got one to jag back off the seam just enough to cut through Stoneman's -- you have to say it -- rock solid defences. England were 2/127.
After the Lyon run out, Australia didn't have too long to wait for the next scalp. And it was the big one. England skipper Joe Root was originally given not out to a nasty Pat Cummins inswinger. On review, he was given his marching orders.
England must still be feeling good about it's day's work with six wickets remaining and a long batting order to come, but one thing in Australia's favour is England's slow scoring rate.
After 60 overs, the run rate was just 2.4. After 76 overs, they were 4/191 and averaging just 2.5 runs an over. At that rate the Poms (and yes, it's fine to call them that) could occupy the crease for well over 100 overs and still have a less than imposing first innings target.
The day ended with bad light, and England on 4/196, with Moeen Ali not out on 13, and Dawid Malan (yep, unusual spelling) on 24.
Honours are even after the first session of the first Ashes Test between Australia and England at The Gabba in Brisbane. The visitors were 1/59 at lunch.
England would be feeling comfortable with only one wicket down, but the Australian bowling quartet has restricted the scoring to barely two runs an over. They'll know that if they strike soon after lunch, the advantage will swing their way.
But Australia got the early breakthrough, as Mitchell Starc had England opener Alastair Cook caught behind for two when the England total was also just two.
Australia's bowling was super tight early, setting an aggressive tone for the series. The ball has not been seaming or swinging a huge amount, but Mitchell Starc -- fresh from two hat-tricks in one match in state cricket -- was putting them in exactly the right spot.
England batsmen James Vince and Mark Stoneman looked organised and unfussed -- if not exactly aggressive -- as they moved along to 1/59 after 29 overs at lunch.
Rain delayed play for more than an hour after lunch, but England retained their composure and steadily built their total.
The match is evenly poised at the end of day one, in a sign that this might just be the most evenly contested Ashes in years.