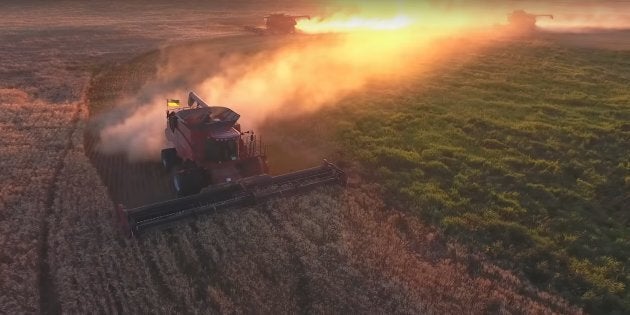 Jason LeBlanc just wanted to do something nice for his dad's 80th birthday.
The 46-year-old "auctioneer by trade and a farmer by life choice" initially aimed to get some footage of his dad's party on the family's Estevan, Sask. farm.
And so he did, with help from local photographer Brian Zinchuk. But LeBlanc said the idea quickly expanded to incorporate footage of his dad's work on the property, where they grow canola, durum and wheat. The family also farms lentils and peas to export.
"He never missed a day's farming," LeBlanc said of his father, Ross. "He'll be 82 this year. He still buys machinery, he still operates it all. Everything that I do, he does."
The project snowballed from there. A year and a half later, what started as a nice family video has morphed into a slickly produced year-long look at life on a Saskatchewan farm.
Check out the video embedded below:
To compile footage for the massive project, Zinchuk said he made about 20 trips to the property, which is around 15,000 acres — a substantially larger piece of land compared to the farm he knew.
"Compared to the small farm I grew up on, I found this operation to be astonishing," he said in an email. "Every time I was out there, I kept thinking, 'Wow!'"
With the help of his daughter — and a drone — Zinchuk shot more than 1,100 videos and 14,000 photographs of the family's work on the property.
"Hundreds of hours went into it," he said.
He also uploaded detailed looks at specific phases in the crop cycle, such as seeding, swathing and the eventual harvest. Each clip is either set to a popular song — hits from Metallica, Johnny Cash and AC/DC are included — or a tune performed by LeBlanc's father and his band.
The "Harvest" video turned out to be LeBlanc's favourite.
"We've already worked all year [at that point] and did all the things that we could possibly do to make that crop, and then it's all up to Mother Nature," he said.
"Harvest time is when she all comes to an end."
LeBlanc said the most popular clip, titled "Pushing big snow with big iron," was apparently a bunch of footage that Zinchuk shot to test drive a drone. It's been viewed more than 275,00 times.
Though LeBlanc didn't have a specific goal to achieve with the videos, he said it's become a great way to reconnect family members who might feel detached from the farm they grew up on.
He said he's also received messages from people online fascinated with the farm's equipment and processes.
"It's surprising to me how people are removed from the farm and where the food comes from, because we do it every day, we see it every day," he said.
LeBlanc said the project also showed him and his father just how drastic the technological advances on the farm have been in the past decades.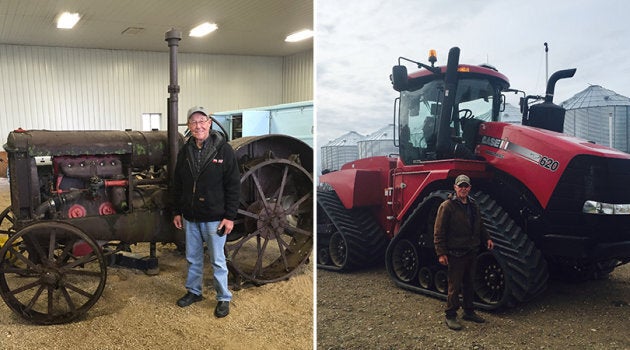 "We just wanted our dad to see all the differences and all the changes that he's seen in his life," he said.
"We wanted to make a video for him and it kind of turned to be something a lot of people showed an interest in."