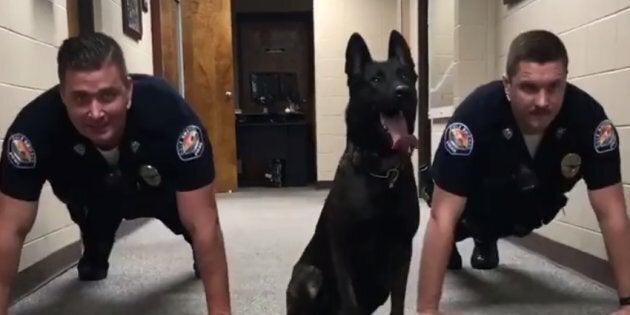 If you're struggling to get motivated for your Friday workout, try taking a leaf out of Nitro's book.
The enthusiastic K9 is doggedly matching his comrades-in-uniform push-up for push-up in an adorable video posted to an Alabama police department's Facebook page which has since been shared widely.
In the brief clip, the two-year-old Dutch Shepherd rises up and down in perfect synchronisation with fellow officers Cowan and Hancock as 'Eye of the Tiger' plays in the background.
"K9 Nitro, Officer Cowan and Officer Hancock are getting warmed up and ready to apprehend any bad guys that break the law!" the post reads.
The video, posted to the Gulf Shores Police Department's Facebook page on Sunday, has so far amassed nearly 900,000 views and been shared almost 30,000 times.
It was produced as part of the department's '9pm routine', a social media campaign encouraging local residents to lock up their cars and homes at the end of the night.
Keep up the pawsome work, Nitro.